Therm-a-Rest ProLite 4

The ProLite 4 has been discontinued. It was replaced by the Therm-a-Rest ProLite Plus.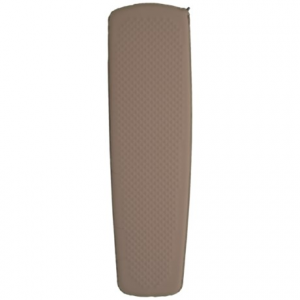 Excellent and durable pad. Slightly heavy by today's standard, but cheaper than the ultralight bunch.
Pros
Comfortable
Affordable
Durable
Self-Inflating
Cons
Relatively heavy (compared to ultralight sleeping pads)
I've used a Prolite 4 (that's today's ProLite Plus) from 2003 to 2016. I have the 3/4 version. The most important thing about it is that it works, it really self-inflates, and it's durable.
Some notes and details:

a. Durability: 
I always use a ground sheet or inside a tent; I never had a puncture. I had two mats; one started leaking from the valve after 10 years (needed valve replacement), the other never needed any care. I live in Israel where it's often rocky, but I also hiked in the U.S.—several hundred miles on the AT, three weeks NY's Long Path, and a couple of multi-day hikes in Yellowstone NP, Utah, and Arizona.
So, all in all, I used this pad for hundreds of nights, from below-freezing temperatures to hot summer nights (it handles quite well, but it's not a winter pad).

b. Comfortable:
The 1.5 inches definitely make a difference comparing to a closed-cell mat, especially so on rough and rocky ground.

c. Weight:
It's relatively heavy by today's standards. The 3/4 weighs around 450g  and the regular weighs some 670g, about double the weight of a NeoAir XLite, which is also 2.5 inches vs. 1.5 of the ProLite Plus (however, the ProLite Plus can be firmer, so the difference in reality is slightly less)

In the end I switched to a NeoAir XLite to save weight and have more padding, despite being a pain in the neck to inflate (the Prolite 3/4 needs exactly seven of my breaths to fully inflate, while the NeoAir needs several dozen) but I still use it for one of my kids when hiking together. And, after all those years, it still self-inflates (that means that it ALMOST fully inflates, but you still need to push some air into it. That's normal, in any "self-inflating" pad).
All in all, I can readily recommend this pad for anyone who doesn't care to carry a few extra ounces compared to the current generation of ultralight pads.
Source: bought it new
Price Paid: $60, I think? it was in 2003.

I wouldn't pay retail for one, but it is nice.
Cons
Heavy
Long
It WILL deflate on me some night
When that happens I will be grumpy the next day
Then I will probably complain in a gear review
I have a confession to make, I have been a foam pad guy for my entire hiking life.  I recently detailed my shamefull devotion to my ridgerest pad on this very website: https://www.trailspace.com/gear/therm-a-rest/ridgerest-solar/#review25517
Having said that I recently aquired for just about free (under ten bucks) my very own full length, self-inflating Therm-a-Rest pad. I feel the same about inflating pads as I do about pitbull guard dogs: There are many times you will be glad to have one on your side, but in the back of your mind there is always that worry that it will turn on you. Whenever something inflates there is the risk that it will also unexpectedly deflate. Yes, I know there are repair kits available. 
I got my Therm-a-Rest from my grandma's yardsale for very cheap so I couldn't pass it up (cheap but she still made me pay for it). Why grandma, who is almost 80 and never hikes, had this is a story best shared over a pint or two with an open mind and sense of humor.   
So, with an equally open mind I gave this pad a try on an evening with the kids. I have to admit that, on hard ground it is hard to beat. I slept well, only waking to check to see if it was leaking a couple times, happy to see that it was not. This is obviously not the same Therm-a-Rest pad I learned to hate in the 1990s.  This pad is lighter and more rugged than what I remember them to be and very comfy.
If I were going on a short hike and wasn't as concerned with weight this might be my go-to pad.  Being only in the 5' 10" height range this pad is also longer than I need. It should fit a 6' to 6' 2" person just fine. I usually put my pack under my legs so an even shorter pad would be nice for me. 
I could see myself using this pad along with my ridgerest under it this winter. Maybe one of the kids will snag it and adopt it and I still see myself bringing the ridgerest most of the time but I look forward to several hikes in the future where my inflatable will be with me.
Final verdict: Not worth the retail price but it has a place in the gear list. 
Source: bought it used
Price Paid: Less than ten bucks.

I have both the ProLite 4 long (for winter use) and the ProLite 3 shorter version for summer/all around. Obviously I like the pads enough to have bought two of them, and providing I can get enough air into it for firmness (the 3 has an annoying valve issue that prevents me from puffing it up more than half-firm), they are quite comfortable.
However, my biggest gripe with Thermarest, and it has been for years, is the ridiculously slippery fabric they consistently put on many of their pads. When I saw the ad for the ProLite, featuring 'textured dots on the bottom' I was excited...thinking they would be like sticky dots of some sort. They're not. Combined with the always slippery nylon surface of a tent floor, I find myself drifting/slipping throughout the night on anything but the flattest surface.
Before anyone comments that I need to select better tent sites, keep in mind that this isn't always possible. Many campgrounds have inadequate tenting sites (such as a dedicated tent platform) and on snow/glaciers when I've been on expeditions, it's simply impossible to level it completely.
I really, really wish Thermarest and Cascade Designs would somehow make the surface slightly sticky. Until they do, their mats (regardless of thickness, lightweight design features, etc.) will never go above 3 stars for me.
Price Paid: around $100 I think

Just recently I started to try and pack as light and as minimal as possible. This departure from what had been my usual packing style prompted me to start looking for a new sleeping pad. I found myself visiting a local store over and over and looking online, reading review after review trying to decide.
After looking at everything that the sleeping pad world had to offer I finally decided to go with the ProLite 4. The first thing that you notice is the diamond cut foam, this lead me to think that this maybe the most cold and un-supportive pad ever created, boy was I wrong.
I am a side sleeper and often times sleep cold. After the first night I noticed that not only was I warm and my hips weren't sore but I was also still on the pad, this is surprising because I am used to my bag sliding off of the pad if there is the slightest slope.
The only downside to this pad is its price and the fact that the stuff sack is sold separate for about $14.
Price Paid: $80

I found out this pad is worth every cent. Before using this pad, iI used a standard 3/8 inch think foam sleeping pad. I will NEVER go back to a pad like that again. Not only is it as light, it is thicker, warmer, and packs smaller than the old one. I was originally worried about puncturing the pad on rock or stones, but its durability has prevailed.
On a side note, I was tarp camping (my preferred camping) with my scout troop and we got hit by a freak rain storm. The water started to flow under my ground cloth. To keep my gear dry, it threw the rain cover on and fully inflated my pad by blowing it up. My equipment floated on the pad as the water rose and we waited out the storm. No foam pad would ever be able to be used like this.
Go Therm-a-Rest!!!
Price Paid: $90

Excellent sleeping pad. I am about as picky a consumer as you can get. During my last trip, in 35 degrees, rain poured all night long. I actually awoke in the morning to find my aluminum dinner dish FLOATING across the entrance of my tent -sigh-. My ProLite 4 kept me above the water all night long, didn't even know that water was accumulating like that. Despite the fact that every other item in my tent was soaked, my sleeping bag was dry thanks to the elevation provided by the ProLite 4. It (Prolite4) got wet all wet on the bottom (as my whole tent floor was wet), but my sleeping bag never got wet. I laid the ProLite 4 out to dry at home and by morning it looked brand new.
Extremely comfortable (I would actually rather sleep on this than my bed mattress at home). My only qualms with the product is not knowing how durable it is/puncture resistant. I have not had any problems thus far. And I am not particularly fond of the air locking mechanism-tightens perfectly fine and locks in air, but I don't know if there is a safe-guard for overtightening--have never tried to overtighten. In conclusion, an A+ pad, maybe a lifesaver.
Price Paid: 90$

This is by far the piece of gear that I am most grateful for. This pad has saved me from many a cold night's sleep. I have used this pad in everything from a freak snowstorm at 13,000 feet in the Sangres in Colorado to 80 degree nights in Kansas. Every trip I make, I am so glad for this pad. It is comfortable, it insulates well, and it's relatively compact and light.
The only real flaws I can find with the pad is that it takes a while to inflate and the material likes to slide around on tent floors. On a trip to the Sangres my girlfriend and I were forced to camp on a slope. I slept on the downhill side and I would wake up about once an hour to her laying on top of me because her pad had slid on top of me. It's not that big of an issue though.
I love this pad. It has kept me nice and cozy down to 18 degrees. In the summer it's comfortable enough to sleep on top of with a light blanket. If I had to buy this pad again, I wouldn't hesitate.
Price Paid: $100

I'm a believer in 'you get what you pay for' and this is definitely a sleeping pad that isn't cheap, but...it isn't cheap!
The worth of this pad is its insulating properties. I've been out in 15 degree temps and this pad worked great. I've used the Thermarest Prolite 4 in hot weather, cold weather, rain, and snow and it definitely is a great barrier from the elements. It doesn't really inflate itself all that well but a few puffs and voila`.
I purchased the large so my shoulders wouldn't fall off the edges. I'm 5'8" and 185 lbs and it suits my body pretty well. The bottom has little grippys that keep the pad from sliding out from underneath you in your tent (most of the time). Also this thing packs down real small and fits into my pack perfect.
Overall, I don't really have any complaints it has worked great and never deflates like other pads I've seen. I definitely recommend it.
Price Paid: $94

The latest Therm-A-Rest is actually light years ahead and worlds apart from the hype you might see from other gear manufacturers. As someone that has owned practically every Therm-A-Rest product, I have had the pleasure of using the ProLite 4 in extreme conditions and while I can never find it in my soul to give away my older TAR products (might need them for sudden guests) I can't imagine a better and lighter sleeping pad then this.
Uses: Everything, but I recommend an actual bed and boxes springs for extended (3+ months) stays.
Pros: Absolutely no comparison, really.
Cons: Mmmm, could be cheaper (easy complaint) but definitely well worth the cost. Why don't you add a 2 oz pump??? Another mmmm.
I have a few Thermarests and would not go into the hills without them.
I bought the woman's Prolite 4 as it was just the right size I like,  I'm 5'5" decided to get this, as it's rated warmer than the men's and it was lighter, but shorter.
If you are a lightweight freak and want to buy one, choose this over the men's. I get funny looks from my climbing buddies, but i have the lighter pack... Last laugh is with me.
Great on snow, rock and ice. I do agree with the other reviews on the men's, there is a bit of  a sliding issue, but just anchor your bivi bag down.
Price Paid: 180 nzd

Somewhat lightweight pad. Could include a better bag.
Cons
Have to buy stuff sack seperately
Got it heavily discounted from Sierra Trading. Not tightest inflatable made. Comes with a small stuff sack, but pad needs to be folded and rolled before stuffing and in the bag provided takes up way too much space in a pack.
Ended up buying the Therm-a-Rest 11.5 liter stuff sack to carry pad in. Carry it rolled without having to fold, and can attach pad sack to bottom of pack or under pack lid.
Source: bought it new
Price Paid: $45

I've owned and worn out three Therm-a-rest inflatables so far, since the very first ones came out.
This ProLite 4 is by far the most comfortable of them. I sleep very cold, so I really appreciate the higher R value -- higher than the lighter Therm-a-rests that I've previously owned. I bought the short version rather than the women's version to save on weight.
I use a few sections of Z-Rest mattress to put my feet on when sleeping, and the Z-Rest sections double as a very comfy camp seat.
The ProLite 4 is a terrific mattress, and I don't begrudge its price.
Price Paid: $89

This pad is great. I don't do any winter camping, but Alberta/BC nights can get chilly in the mountains, and I sleep cold, so I went with the 4 over the 3. I figure the extra r-value and thickness seem worth the small extra weight. I usually put 2 breaths into it for a full inflation. I am 6'1" and have the Regular length, it is perfect. I cannot believe how much more comfortable and warm it is compared to those old blue foams I had slept on. Highly recommend!
Great, and I do mean great, sleeping pad. Not really 'self-inflating', but it is very flat, and it inflates with a minimum of effort. No issues rolling off of it, even with a lightweight sleeping sleeve. Easy to roll up and re-stow, once you get the hang of it.
I just used this pad on a Grand Canyon rim-to-rim trek, and it worked like a champ. Most campsites are gravel, and this pad smoothed out the lumps while sleeping out under the stars. Very light and very compact.
Price Paid: NA

I bought this product because of the great reviews it has.
I was very disappointed. If there is the slightest slope to the ground you're sleeping on you slide off the pad all night. I also never had a good night's rest because my back hurt. I needed a thicker pad to accomodate back problems I have.
I purchase an Exped pad that is 3.5" thick. It's slightly heavier but sleeps great.
Price Paid: $100

I bought this pad and I am very pleased with it. It inflates well but sometimes needs a little assistance. The pack size is small to conserve pack space. The 4 long bag is a bit big and I could have gotten by with a 4 regular to conserve more space. I've slept over roots and rocks not even knowing they were there. It is worth the money.
Price Paid: $99.99

Version reviewed: Large
This is the best pad I have ever used. I went hiking using a 40 degree rated bag in 35 degree weather and I was still warm on my backside. It prevented the heat from going through the ground. Even though it fit me perfectly (I'm 6'4"), it packed very small and light in my pack.
Price Paid: $104

Excellent Pad. I have used it on snow and dry ground. The pad is light and compact. The #4 is worth the extra weight especially on snow.
The pad however doesn't self inflate very well, it takes a long time.
Bottom line I would buy it again.
Price Paid: $69

The best sleeping pad for backpacking. Packs amazingly small and is the most comfortable. Worth every single penny. I very super duper highly recommend this and only this sleeping pad.
Price Paid: $90

The ProLite 4 is by far the very best sleeping pad. Designed for comfort, warmth and very small pack size. The Therm-a-rest excels in all areas. Worth every penny!!!
Price Paid: $94.95

Taper at bottom saves space and weight and fits in smaller tents that narrow at the foot. Great comfort. More comfortable than previous ultralight series.
Price Paid: $80

WOW! Lightweight, packs small, great shape and sleeps oh-so-comfortable. Get one NOW!
Price Paid: $89

Your Review
You May Like
Specs
Men's
Price
Historic Range: $42.00-$109.95
Reviewers Paid: $10.00-$104.00

Women's
Price
Historic Range: $59.50-$109.95

Recently on Trailspace