Yaktrax XTR Extreme

The XTR Extreme has been discontinued. It was replaced by the Yaktrax Summit.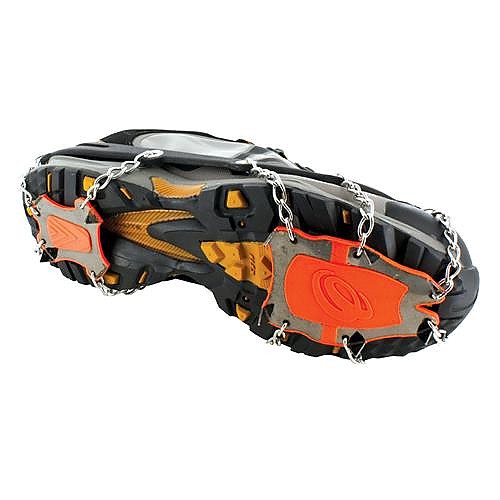 I have to agree with several of the poorer reviews regarding this product. Not having a chain joining the two traction plates allowed them to move around causing the traction spikes to line up incorrectly on the foot. This constant movement of the plates also causes excess strain on the link that joins the chains to the rubber/grommet causing some of those links to start opening up.
Pros
Good traction on packed snow trails and glaze ice
Easy to put on and take off
Handy carry bag to prevent backpack punctures
Light weight
Snow does not build up under foot because of plastic pads
Cons
Front plate slides too far up the toe when ascending hills
Links joining the chains to the grommet need to be welded
I bought these a few weeks ago to take along while snowshoeing so when trail conditions warranted, I could use these instead of the snowshoes. I put them on at the car and walked in them to the trail head covering both snow and ice. I was pleased with their performance on the flat terrain.
Upon initial inspection at the trail head, the traction pads lined up well on the ball and heel of my shoe.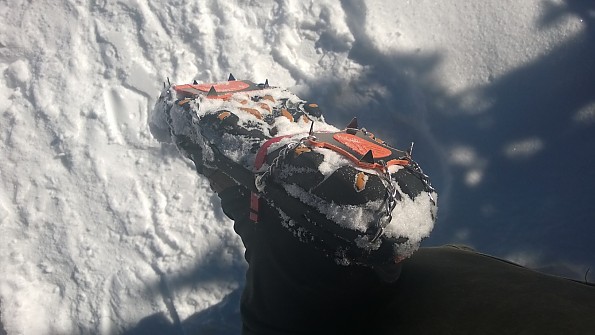 We snowshoed for a couple of miles but as the temperature climbed, my buddy's snowshoes started clumping snow balls under his crampons. He decided to take off his snowshoes and just walk in his boots and I decided to try out the Yaktrax on the varying terrain of the packed trail.  
The first thing I noticed was the initial 3-4" of each step slipped a little which I attribute to the plastic on the front pad and because the front pad moved forward toward my toes. This was a little annoying but tolerable.  
We soon came to an ascent and this problem became more obvious. From the picture below, you can see how the front plate has moved beyond the toe of my shoe. Because of this, I had to walk on my toes for the whole climb in order to obtain traction.
On the downhills I didn't have the same problem described above (with the heel pad sliding too far back), but I did notice the heel pad had quite a bit of play in it.
On the "pro" side, this product works quite well on gentle terrain and grips like glue on flat glaze ice. I was walking around the inside of a covered shed which had glaze ice on the floor. They never slipped once and from the crunching sound and the puncture marks in the ice, I felt confident walking around in them.
There is also a heavy duty carrying bag included with is really nice for when carrying in my backpack. My buddy, who uses Microspikes, said his did not come with a carrying bag and he had to go buy one to protect his pack.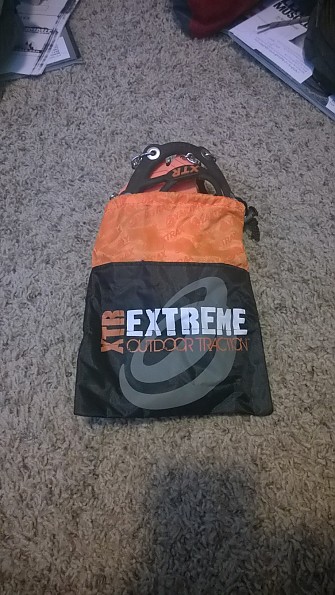 The complete package is also lightweight, so carrying them in your pack or on your feet is hardly noticeable. 
411 grams / 14 3/8 oz (both slip-ons)

431 grams / 15 1/4 oz (with carry bag)
I agree with the reviewer below, the name Yaktrax has given this product falsely implies a tougher level of usage. From the packaging, Yaktrax claims "It is designed for anyone who prefers to go off road during the winter months."
I also agree that by adding a chain or wire between the two pads binding them together would potentially solve this problem. In the picture below, you can see how far forward the front pad has shifted and with the constant stress being applied to the chains by this movement, I think that is what is also causing the chain links to start separating.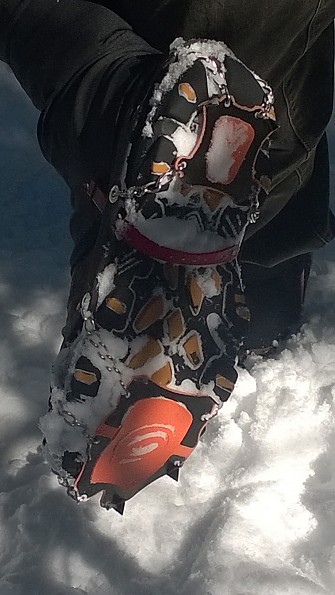 This may be hard to see but there is a slight gap forming in one of the chain links attaching the front pad.  Most of the links on both front pads (at the grommets and at the traction plates) have started forming this slight gap.


I plan to modify mine the same as the reviewer above. I was able to buy these at 50% off retail ($60) so I'm thinking I can buy a couple of short lengths of chain for less that $30. I don't have a way to weld the chain gaps but I'm hoping the binding of the front and rear pads relieves the stress on those links stopping that problem from getting worse.  
I'll update this review periodically as I learn more.
Source: bought it new
Price Paid: $30

Hiked to the summit of Mt. Liberty in the White Mountain National Forest of NH on Wednesday, November 3, 2010.  About 2-3 inches of snow approximately half way up which continued to the summit.  Conditions at the top were not terrible; about 3 inches of snow, and some ice on the exposed rock surfaces where the snow had either been blown off or slightly iced over.
I was wearing a Kahtoola Micro Spike on my left boot and a YakTrax XTR Extreme Micro Spike on the right boot. Hiking up to the summit I noticed very little difference in either manufacturer.  At times it appeared that the footing was slightly less aggressive on my left side (Kahtoola). 
However, the major difference was realized while descending.  At times I purposely chose the path less traveled in order to give both micro spikes the best test possible given the conditions at that time. Clearly, the YakTrak XTR Extreme micro spike provided consistent gripping and stopping ability that was at times 20-30% better then the Kahtoola micro spike. 
At several points the left foot slipped ahead of my trek and left a wad of snow that had built up under the Kahtoola Microspike. At least on this hike down Mt. Liberty, at no point did the right foot with the YakTrak XTR Extreme micro spike slip out from under me. 
Ben, the individual that helped me at the EMS store in Concord, N.H., asked me to write a review on these micro spikes; so I am.
I want to thank my hiking companion Merry Ann for the invitation and date to hike Mt. Liberty on this day as the time together, weather, views, and lunch on the summit were all stella. She also provided the initial guidance on the foot gear that was needed that day. 
Paul A. Jadis
Wilton, NH
Price Paid: $44.95

Don't seem to be made for hiking.
Pros
Few dollars cheaper than Kahtoolas
Snow won't ball up under feet.
Cons
Made cheaper than the Kahtoolas
Anti-Balling plates seem to lessen traction.
Heel susceptible to sliding up back of boot/shoe.
My girlfriend got these for hiking because they were a few dollars cheaper than the Kathoola Microspikes which I use.  They seem to fit her boots tightly, but the heel always sides back and up the back of her boot on a descent.  The main reason for this is that the two spike plates are not joined together. There is nothing to stop the heel plate from sliding other than whatever minimal friction the user's boot sole has with the plate.  
The Microspikes are connected with chains that also provide added traction. Speaking of traction, I feel that although the plastic they put between the spikes that is supposed to stop snow from balling up on your feet does exactly that, it also has a negative effect on traction. It is a slippery and smooth surface up against the snow, and it seems to reduce the effectiveness of spikes to grip hard pack/icy surfaces in comparison to the open chain design of the Microspikes.
These are not well designed for hiking.
I ended up going to Lowes and buying chain which I welded the links shut on to connect the bottom two plates with an X of chain and that solved the heel sliding problem.
Source: bought it new
Price Paid: $40

I have had consistently great experience with my Yaktrax Pros. When I saw the ad for the Extremes I headed for my local store and snatched up a pair (and I even paid for them ;).
Today I did a hike up a fairly steep hill with about 1700' elevation gain  and 20-35 degree slope using them for the first time  The ground was frozen and there was about 8-12" of fresh snow -- the ground is rocky.  
First, I wear about a size 10.5 shoe so I purchased the mediums, designated to fit a US 9-11.  I think the Extremes were slightly too big for my 10.5 5.10 approach shoes (waterproofed) but if I had been wearing boots they might have been sized correctly.  
They seemed to work fairly well but when I finished the hike and returned to the car to remove the Extremes I found several chain links opened and one chain hanging loose -- a link having opened wide. On inspection I noticed the links are not welded but are just pressed together.  
I don't think they, despite the name, are designed for tough environments -- my hike was not long (about 2 miles round trip) nor particularly "extreme."  These are not what I expected from a Yaktrax product. 
Price Paid: $60

They did a great job in 6" of Smoky Mountain snow. On my return hike I ran into two hikers who were following my tracks, envious of the obvious "bite" I was getting. They mentioned they were slipping a bit and had to check out my XTRs. They added them to their wish list. 
You're glad you have them when crossing streams — ice, snow, water, wet rocks... Very easy to put on and off, not once did they feel like they were slipping off. 
They are now a mandatory item for my winter hikes.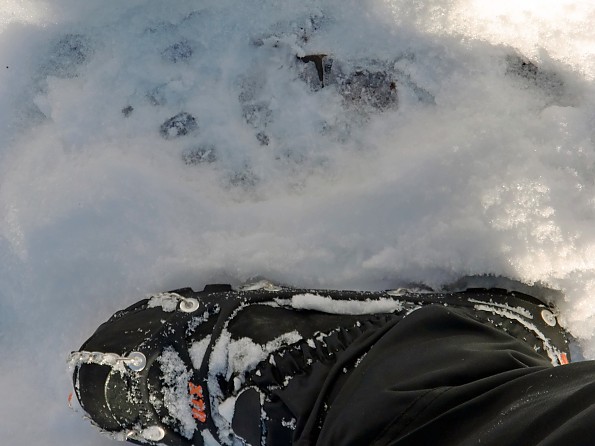 Price Paid: $40

Pros
Great traction on ice and snow
I work at a salvage yard in Iowa and I wear these and I love them
They stay on, unlike some others I tried to wear.
They flex with the shoe and are durable.
Cons
I would like to have a little longer tooth on them, but that's just my opy
I work at an auto salvage yard in Iowa and I wear these and I love them. They stay on and in place. I would like to have a little bit longer tooth on them, but that's just my opinion. I have 12 fusions in my back and falling isn't something I care to have happen.
Experience
These will stay in place. I have tried the ones with the spring type, and they roll right off.
Source: received it as a personal gift

Fell apart the second time I used them. Seems like a poor design.
Pros
Easy to put on and provide good traction
Cons
The way the front section prone to failure due to the design.
I bought these last year for a hike in the Adirondacks. They seemed to provide good traction on pretty icy trail up Cascade. Went back this year to do Algonquin and half way up the trail the front section metal pieces ripped off the rubber piece joining them together. I expected them to survive more than two winter hikes.
Source: bought it new

Your Review
You May Like
Specs
Price
Historic Range: $19.98-$49.99
Reviewers Paid: $30.00-$60.00