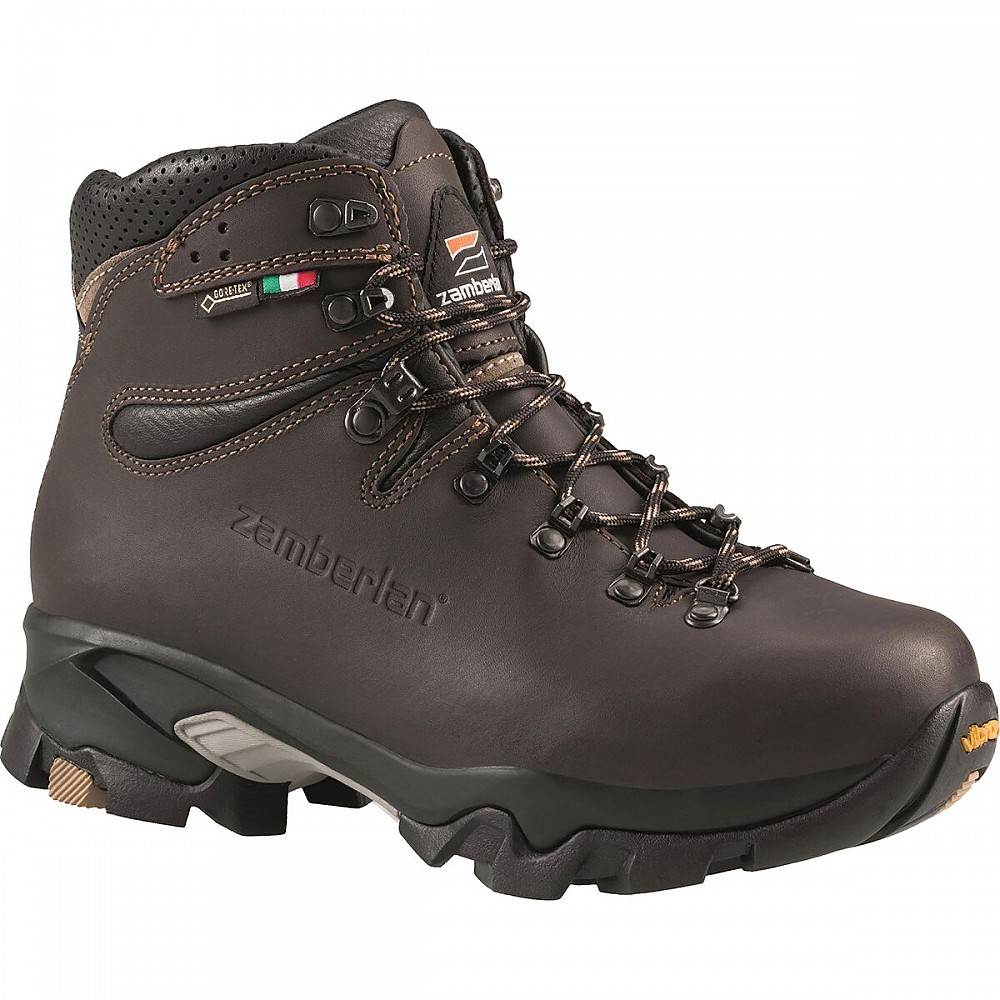 Specs
Men's
Price
Current Retail: $309.95
Historic Range: $249.00-$309.95
Reviewers Paid: $245.00-$270.00

Weight
740 g

Women's
Price
Historic Range: $179.95

Weight
660 g

Reviews
10

reviews

5-star:

6

4-star:

1

3-star:

2

2-star:

0

1-star:

1
Beware of the sole on the Vioz GT/GTX series of boots. Though the boot fits great and needs almost no break-in, the sole problem is a trip-stopper.
Pros
That great Italian fit on my foot
Premium upper materials
Well-fitting insoles
Cons
The sole is obviously defective, and...
Zamberlan does not respond to warranty requests
I cannot go onto what is good about this boot yet, as the soles are a complete trip-stopper. Within a few miles, the Vibram sole starts coming off in large chunks—whole lugs at a time. I have never witnessed this on any boot. That is particularly surprising for a premium brand with a premium-branded sole manufacturer.
And so far, Zamberlan has ignored all communication from me, through either their official warranty request, or customer service.  
The fit, comfort, support are great. It needed no break-in for me. The downhill grip seemed great, even on loose DG over hard-pack.  
But again, they are done after one 10-mile hike.  
Disclaimer: I bought these at the REI Garage Sale, and I did not think to look at the soles, as they looked brand new at first glance. But I found the first tear in the sole when I got home. It was so unusual, I thought the first owner cut it somehow, then returned it to REI. I am disappointed that REI passed the boot onto a customer instead of returning it to Zamberlan. Looking at reviews, it turns out this is a well-known problem to Zamberlan and REI. They seem to be whistling past the graveyard with this sole.  
Experience
I live and have hiked in Colorado for 30+ years, so my boots get a workout. I primarily wear Asolo backpacking boots with great success over the years. This was my first pair of Zamberlans, as they are a premium Italian brand, and Italian lasts tend to fit my feet well.
Source: REI Garage sale

I bought at REI. I hike in the mountains with approximately 20 miles per week. I would not purchase because they do not seal well at the top of the boot.
Cons
No matter how hard you try to lace them at the top of the boot, debris still comes in
Source: bought it new

This boot felt great initially, sort of launches your stride forward like a spring. I am disappointed after two years with the soft sole having worn down and the leather is cracking at the break where there is a crease. I found the toe box too narrow.

For the money these boots should have held up much better.
Pros
Little or no break-in
Good looking
Flexible
Soles have bounce
Cons
Small/narrow toe box
Soles wear out quickly
Leather prone to cracking
First, to put my experience into context, I am 6'3" and 240 LBS (not obese!) and walk or hike in the Massachusetts woods and White Mountains, usually six to eight miles per day (now that I am Older).
I used these boots for daily hikes in the woods and not much on pavement, cleaned and treated them regularly.
After two winter seasons the treads are wearing thin. This is very disappointing since my Scarpas went through much more strenuous heavy duty use and lasted twenty years!
Now I could accept that the trade-off for the more nimble and springy Zamberlans' soles would need to be resoled often if it weren't for the fact that the leather of the uppers is failing. There are creases where the boot breaks and these have now opened up into cracks. 
While this is a comfortable boot and waterproof, I would rather see Zamberlan use better leather and hold the Gore-tex.
Source: bought it new

Great boots that have great durability, water protection, and support.
Pros
Good support
Good protection
Good waterproofness
Thick leather
This boot fits me very well. After a little break-in time it has virtually no heel slip. It is a tight fit all the way around with pressure that was evenly distributed and no pressure points. I user this boot both on a daily basis and for big trips.
I carried a 45 pound pack 8-13 miles a day in Montana and was very pleased with the support. I also use these for some warmer snowshoe trips and even early and late backpacking trips in the winter with gaiters. They kept my feet both warm and dry in the 15-45 degree temps.
I use Zamberlan Proofing cream on these boots at least monthly. The watershed finish that this creates helps keeps the boot from freezing in the morning. This also keeps the leather in really good condition so the boots will last a long time.
So far the durability has proven really well with these. The leather is thick enough that the few cuts I have in the unprotected toes of the boots have not even come close to going through. That is my only big disappointment about these is that they do not have rands. This is the only thing that I think will significantly reduce the life of these boots.
Source: bought it new
Price Paid: $260 (20% REI coupon)

I was able to put this boot on and walk out the door without break in. No hot spots or blisters. I was looking for a new boot and did a lot of research. I won't go to another boot.
Pros
Comfortable
No break-in
Solid construction
Dry feet
Although these boots are a bit heavy, I don't find it an issue. They are very comfortable on my feet, they provide good ankle support, good solid construction. I wear these boots all the time working or hiking, I've had them 3 years now and they show very little wear.
The best part about these boots is that I was able to take them out of the box and go hiking without break in. I'm yet to have a blister or hot spot. Feet stay dry, I've taken them through shallow creeks and hiked in the rain. I find the traction to be adequate on wet surfaces, like with any boot wet surfaces are going to be an issue, I don't go out of my way to experiment on a wet log.
I've logged a few miles with these boots, on trails and cross country and can honestly say that they exceed my expectations.
Source: bought it new
Price Paid: $245 USD

Great boot, super tough and very comfortable.
Pros
Extremely durable
Very comfortable
Adapts to a wide foot.
I bought these boots before a trip to Papua New Guinea to walk the Kokoda track. Having wide, short feet finding comfortable boots was a nightmare. After trying on at least 20 different types I bought the Zamberlans and haven't looked back since.
It took about 30km of hiking to break the full leather in (and stretch them around my wide feet) but after that initial period they have been super comfortable with even the heaviest of loads. The ankle support is excellent without being restrictive and the aggressive soles make excellent use of whatever grip they can find.
Over the last few years these boots have made it through Kokoda, to the base camp of Everest and the summit of Kilimanjaro as well as numerous local hikes and are still in fantastic condition. The only sign of wear is some slight scuffing of the leather on the toes (Mainly from kicking mud steps on the Kokoda track and scree running down Kili.).
One downside to these boots is that being full leather they don't breathe as well in the hot humid places of the world as a fabric/hybrid boot would. If you're not travelling to warm locales or don't mind a sweaty foot at the end of the day then you would be hard pressed to find a more comfortable, better made boot.
Source: bought it new
Price Paid: $270 on Sale

Minimal break-in, maximum stability and comfort. Best pair of boots I've everowned.
Well worth the price. Total comfort right out of the box!
Source: bought it new
Price Paid: $270

Great boot. I have owned them for about two years and use them for tramping and hunting in New Zealand on a regular basis.
Very comfortable and warm (I use them mostly in winter so there is a lot of water and some snow use) and like all good leather boots a little TLC will keep them looking like new for ever.
Price Paid: 149 NZD (a Bargin!!!)

I tried these boots at an REI retail store, then purchased them online a few weeks later. I have long, narrow, fairly flat feet, that have been widening slightly as I age and run. So the boot fitting is always interesting to say the least.
I was replacing a 10-year-old set of La Sportive M-hikes that just didn't fit any more. I liked what I felt in the store, but you never know. The Zamberlans arrived on a Friday afternoon, and I left for a backpacking trip on Monday morning. I only got to try them around the house for a couple of hours, so this was pretty much right out of the box and onto the trail.
For three days, I put them through hiking with a loaded pack, on trail, off trail, snow, slush, stream crossings, mud, scree, steep ups and downs, boulders, scrambling, you name it. I had not one hot spot or blister. This is by far the most comfortable and dry pair of boots I have ever owned. But, this is still only a 20 mile +- report, so time will tell. The Zamberlans stayed 100% dry, never felt too hot, and were so comfortable that I didn't feel the need to change out of them at the end of the day.
I think that there are lots of good boots out there, and basically it comes down to whether the boot fits your foot or not. These fit mine perfectly. The heel is snug but not tight, the instep is perfect, the arch supportive, the toe box roomy. I love 'em.
Price Paid: $265

Best hiking boot I've owned. Didn't have much break in time before a 10-day 75-mile hunting trip up and down a mountain side. No blisters or hot spots. Feet stayed warm and dry.
Price Paid: $249

You May Like
Recently on Trailspace