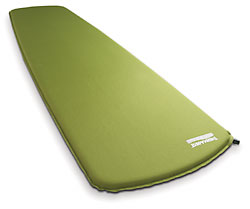 Heading to the desert or other prickly, puncture-prone locales? Then you'll want to check out the new Therm-a-Rest ToughSkin sleeping pad, which recently won a Silver OutDoor Industry Award for innovative technology at the 2006 European OutDoor Trade Fair. The ToughSkin is composed of a top layer of open-cell, self-inflating foam and a bottom layer of closed cell foam, for protection from punctures by thorns, sticks, and sharp rocks, which would otherwise render a self-inflating pad useless.
Therm-a-Rest found that 95 percent of sleeping pad punctures penetrated less than one-tenth of an inch, so they made the ToughSkin's puncture-resistant material a minimum of one-eighth of an inch thick. In the unlikely event that the inflated portion of the pad is punctured, you'll still retain the insulation value of the closed cell foam bottom for an insulated night's sleep.
The Therm-a-Rest ToughSkin will be available in November of 2006.
Small
Size: 20" x 47" (51 cm x 119 cm)
Thickness: 1.5 inches (3.8 cm)
Weight: 1 lb 10 oz (750 g)
R-Value: 5.2
Suggested retail price: $99.95
Regular
Size: 20" x 72" (51 cm x 183 cm)
Thickness: 1.5 inches (3.8 cm)
Weight: 2 lbs 8 oz (1140 g)
R-Value: 5.2
Suggested retail price: $119.95