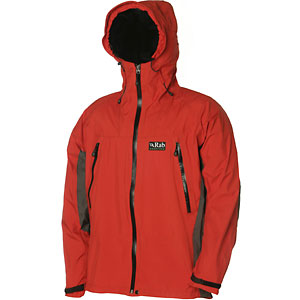 More than 25 years after Rab began offering technical mountaineering clothing and gear "for the most extreme conditions in the world," the British company will bring its acclaimed products to the U.S. market for the first time in the fall of 2007.
Mountaineer Rab Carrington founded Rab in 1981 when he was unable to find down clothing and sleeping bags that met his standards. The company is now considered the leading British manufacturer of mountaineering clothing and gear, offering down and insulated outerwear, hard shells, soft shells, insulation and fleece layers, expedition garments, sleeping bags, shelters, and more.
Rab's owner and president, Matt Gowar, says the time is right for Rab to move into the U.S. market. "American climbers are really doing a lot to further alpinism, and we view our product line as a perfect complement to such a community," said Gowar.
Gowar says he's seen many previously technical brands shift into fashion-driven product lines, leaving "a gap in the market for an authentic technical brand." Rab, he says, is focused on giving retailers and consumers "the gear to take on the worst of the weather that can be thrown at them."
RAB's 2007 Products Include
Down Outerwear
Rab's roots are in down, and its 21 down offerings range from its Expedition Suit, used by numerous Everest summiteers and Polar explorers, to vests for lightweight backpacking.
Neutrino Edge Jacket ($250)
Rab's newest down piece is the Neutrino Edge Jacket, a lightweight mountaineering jacket for alpine climbing, 6000-meter peaks, Himalayan trekking, and winter backpacking, which features 250 grams of 96 percent goose down at a fill power of 850+, a water-resistant shell, and chain link baffle structure.
Synthetic Outerwear
Generator Jacket ($150)
A lightweight, packable insulated jacket made with Primaloft 1 fill and Pertex Quantum inner and outer fabrics, the Generator Jacket packs into its own pocket. A Generator Smock (pullover) and Generator Vest also are offered.
Hard Shells
Drillium Jacket ($275)
Rab's lightest waterproof shell, the highly-compactable Drillium Jacket, is made from 3-layer eVent fabric, weighs 350 grams, and tucks away into its own pocket.
Latok Jacket ($350)
Designed for winter alpinists, the Latok Jacket uses eVent 3-layer fabric for breathability and comfort combined with durable performance.
Latok Alpine Jacket ($275)
The Latok Alpine Jacket (pictured above) is available in men's and women's sizing and is a lighter, more streamlined version of the Latok Jacket.
P5 Jacket ($200) and P5 Pants ($150)
The lightweight alpine mountaineering P5 Jacket and Pants are made from Pertex Shield 3-layer waterproof fabric.
Soft Shell
Kailash Jacket ($240)
The Kailash Jacket, made from eVent's new windproof fabric, is breathable and weather protective and features a high protective collar with drawcord.
Shelters
Rab's shelters are currently sold in the U.S. by Outdoor Designs (Rab's sister company), but will begin appearing under the Rab brand name later this year.
Ridge Raider ($279)
A lightweight single hoop bivi shelter in Exchange Lite eVent fabric, the Ridge Raider features a waterproof bathtub base, an internal pitch Easton pole, and glow-in-the-dark zipper pulls. Weight: 944 grams
Summit Extreme ($450)
A two-person, low profile mountaineering shelter in Exchange Lite eVent fabric, the Summit Extreme features internally pitched Easton poles, a rear snow collection porthole, and a waterproof bathtub base. Weight: 2100 grams
Sleeping Bags
All of Rab's down bags are hand filled in the Rab factory in Derbyshire, U.K.
Quantum Topbag ($260)
This ultra lightweight topbag for adventure racing, mountain marathons, and minimalist backpacking features 200 grams of goose down on top and around the foot and a single layer of Quantum fabric on the base. Weight: 520 grams; Comfort Rating: 0° C (32° F)
Summit 900 ($500)
Part of the Summit Series for cold weather and high altitude, the Summit 900 features a water-resistant shell, four-sector baffle construction, and full-length side zip. Weight: 1800 grams; Comfort Rating: -24° C (-11° F)