MSR Delays Release of Reactor Stove System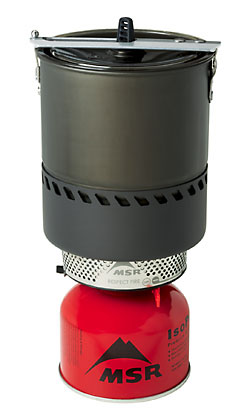 MSR (Mountain Safety Research) announced today that the Reactor Stove System, previously scheduled for release in spring of 2007, is not ready for release yet. The Reactor – a fast-boiling, fuel-efficient, and windproof integrated stove system – has been highly anticipated due to early press coverage, awards, and enthusiastic reviews from prototype testers.
The Reactor design features a unique burner technology, including convective and radiant heat transfer and an internal pressure regulator. As Seattle-based production increased and stoves were put through MSR's stringent testing protocols, the majority of units met MSR's test standards; however, a minority fell short of a particular worst-case combustion condition test, and produced higher than desired levels of Carbon Monoxide (CO). Carbon Monoxide is a byproduct of all fuel-burning stoves, and although the elevated levels produced by the Reactor would have posed little appreciable CO risk to those using the stove as directed, MSR nevertheless elected to further hone the Reactor stove design so that it consistently meets the testing standard.
"We're all very disappointed that we've been unable to meet our previous ship date commitment, and are sorry for letting so many down," said Ken Meidell, Outdoor Group Vice-President of Cascade Designs, parent company of the MSR brand. "But we have always worked by high technical standards and will not compromise on the quality and consistency of our products."
Production of the Reactor Stove System has resumed, and the validation testing will be repeated. The company has declined to communicate a firm shipping date, and recommends checking the website at www.msrgear.com for updates.