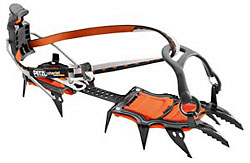 Recent customer experience has shown that the front points of Petzl's SARKEN crampons are susceptible to premature wearout following heavy use. This means cracking of the metal forefoot near the front point(s), followed by possible breakage if usage continues.
Petzl has stopped sales and production of these crampons and is recalling all SARKEN crampon models because they feel that the potential lifetime of the crampons should be longer than user experience has demonstrated.

If you own SARKEN crampons (any binding system, black or orange color metallic parts):
you should stop using the crampons
you should contact your Petzl distributor to obtain return instructions and to indicate which Petzl crampon model you would like in exchange. The distributor will process the exchange procedure for your crampons as soon as possible at no charge.
Visit http://en.petzl.com/petzl/SportNews?News=193 for more information on contacting your Petzl Distributor. If you have any other questions concerning this recall, please email recall.sarken@petzl.com.