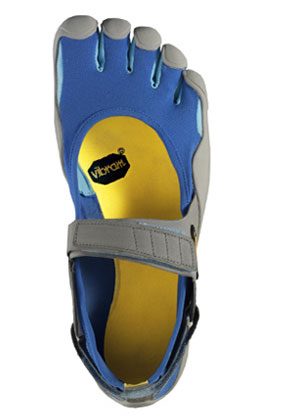 Vibram FiveFingers, a unique glove-styled shoe, was named one of the "Best Inventions of 2007" according to Time magazine. All of the products named to Time's list "represent the coolest stuff from the most innovative minds in the world," writes Time managing editor Richard Stengel in his notes to readers in the November 12th, 2007 issue.

Originally developed as a "barefoot alternative" for sailing, climbing, and light trekking, FiveFingers footwear is quickly gaining popularity among runners; fitness enthusiasts; yoga and Pilates practitioners; martial artists; surfers; kayakers; hikers and travelers. This amazing footwear alternative offers all the health benefits of going barefoot with the protection and grip of a Vibram sole.

Technology writer Lev Grossman and his team of Time writers and editors, chose 45 of their favorite inventions and 17 clever reinventions of everyday items. Vibram FiveFingers was touted as "Reinvented: The Sandal" in the Health section.

Time continued, "With a rubber sole contoured to the shape of your foot and a separate pocket for every toe, the Vibram FiveFingers shoe feels like going barefoot without the calluses."

"We are thrilled and honored to make Time's Best Inventions list," said Tony Post, president & CEO, Vibram USA. "It's exciting to have the world's leading news magazine recognize our passionate commitment to product innovation and the many health benefits of wearing Vibram FiveFingers."

FiveFingers add a unique sense of feel to any activity, putting the user more in touch with their body and their surrounding environment. Wearing FiveFingers not only strengthens muscles in the feet and lower legs, it can improve one's balance, agility, posture, range of motion, and general foot health.

Currently offered in three models, Classic, Sprint and Surge, FiveFingers is available in men's sizes 41 to 47 (8 to 14) and women's sizes 36 to 42 (5 to 11.5) and ranges in price from $70 to $100. In 2008 two new models, the KSO and Flow, will be launched. Each style features a patented, non-marking Vibram outsole designed to follow the contours and flex points of the foot and toes with razor-siping for a sure grip on wet, slippery surfaces. The inner footbed utilizes the AEGIS Microbe Shield application that kills odor-causing microbes without any adverse environmental impact.