Jetboil Launches Backcountry Gourmet Recipe Contest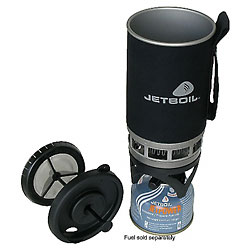 Jetboil, award-winning creator of the revolutionary integrated cooking systems that have become an intrinsic part of the outdoor industry, announces the Backcountry Gourmet Recipe Contest.
The Backcountry Gourmet Contest will judge recipes in five categories: Breakfast, Lunch/Snack, Dinner, Dessert and Beverage. One winner in each category will be awarded a Jetboil Backcountry Gourmet Cooking set, which has everything necessary to create great meals outdoors. The set includes a PCS, a Fluxring Frypan, a Pot Support and Stabilizer kit, and the Jetset Utensil Set. Runners up in each category will receive a Jetset Utensil Kit. Winners and runners up may be featured on the Jetboil website or in an upcoming product catalog.
All entries must be received between November 15, 2007 and January 15, 2008. Winners will be announced on January 31, 2008.
For complete rules and eligibility, please visit www.jetboil.com/Out_There/Recipe-Contest.
Since its inception in 2004, Jetboil's revolutionary cooking systems have won numerous awards both inside and outside the outdoor industry. The patented FluxRing technology, at the heart of Jetboil cooking systems, defines efficiency, safety and ease of use and its introduction has redefined the outdoor cooking category.