Recall of Certain Jetboil Personal and Group Cooking Systems
Jetboil has utilized three different gas valves (the "A", "B" and "C" style valves) in the production of its Personal Cooking System (PCS) and Group Cooking System (GCS). PCS and GCS units utilizing the B style valve were shipped to US retailers between July 10 and September 9, 2008, and sold through retail since July 10, 2008.
Jetboil is undertaking a consumer recall of all PCS and GCS systems utilizing this B style valve, working in cooperation with the United States Consumer Product Safety Commission (www.cpsc.gov).
We have determined independently to undertake this process after receiving reports and returned units from a very limited number of end users who have experienced leaking gas and subsequent ignition of the gas leak. No injuries or property damage have been reported by these users.
PCS and GCS systems utilizing the A and C style valves continue to be fully safe and functional.
To identify the valve type of your system, see below.
If you have a question about identification, please call 888-611-9905.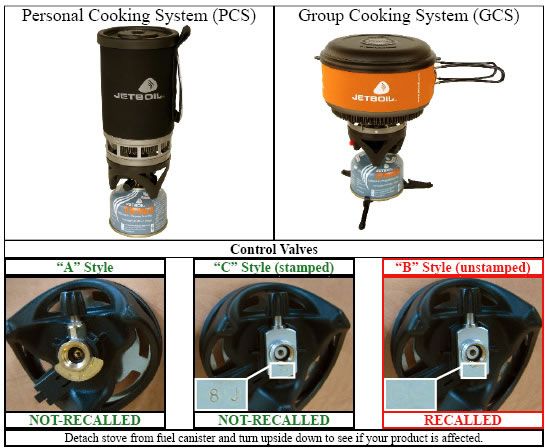 Recall Exchange Request:
To register for a product exchange please fill out and submit the form at www.jetboil.com/recall