Mountain Hardwear introduces Dry.Q waterproof-breathable technology
Mountain Hardwear has announced the launch of Dry.Q, a new family of waterproof-breathable technologies.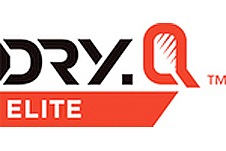 Dry.Q Elite, the pinnacle technology in the family, prevents the wearer from getting soaked from the inside by their own perspiration at all levels of exertion. Featured in the brand's Alpine, Snowear and Mountain categories, Dry.Q Elite brings durability to waterproofness and breathability and provides always-on performance via air-permeability.
Traditional waterproof-breathable systems work by moving internally-generated moisture out through the shell fabric, but the wearer must first overheat and feel wet on the inside before the membrane begins to work. Dry.Q Elite breathes instantly, allowing air – and moisture - to pass outward through the fabric. Breathability and comfort starts the moment the wearer puts on the garment.
Additional members of the Dry.Q family include:
Dry.Q Active: Lightweight, stretch and waterproof-breathable performance for active sports, such as running, offered in Mountain Hardwear's Excel sportswear collection.
Dry.Q Core: The versatile and durable foundation of Dry.Q for a wide variety of outdoor activities, found across Mountain Hardwear's Alpine, Snowear and Mountain collections.
"Mountain Hardwear is a brand committed to challenging the status quo. Our athletes and customers have been conditioned to accept compromises in the performance of their traditional waterproof-breathable products. For Fall 2011, our fabric and technology engineers took innovation upstream in the fabric creation process to create the most comprehensive line of uncompromising performance products on the planet. Having our own waterproof-breathable technology allows us to take a more holistic and innovative approach to designing each garment," said Mountain Hardwear President Topher Gaylord.
"With our unique combination of supreme quality face fabrics, barriers, backers, glues, tapes and lamination technology, we have crafted our own series of fabrics for specific activities," said Ted Ganio, director of merchandising and design. Testing the new technology was an important part of the design and development process. "We put Dry.Q through rigorous performance evaluations in the lab, the field, and the most remote regions of the world," Ganio said.
"After our 500 wash standard, the entire Dry.Q family of technologies remained more waterproof than all the others and up to two times more breathable than industry standards. What really impressed us were the immediate results when we started running Moisture Vapor Transfer tests. There was no lag time. Dry.Q Elite started working immediately to allow moisture to escape," Ganio continued.
Mountain Hardwear athletes are giving Dry.Q Elite raving compliments. "With Dry.Q Elite, we finally have come up with an answer that works," stated alpine climber Freddie Wilkinson. "The human body wasn't designed to have a bag around it. When your jacket doesn't breathe fast enough, your body, your physiology works against you," he continued.
Mountain guide Dawn Glanc agreed, "I was able to stay protected from the elements, but at the same time be very comfortable on the inside...This is a level of comfort that I've never been able to experience before."
Mountain Hardwear is currently debuting Dry.Q throughout their Fall 2011 line with retailers across the globe and will showcase the new technology at the Outdoor Retailer Winter Market and Snowsports Industries America trade shows in January 2011. Dry.Q will be available to the public through the brand's retailers in Fall 2011.