Patagonia Torrentshell 3L Jacket

Patagonia brought its Torrentshell rain jacket into the modern era with updated materials incorporating three-layer fabric that is partially made from recycled materials. Combines a truly waterproof surface with a comfortable lining, sandwiching a breathable membrane in between that keeps water out while breathing in a manner that can actually be felt.
Pros
Waterproofing doesn't wet out
Amazing ventilation
Comfortable
Adjustable hood
Durable
Cons
Sort of heavy ( 13.9 oz men's / 12.5 oz women's)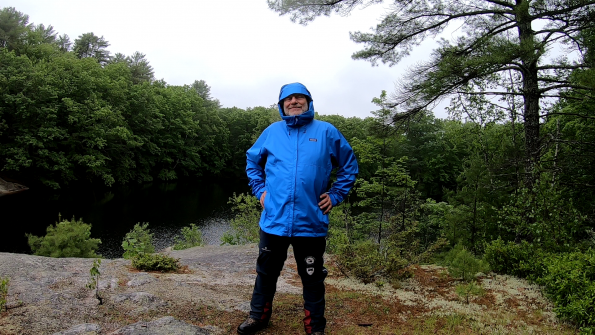 Patagonia has been using the Torrentshell name for some time now, but the Torrentshell 3L is definitely not your granddaddy's rain coat. Made from modern, partially recycled, materials in a Fair Trade Certified factory, means you can feel good about this jacket. Fashion conscious folks will appreciate the 13 color options and matching pants that are available. Comfortable fit and great ventilation means you'll feel good about wearing this jacket. Let's take a look at why I found the Torrentshell to be the first rain jacket I actually enjoyed using.
Fit & Comfort:
Patagonia describes the fit as "Regular" by their standards, which means it is intended to be neither loose nor tight fitting.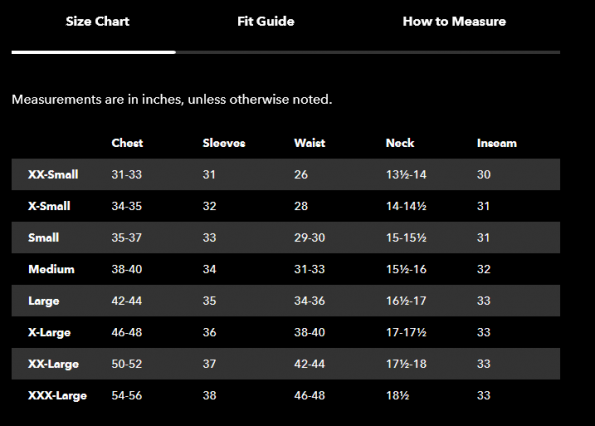 Based on my 45" chest I opted to go with the XL size, aiming to have room for layering inside. This worked out really well for me in terms of fit. The sleeves covered my arms well while active and overall the jacket never felt confining or restricting.
The tailoring allowed for full mobility of the arms without lifting the torso of the jacket. Without a pack the waist remained in place when raising the arms, while packs didn't restrict arm movement when worn.
Comfort went far beyond fit in the Torrentshell 3L though. The inner layer was designed to feel good against the body rather than making you feel wrapped in plastic. The ventilation also greatly contributed to the comfort I felt wearing this jacket. I generally abhor wearing rain jackets, so I really was surprised to find how comfortable this one felt.
Water Resistance:
Waterproof is the word Patagonia uses in describing their H2No Performance Standard gear. I've found hours of hard rain weren't enough to disprove that fact. Due to drought conditions I had limited chances to rain test on trail. That meant if I was home and it rained I made a point of getting out in it to do some testing. I had several opportunities to walk for two or three hours in hard rain with and without a pack. There was no rain getting in and more importantly, no change to the fabric, inside or out. This is not a fabric that takes on water over time from what I've seen.
Breathability:
I've heard this term thrown around a lot. I've even worn some gear that I could only assume was breathing based on results. Still, I had never actually felt a product breathe before like I did with the Torrentshell 3L.
Focused testing was done wearing only a lightweight wool shirt, the 150 weight Houdini Desoli Zip, to allow me to feel when I started to sweat out the jacket from the inside. Instead, I was treated to a very strange sensation as the Torrentshell did its breathing thing which felt oddly cool. Normally, even in chilly conditions, I will sweat out a rain jacket pretty fast. After hours of activity and still feeling that odd chilling sensation I made a mental note to wear more layers if hiking in an all-day cold rain.
One thing I found telling was that on my first few testing hikes I didn't need to use the pit zips for ventilation. The fabric did its thing well enough that I didn't even remember the zips were there until a steamy morning on the Cohos Trail (New Hampshire). Similar weather situations, humid and 70s, with load and effort making enough difference that I thought to open them.
Materials:
After talking about comfort, water resistance, and breathability, I think it might be a good idea to take a look at the three-layer fabric that lets the Torrentshell 3L do so well in those areas.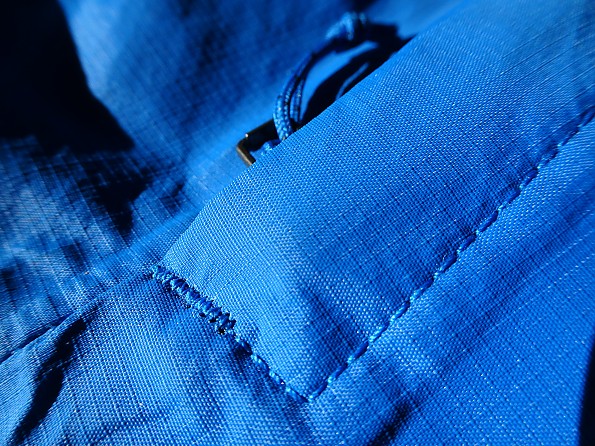 The outer layer, or face fabric, is a 100% recycled nylon, ECONYL, with a DWR finish. Click on the link if you want more details, but it is produced from fishing nets, fabric scraps, carpeting, and industrial plastic. This outer nylon layer remains pliable, but feels sturdy with little fear a stick will poke through it.
In the middle is a polycarbonate PU membrane with 13% biobased content designed to keep water from getting in while allowing the fabric to breathe. Based on the feeling, you could convince me it is witchcraft, but apparently the magic is all in the science.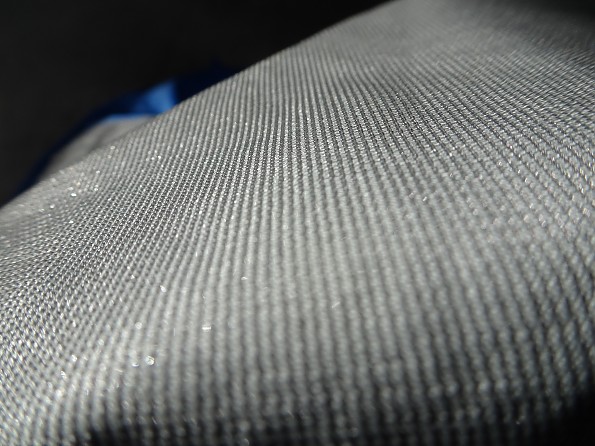 Inside, the third layer is a tricot backer to keep the plastic feeling layers away from your skin. Combined the three-layer fabric is certified as bluesign approved.
Features & Function:
Beyond the magical fabric the Torrentshell 3L incorporates a lot of little touches that combine to make for a really functional jacket.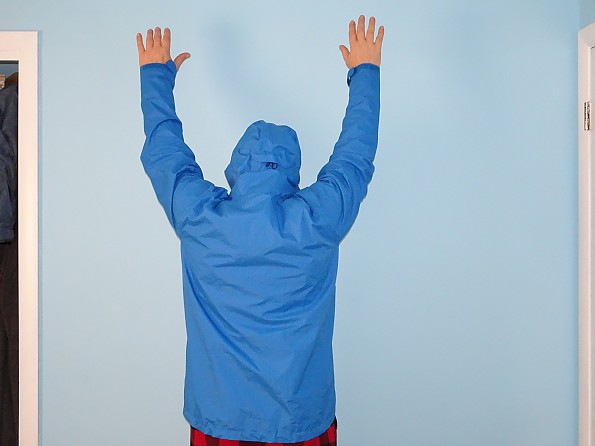 Starting at the bottom, the slightly lowered hem falls over the hips. This keeps the jacket down when arms are raised and prevents it from climbing up through a pack's hip belt.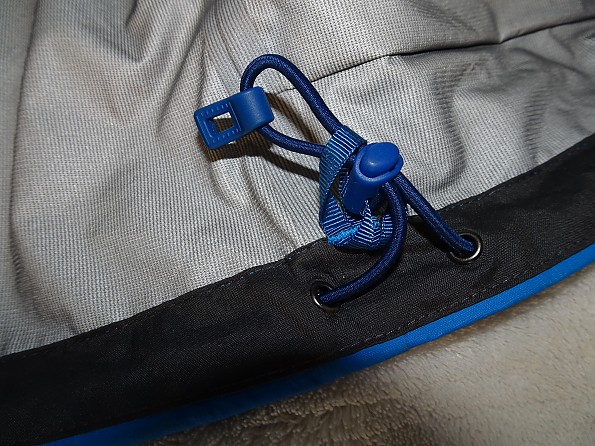 There are two pulls for adjusting the hem's tension. Note the tab above the pull to secure the extended cord, keeping it from hanging down.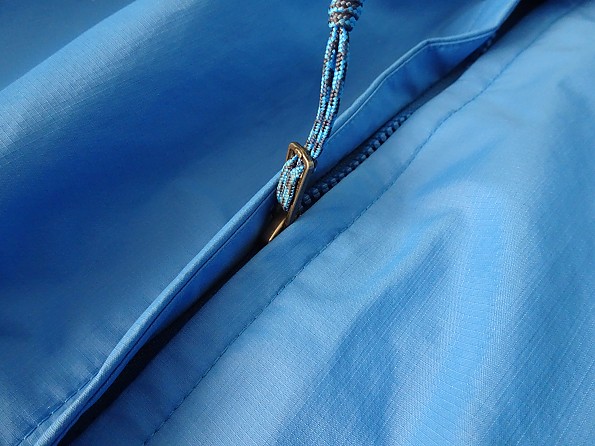 The front zipper is a YKK Vislon (5VS) sandwiched between front and rear flaps. Even a wind driven rain won't push through there.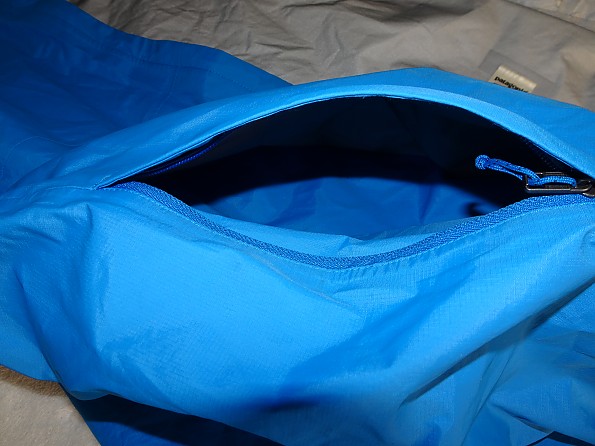 The handwarmer pockets are capable of holding a lot more than hands. Measuring roughly 15 by 8 inches, they cover much of the front of the torso making a great stash spot for hats, gloves, etc. There are no other stash pockets in the jacket, but the reversible stow pocket has a carabiner loop that could be used to attach keys.
The entire jacket is designed to fit into the reversible left pocket which has a double-sided zipper and a carabiner tab.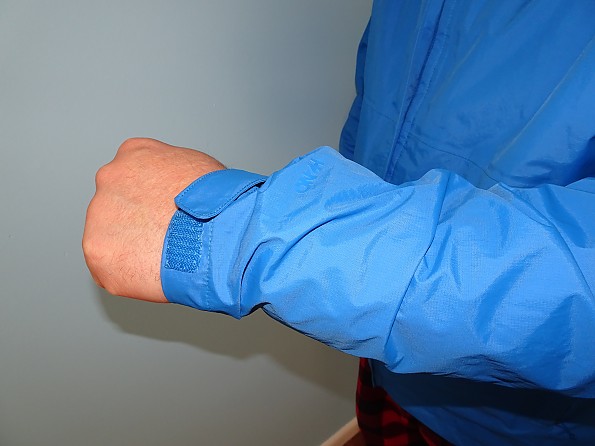 The sleeve cuffs have an easy to adjust hook/loop strap that can be used with gloves on. Plenty of room to fit over cold weather gloves, but can be cinched down tight when not wearing gloves.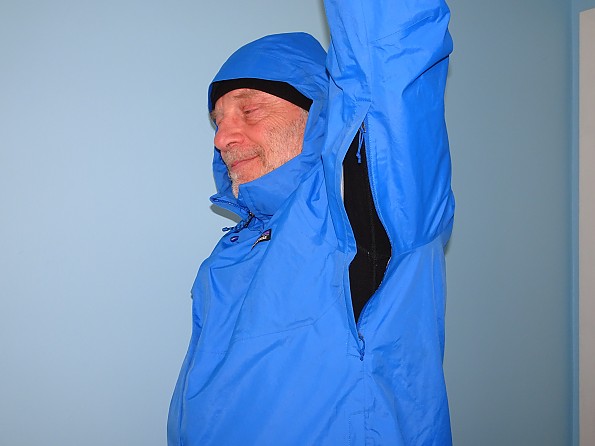 Zippered pit vents on either arm open to roughly 12 inches with double pulls, giving you control over exactly where the opening is.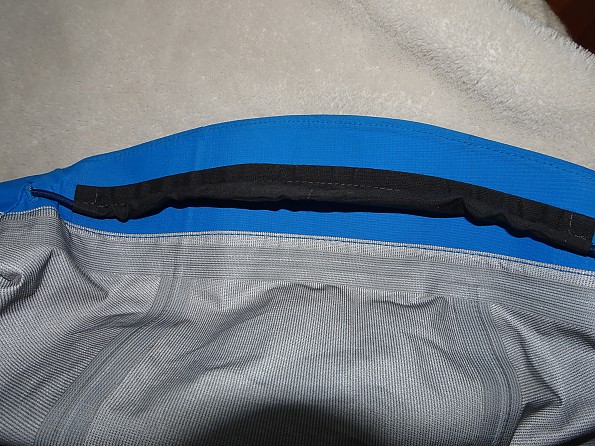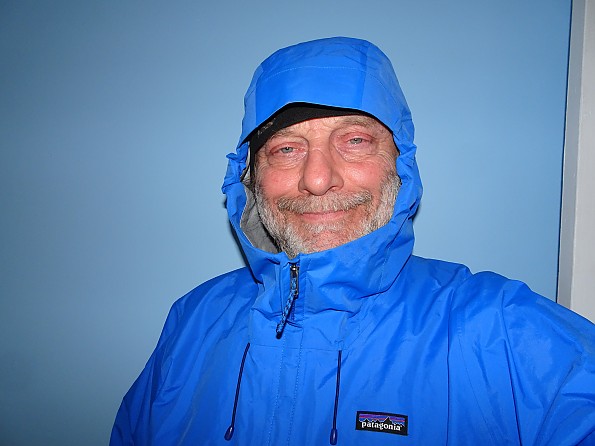 The large hood accommodates a helmet, yet can be cinched down to fit around the bare head without flapping material or obstructed view.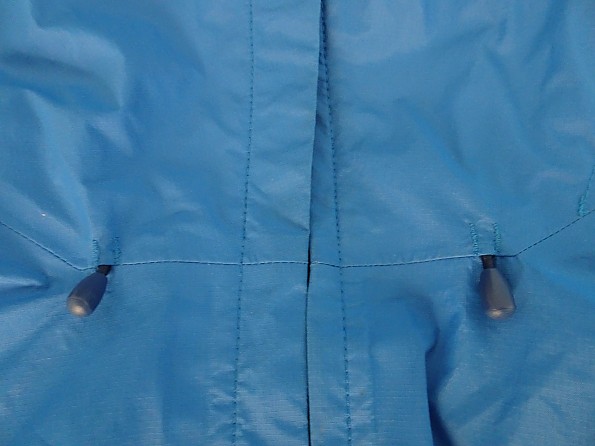 There are two pulls controlled by cordlocks sewn inside the jacket. You can locate the squeeze the locks by feel easily without having cord and hardware dangling down. Very low profile when not pulled tighter and as seen above, not too bad even when fully tightened.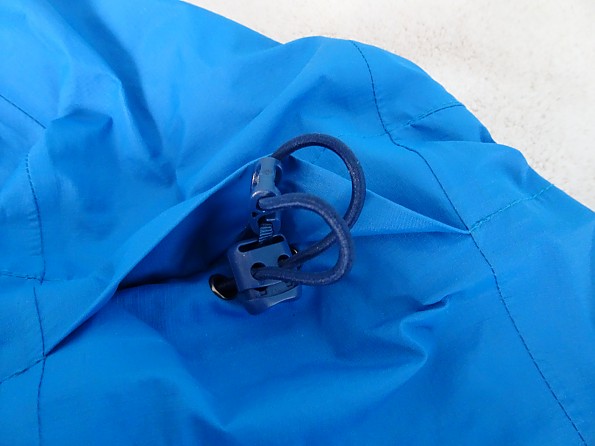 At the rear of the hood is another cord and lock to reduce the diameter of the hood. Together these pulls allow the same hood to fit both helmet and bare head quite well.
Construction & Durability: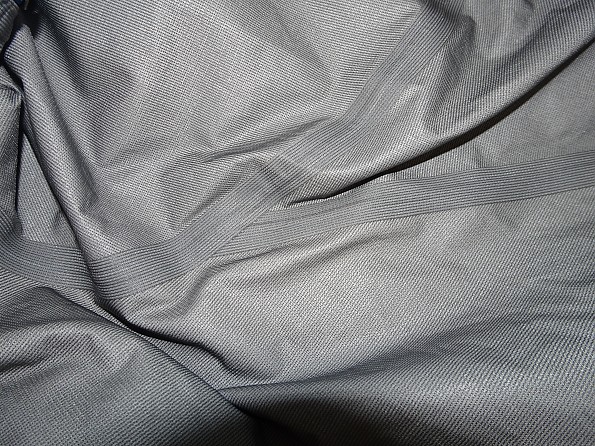 Looking at the Torrentshell 3L from the inside gives you a view on how well put together it is. Seams are internally taped and sealed throughout. Manufactured in Vietnam by a Fair Trade Certified maker, the jacket appears extremely well made with all seams perfectly straight and even. Five months of use on trail and off have left it looking brand new, which makes me think this jacket should last for years.
Testing Conditions:
Unfortunately, testing coincided with a moderately serious drought here in New England. That meant minimal opportunities to get the jacket wet, so a large part of my testing involved cramming it into my pack on every trip no matter what the forecast. I did have several chances to employ the Torrentshell 3L while out on trail in full pack. I also took advantage of a few heavy storms while at home by heading out for a few hours in downpours.
Conclusions: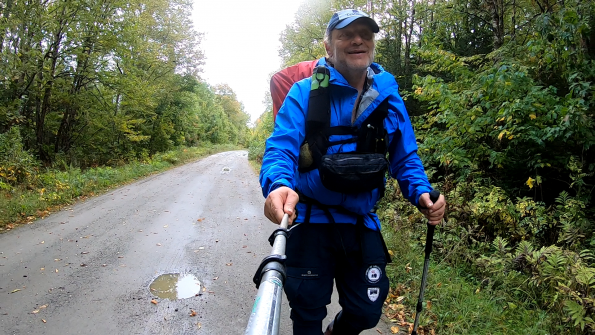 Having had more of an adversarial relationship with rain jackets in the past I was very pleasantly surprised to find that I really enjoyed wearing the Patagonia Torrentshell 3L. I found myself oddly disappointed when it didn't rain while on trail, because I was looking for more chances to wear it. The times I did wear it under my pack showed off its comfort and almost magical ability to breathe.
As a steam engine, rain coats have always seemed more of a cruel joke. Anything capable of keeping rain out seals in my steam, soon leaving me stewing in my own juices. My choice has often been to hike in the rain without a jacket as the lesser evil. The Torrentshell is a different story though as I never really noticed it steaming up at all. In fact, as I mentioned, I was at times chilly because it was letting heat escape so well. I have never tested a product that delivered this well on claims of being able to breathe.
Overall the jacket is very well put together. Patagonia design features like the internal hood cordlocks or the tuck tabs for the hem adjusters, combine with the tailoring to make for a clean surface. There weren't a lot of dangling cords or areas that would catch on tree limbs. While bushwhacking to a creek when camped along the Cohos Trail in New Hampshire I noted that I was moving through tangled forest without snagging anything.
The only negative I could find about the Torrentshell 3L is that it is a bit hefty for something you hope you won't have to use. It weighs 4 ounces more than my The North Face Venture 2 Jacket and takes up slightly more space in my pack. The tradeoff is functionality, because as noted in my review of the Venture 2, I was not staying dry if hiking all day in the rain. While I've only done a few hours at a time in the Torrentshell, I believe it would continue to perform much longer. 
In terms of application I think most any rain gear user would appreciate what this jacket can do. The fit works for active use like backpacking, which makes me think it would also do well for folks working outdoors in bad weather. It also could be used on a motorcycle or bike given the way the arms move freely.
I'm curious to see how the material reacts to freezing temperatures as winter sets in. The Torrentshell 3L may make a good cold weather hard shell given the ability to move moisture. So far at temps just below freezing it doesn't seem any stiffer, which is a good sign. I will report back on that as I find out more.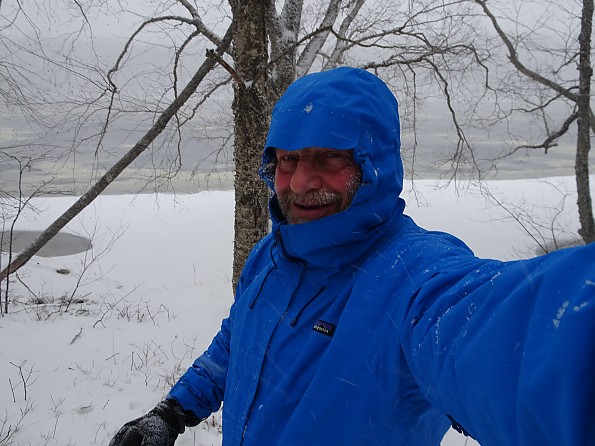 Edit 12/17/20:

Just in from 90 minutes of walking in a snowstorm, 12°F and moderate winds. The three-layer material didn't stiffen up in the cold and was still breathing very well. It was only on the final hill back to the house that I realized I was a bit overdressed with two base layers and the Smartwool Smartloft-X 60 Hoodie inside the Torrentshell. I'd have dropped that Smartwool jacket if I was continuing on. So far I'm thinking this definitely works as a winter hardshell, but I will keep testing.
Overall I am really impressed with the performance of this jacket and that it doesn't have a higher price tag. For me as a steam engine to be able to stay dry in this thing makes it seem sort of magical and I might be convinced to pay more. I am not complaining it is cheap, but I do see it as a good value.
That is enough for me, but for others Patagonia's corporate commitment to trying not to screw up the planet may also appeal. Recycled nylon materials, bluesign, Certified Fair Trade construction all reflect their belief in sustainability.
As I continue testing the Torrentshell 3L into next rainy season I will report back on extended rain performance. Pretty certain I will be paying for all those dry days I had this year with some all-day slogs next year.
Experience
I crammed the Torrentshell 3L into my pack on every overnight trip and quite a few day hikes. Actual use was limited due to lack of rain to a few short periods on trail and some 2-3 hour day hikes in steady rain. Previous experience includes a The North Face Venture 2 and a lot of cheap crappy gear over the years.
Source: received for testing via the Trailspace Review Corps (Sample for testing and review provided by Patagonia)

Your Review
Where to Buy
Help support this site by making your next gear purchase through one of the links above. Click a link, buy what you need, and the seller will contribute a portion of the purchase price to support Trailspace's independent gear reviews.
You May Like
Specs
Men's
Price
MSRP: $149.00
Current Retail: $49.25-$179.00
Historic Range: $49.25-$179.00

Weight
394 g / 13.9 oz

Fit
Regular Fit

Materials
H2No Performance Standard shell: 3-layer, 3.3-oz 50-denier ECONYL 100% recycled nylon ripstop face, a polycarbonate PU membrane with 13% biobased content, a tricot backer and a DWR (durable water repellent) finish

Footprint
Fabric is certified as bluesign approved / Fair Trade Certified sewn

Country of Origin
Made in Vietnam

Women's
Price
MSRP: $149.00
Current Retail: $125.30-$179.00
Historic Range: $56.57-$179.00

Weight
354 g / 12.5 oz

Fit
Regular Fit

Materials
H2No Performance Standard shell: 3-layer, 3.3-oz 50-denier ECONYL 100% recycled nylon ripstop face, a polycarbonate PU membrane with 13% biobased content, a tricot backer and a DWR (durable water repellent) finish

Footprint
Fabric is certified as bluesign approved / Fair Trade Certified sewn

Country of Origin
Made in Vietnam

Boys'
Price
MSRP: $119.00
Current Retail: $62.98-$99.00
Historic Range: $43.99-$119.00

Weight
235 g / 8.3 oz

Fit
Regular Fit

Materials
H2No Performance Standard shell: 3-layer, 3.3-oz 50-denier ECONYL 100% recycled nylon ripstop face, a polycarbonate PU membrane with 13% biobased content, a tricot backer and a DWR (durable water repellent) finish

Footprint
Fair Trade Certified sewn

Country of Origin
Made in Vietnam

Girls'
Price
MSRP: $119.00
Current Retail: $69.99
Historic Range: $58.99-$119.00

Weight
230 g / 8.1 oz

Fit
Regular Fit

Materials
H2No Performance Standard shell: 3-layer, 3.3-oz 50-denier ECONYL 100% recycled nylon ripstop face, a polycarbonate PU membrane with 13% biobased content, a tricot backer and a DWR (durable water repellent) finish

Footprint
Fair Trade Certified sewn

Country of Origin
Made in Vietnam

Recently on Trailspace