Tread Lightly to Protect Climbing Access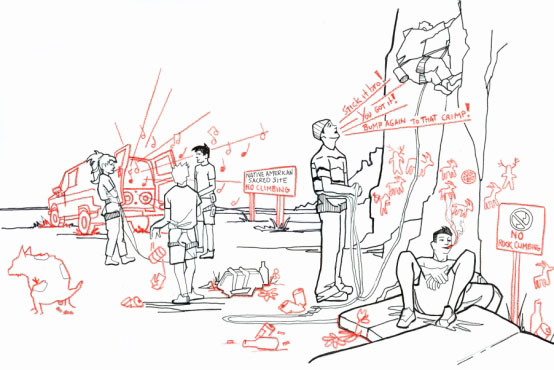 Climbing, once an obscure activity with few participants, has become a mainstream form of outdoor recreation. And our impact on the environment and others around us is under increasing scrutiny. As climbers, we must show a healthy respect for the places and policies where we climb. This mindset helps assure continued climbing access by showing landowners and managers that we take care of the places where we play.
Slip into stealth mode and follow these easy guidelines to help protect climbing access every time you're at the crag.
Stay on established trails — Even if the trail is not the most direct line to the base of a route or boulder, avoid the temptation to blaze your own path. Hiking off trail promotes erosion and destroys vegetation.
Keep a low profile — We know that route you're working requires a lot of moxie, but yelling, swearing, screaming beta at your partner, and even playing music at the crag can seriously disrupt those around you, including the landowner.
Clean up excess chalk — Chalk is a necessary part of climbing, but it also creates visual evidence of climber impact. Clean up spills and brush off tick marks after each session.
Respect closures — Respecting the wildlife (e.g., nesting birds) and cultural resource (e.g., petroglyphs) closures will help ensure that they don't turn into unreasonable closures. Visit status.accessfund.org for an updated list of closures and restrictions across the country.
Keep tabs on your dog — Dogs at the crag can have a serious impact on climbing access due to their ability to disturb the peace of those around them, including that of the landowner. Consider leaving Fido at home. If you must bring your dog to the crag, keep it with you at all times, control its barking, and clean up after it.
Pack it out — Don't trash the crag. Carry an extra plastic bag and pack out your own trash (yes, even climbing tape counts). Human waste counts too—do your business away from cliffs, boulders, trails, and water sources and pack it out. For AF member discounts on Restop bags, visit www.accessfund.org/memberdiscounts.
Pad and tread lightly — We know you're focused on sending that sweet boulder problem, but remember to think about the life on the ground around you. Avoid trampling or throwing crash pads on vegetation.
Educate others KINDLY — If you see someone hiking off trail, blaring music, or throwing trash on the ground, kindly let them know that their actions could threaten access for everyone. In many cases people simply don't
recognize that their actions might negatively impact the environment or access to the area.
For more information on stealthy climbing practices, contact jenny@accessfund.org.
The Access Fund is the national advocacy organization that keeps U.S. climbing areas open and conserves the climbing environment. It's also one of the outdoor and environmental non-profit organizations that Trailspace supports. Founded in 1991, the Access Fund supports and represents more than 2.3 million climbers nationwide in all forms of climbing: rock, ice, mountaineering, and bouldering.
(Illustration by Kristin Marine)