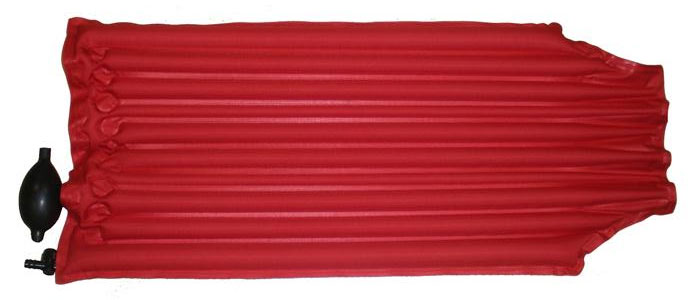 Your pack's rigid frame sheet helps transfer loads to your hips for a more comfortable carry over miles of trail. But a typical plastic or closed cell foam frame sheet also adds some weight to that load and doesn't adjust for comfort. How about a frame sheet you blow up?
Klymit claims its inflatable Air Beam frame sheet offers numerous ultralight advantages over regular backpack frame sheets, at 3 ounces and only 3/4 of an inch thick.
Klymit's Air Beam is made of lightweight fabric and inflates with pressurized air. According to the manufacturer, it's lighter than many frame sheets due to the use of pressurized air, and is stiffer, more comfortable, and allows freedom of movement, increased adjustability, and optimal load transfer. When not carrying a load, the Air Beam doubles as a sit pad or extra sleeping pad insulation in camp.
The Air Beam weighs 2.4 ounces without the hand pump and 3.3 ounces with the hand pump, which can be used to customize the air pressure. At only 3/4 of an inch thick, the Air Beam is designed to keep the load close to the user's back for a direct transfer of weight to the hips.
Gabriel Rhoads and Matt Maxfield, co-developers of the Air Beam concept, say that optimal load transfer is one of the biggest advantages of the Klymit Air Beam.
"Backpack frames are rigid and designed to transfer loads directly to the hips, yet because they are rigid they only transfer directly when the body is in one or a limited number of positions," said Rhoads. "By using super light fabrics and pressurized air, Klymit has developed a backpack frame sheet that transfers load to the hips in wider variety of positions, even while tying your shoes."
Klymit has partnered with ultralight pack makers CiloGear, Mountain Laurel Designs, and most recently Granite Gear to offer Air Beam frame sheets.
The CiloGear version fits its 45L, 60L and 75L WorkSacks and similarly sized Haulys (AirBeam MSRP $60). The Mountain Laurel Designs AirBeam fits its Exodus FS pack. MLD also provides instruction on how to cut down the pad to fit other packs' pad sleeves (AirBeam MSRP $55).
And starting this fall, Granite Gear will introduce the Klymit Air Beam in its Vapor Current (V.C.) packs, including the Crown V.C. 60. All Granite Gear Vapor Current packs come standard with a die-cut HDPE frame that can be removed for trips when loads are below 25 pounds. For fall 2012, the packs will offer the option of upgrading to the Klymit Air Beam. Switching to the Air Beam will save 2 ounces over the stock HDPE frame while keeping the load rating at 35 pounds (AirBeam MSRP: $49.95).
For comparison, the Granite Gear Crown V.C. 60 weighs 1 pound 13 ounces without the stock HDPE frame sheet. Combined, the Klymit Air Beam and Granite Gear Crown V.C. 60, weigh 2 pounds 0.3 ounces.
Have you used an inflatable Klymit Air Beam in your ultralight pack?
Tell us about your experience in a gear review.
| | | |
| --- | --- | --- |
| | | |
| CiloGear's AirBeam frame sheet by Klymit | Granite Gear's Air Beam V.C. frame sheet by Klymit | Mountain Laurel Designs's AirBeam frame sheet by Klymit |