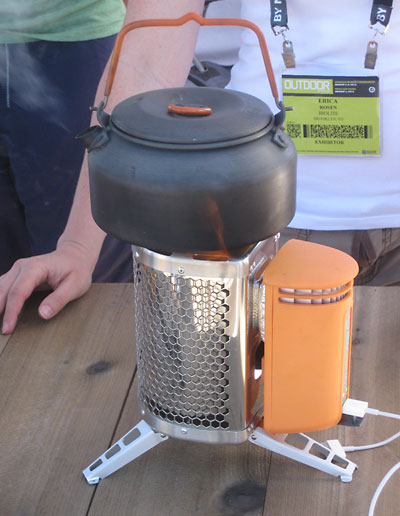 For products that burn or float, Outdoor Retailer's Open Air Demo is primetime to get into the sun and show off.
With stoves that distill moonshine (to be fair, the primary purpose is to desalinate salt water) or charge your iPhone, plus a 16.5-foot canoe that packs into a compact bundle, this year's Demo Day didn't disappoint.

BioLite CampStove
The BioLite CampStove features a perforated steel combustion chamber, tripod legs, and a battery pack powered by a thermoelectric generator.
Fill it with burning organic material (twigs, leaves, bark) and within minutes, the thermoelectric generator charges a battery that drives a fan, further stoking the fire and generating even more power.
It's so efficient that there's power left over: simply plug your favorite electronics into the built-in USB socket and you can charge your phone, GPSR, or headlamp while you cook!
CampStove Specs
Weight: 2 lb
Charge: Charges most phones to 60 minutes of talk time with a 20-minute boil
Speeds: Low/High
MSRP: $129
Available: Now
Kelly Kettle
The Kelly Kettle is a water-boiling machine. The base is a simple chamber with openings to add fuel (wood chips, briquettes, or twigs) and provide airflow. Inside, a large hollow chimney funnels up the heat from the burning organic material, passing over the internal walls of the kettle. The water in the kettle is "stuck" in a thin layer between a steel or aluminum jacket.
Because the Kelly Kettle is so efficient in transferring heat, it can boil a liter of water in five minutes or less. That's a respectable time for a compressed gas stove, and fairly amazing considering that this is powered by found organic matter like twigs! Kelly's experimental steam distillation accessory permits you to distill salt water into fresh, and to purify suspect water. All kettle models are available now.
Base Camp Specs

Weight: 2.6 lb (stainless steel),
2.15 lb (aluminum)
Capacity: 1.5 L
Height: 13 in
Diameter: 7.3 in

Scout Specs

Weight: 1.66 lb (aluminum)
Capacity: 1.3 L
Height: 11 in
Diameter: 7.3 in

Trekker Specs

Weight: 1.7 lb (stainless steel),
1.3 lb (aluminum)
Capacity: 0.5 L
Height: 10.6 in
Diameter: 5.5 in
Bergans Foldable Canoe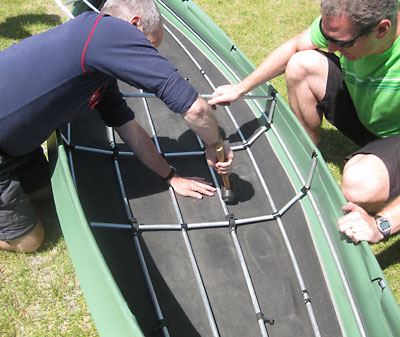 Have a yen for the river, but a one-bedroom apartment and a subcompact car? Bergans' innovative foldable canoe might be your ticket to floating freedom.
A watertight PVC skin keeps you dry, and an ingenious aluminum frame gives the boat structure and rigidity. Disassembled, it fits in a large-ish backpack (sold separately) and the whole endeavor requires a rubber mallet and about 30 to 45 minutes to assemble and disassemble.
Ally 16.5' Foldable Canoe Specs
Weight: 20 kg / 44 lb
Length: 16' 5" / 500 cm
Width: 37.5" / 95 cm
Width Gunwale: 36" / 92 cm
Width Waterline: 33.5" / 85 cm
Depth: 14" / 36 cm
Height at Bow: 18.5" / 47 cm
Available: Now