SUP
Attendees were busy paddling—boards, kayaks, canoes, and more boards—at today's Open Air Demo at Utah's Jordanelle State Park. With two kids eager to get up on stand-up paddleboards, I joined the SUP crowd, and found it a lot of fun (hmmm...do I need another outdoor activity with more gear?). With an astounding 50 paddleboard companies in attendance at Outdoor Retailer this week, it looked like they all had SUPs out on the water today. How much more can the stand-up paddleboard market grow?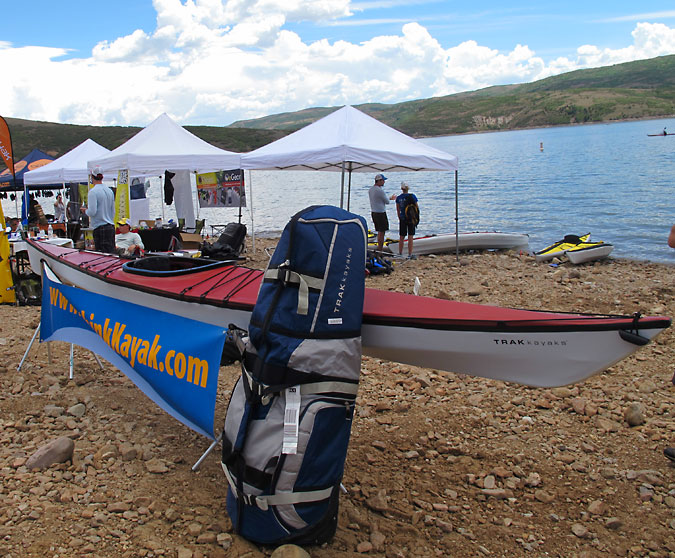 Trak Kayaks
With so many specialty boats to consider, Trak Kayaks aims to make it simple to choose. The company's single kayak, the T-1600, is a skin-on-frame folding kayak with shape-shifting abilities. Three hydraulic jacks in the cockpit let you tension the skin, adjust the rocker for different paddling conditions, and adjust the lateral positioning of the hull to maintain tracking without a rudder. Its eight pieces weigh 48 pounds, fit in a golfbag-sized case, and come together in 10 minutes. Ocean, lake, river, touring, travel? Trak Kayaks believes its versatile, all-terrain kayak can handle nearly anything. Specs: 48 lbs, 16 feet, $3400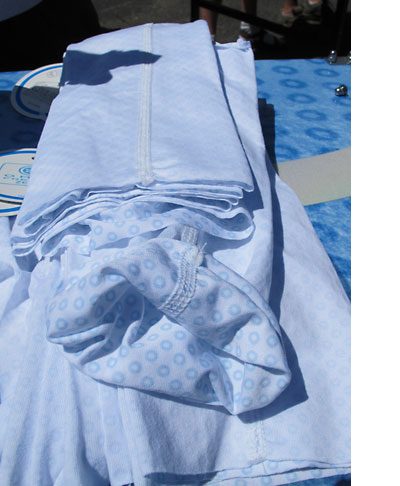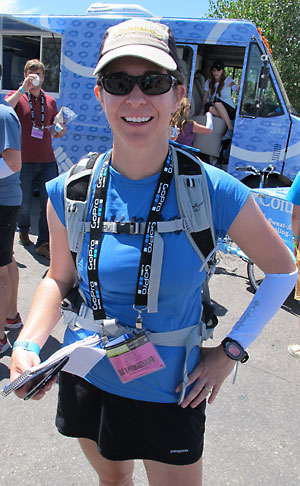 Columbia
Off the water, it was hot out there today. But, Columbia had its new Omni-Freeze Zero cooling technology on hand to help cool you off (plus, ice cream). Tiny circles in Omni-Freeze Zero fabric (above left) are filled with a lightweight, sweat-activated cooling agent that lowers the overall temperature of the fabric, accelerates wicking, and helps your body minimize heat.
Columbia was handing out Omni-Freeze Zero fabric sleeve samples that you could wear on one arm for comparison (see me above working on my tan lines). After five hours walking, paddling, and sweating under the blazing Utah sun, my left arm still felt noticeably cooler than the rest of me, a difference that became even more apparent when there was any breeze to wick away moisture.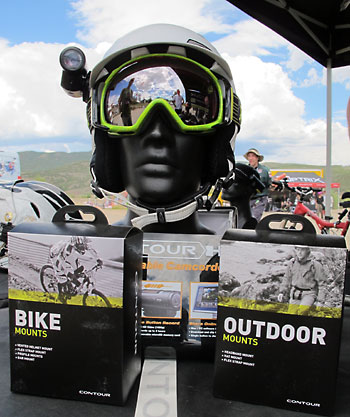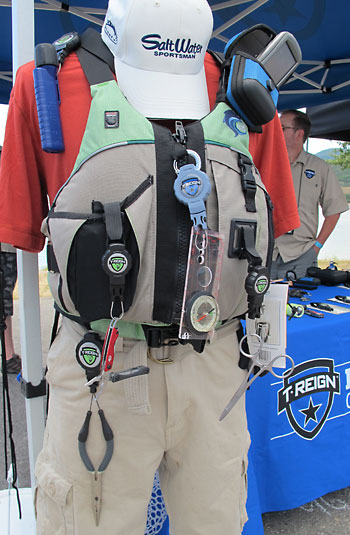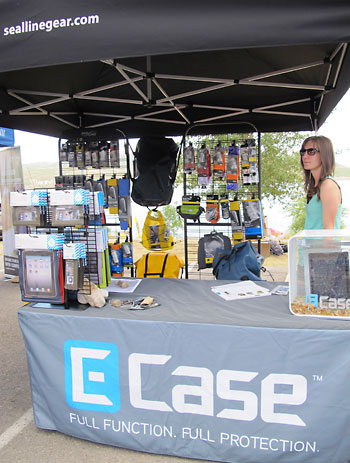 Electronics and Accessories
One could write indefinitely on the growing multitude of options to carry, power, and protect your electronics and accessories outdoors, if that's your thing.
Know this: Companies like Contour (above left), GoPro, Mophie, and Optrix want to mount a camera or your iPhone to you to record your amazing adventures. T Reign and EK USA want to keep your goods attached to you by a tether, in case you're prone to drop your GPS on the trail or in the river. And an ever-growing number of companies, like SealLine (which will cross market under its E-Case brand, above right), Dry Case, DiCAPac, and Travelon, want to waterproof your smart phones, cameras, and tablets.
If you choose to take electronics on your next backcountry adventure, be assured there's a growing abundance of options to power and protect your device of choice.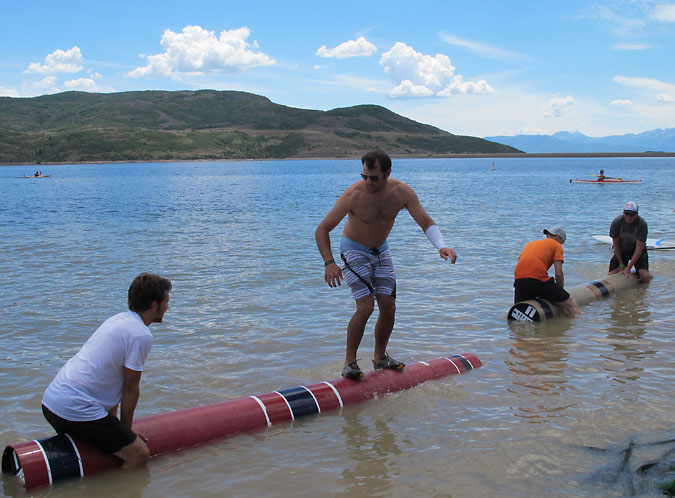 Key Log Rolling
Looking for a new, challenging watersport? How about log rolling? Key Log Rolling has developed a lighter, more portable synthetic log rolling log. Watching several people try out the logs today had me wondering, "would I have what it takes to roll a log?" Alas, I didn't have the chance to find out, but get one of your own, start lessons and practicing, and maybe you can head to the World Log Rolling Championships. www.keylogrolling.com