With 1,000 outdoor brands and 20,000 attendees, the Outdoor Retailer trade show can be a busy, overwhelming scene.
Here are a few packs, sleeping bags, and other gear highlights we spotted from Lowe Alpine, Mountain Equipment, Gregory, Backpacker's Pantry, Jetboil, The North Face, and more.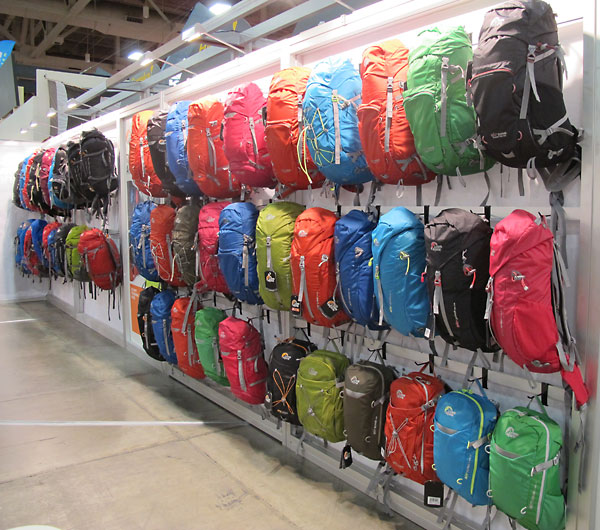 Lowe Alpine
Lowe Alpine is back in packs. The brand, which was bought last year by Rab parent Equip, has overhauled its AirZone category with all new models, features, and updated styles and colors for men and women. Lowe Alpine's designers "had boxes and boxes of ideas," said marketing manager Sam Kilgore. Now they've been able to jump back in and rework the packs, and the brand, with AirZone Pro, Trek, Trek Plus, and Quest models. Features include an updated mesh back system on all packs, plus a variety of features like side entry on larger packs, large stretchy front pockets, and trekking pole tip holders. "There is so much potential in the brand," going forward, says Kilgore.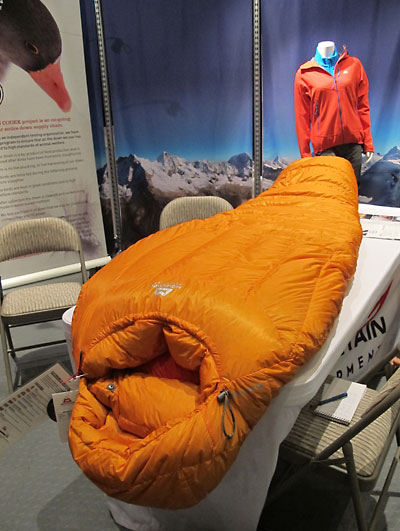 Mountain Equipment

Mountain Equipment, which has been making down bags and suits for British first ascent climbers since 1961, spent the past 15 months overhauling its entire sleeping bag line. Studying thermal efficiency with the University of Leeds and ensuring that what works in the lab also works "30 days strong on a portaledge on Baffin Island," the company has redesigned and tweaked the whole line, from hood to footbox. That includes the 850-fill Snowline SL -4°F and Lightline SL 5°F bags in the Extreme SL Range (above), "for those pushing the limits of super-alpine climbing on the toughest routes."
Gregory
The number one question Gregory customer service gets? How do I pack my gear and clothing in my pack correctly? To answer that, Gregory introduces the TrailSmart packing system with three distinct packing zones that separate trail gear from camp items and position frequently needed essentials at your fingertips. In the video above, Cory Lowe showed us the TrailSmart in the new Contour pack for men, available in three volumes ranging from 50 to 70 liters. The women's version is the Cairn series.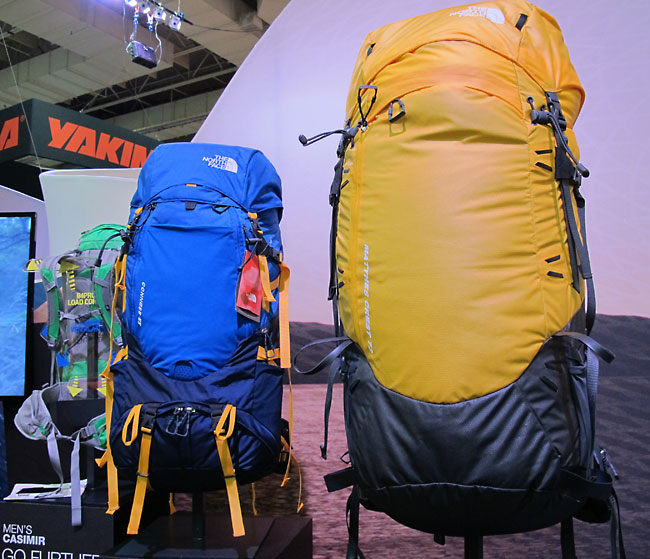 The North Face
The North Face's new Opti-Fit system focuses on adjustability at the five primary points of contact between the user and the pack: the right and left shoulder, the right and left iliac crest, and lumbar curve. You'll find Opti-Fit in the men's and women's Matthes Crest and Conness pack series.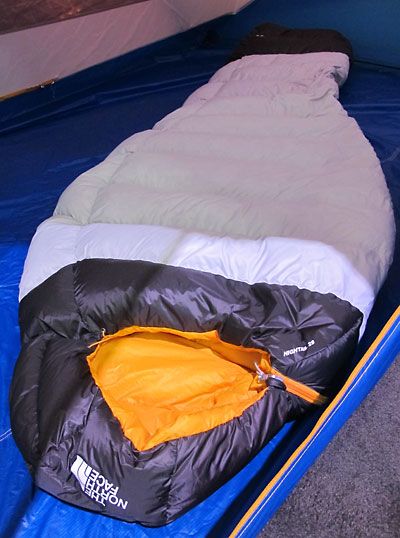 The North Face Hightail 3S sleeping bag ($419, above) has PertexEndurance on the head, collar, and footbox to prevent wet-out in moisture-prone areas. The Mica FL 2 is a two-person, dual side-entry tent (1.64kg, $379).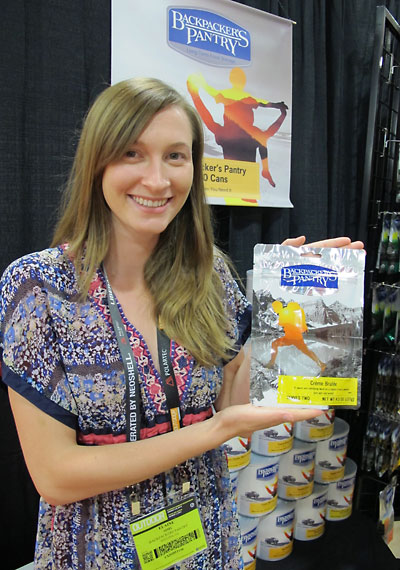 Backpacker's Pantry
Elaine Sims is the culinary mastermind behind Backpacker's Pantry's newest dessert, Creme Brulee. Sims is one of two chefs, plus a food scientist, at the company. Also new for 2013 are the Cold Couscous Salad for lunch (just add cold water) and the hot entree Cuban Coconut Black Beans & Rice. There's also a 3-Day Meal Kit with an assortment of 12 popular two-serving dishes (three breakfasts, six entrees, and three desserts) with a shelf life of six years, good for bulk buying or emergency planning.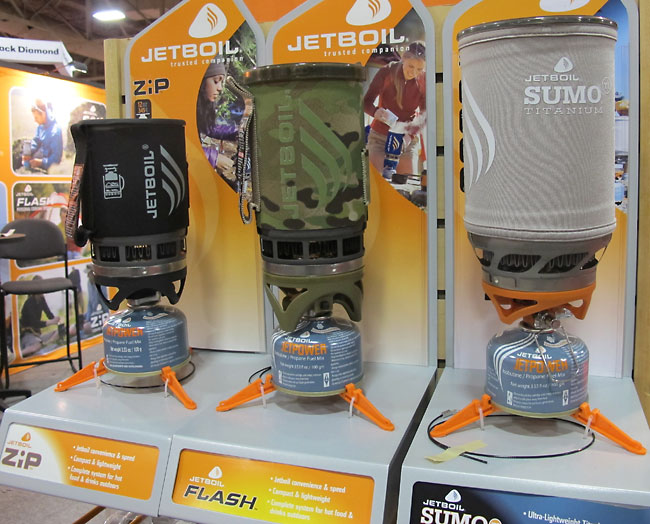 Jetboil
Where's the stove? Lame jokes aside, military and hook-and-bullet folks will appreciate Jetboil's new Multicam version of the Flash for covert cooking. There's also a new Tomato red, for those who want to be seen.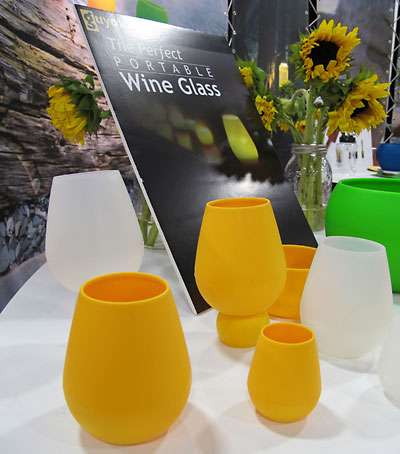 Guyot Designs
For after dinner relaxing, Guyot Designs offers a squishy wine glass. Guyot's also bring back its mini Squishy MicroBites bowl.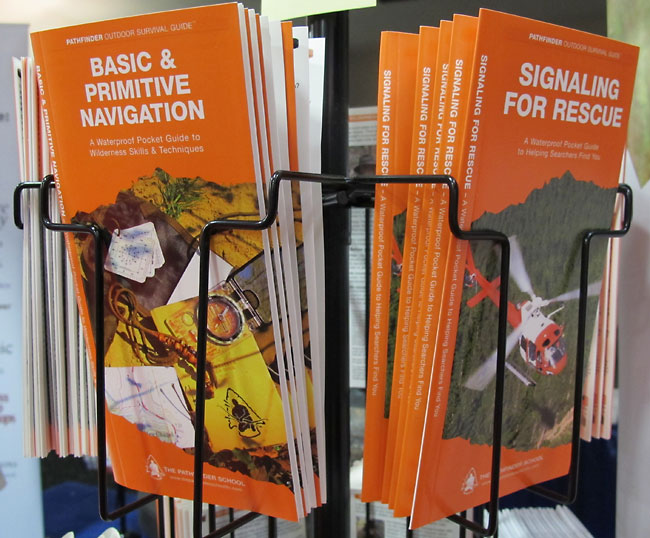 Waterford Pres
Waterford Press introduces Pathfinder Outdoor Survival Guides with 10 titles, including "Basic and Primitive Navigation," "Signaling for Rescue," and "Wilderness First Aid." The pocket-sized guides were developed with master woodsman and survivalist Dave Canterbury. "Whether you're a hunter, a recreational hiker or even a civilian living in a city, everyone should know how to survive a dangerous situation," says Canterbury. "That's why we developed the Pathfinder guides, with all the information you need to make it out alive and kicking." $6.95 each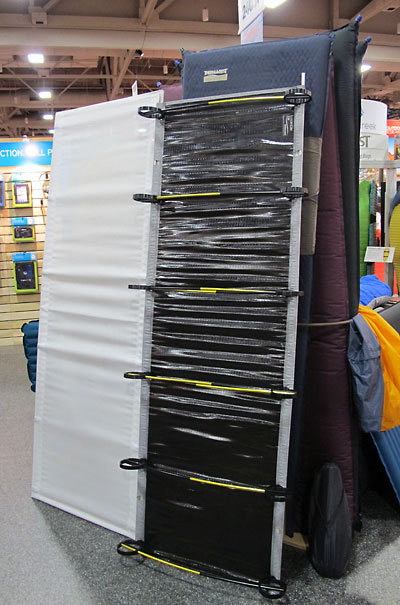 Therm-a-Rest
Would you backpack with a cot? Therm-a-Rest's LuxuryLite cots are good for those with back issues, or who want extra comfort in camp. A patented BowFrame Technology creates a stretch-free fabric bed that offers superior comfort. At 2 pounds 12 ounces, the UltraLite Cot is lighter and packs smaller than any cot on the market, says Therm-a-Rest. The Mesh Cot is 26 inches wide and weighs 3 pounds 12 ounces.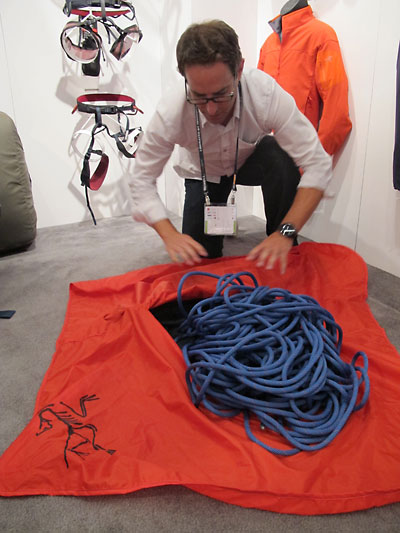 Arc'teryx
Arc'teryx's Haku rope bag makes it super simple to carry your rope from climb to climb, no tangled mess. The Haku offers an elegant way to organize and manage climbing rope. It's a tarp and bag in one piece that rolls into a compact and tidy shoulder carrier. Weight: 409g