SoloShot Tripod Films You Automatically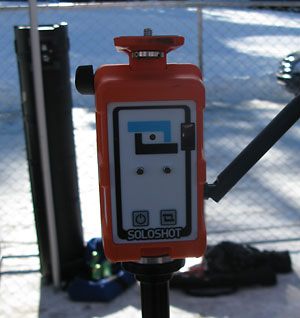 Wish you could film yourself skiing, kayaking, or just running free in nature, without your pal to play camera operator? The SoloShot tripod automatically rotates to keep your camera pointed at you, from a distance up to 2,000 feet away, thanks to a transmitter you keep on you.
Set up your SoloShot tripod. Attach your camera to the base with the standard 1/4" screw mount. Keep the transmitter on you with the included armband. And film your unique outdoor exploits. How about standup paddleboard-yoga-slacklining, anyone?
The SoloShot transmitter is "extremely waterproof" in both saltwater and freshwater, waveproof, and has a range up to 2,000 feet. The tripod base can spin 360 degrees continuously. Both the base and transmitter have a 5+ hour battery life ($499).
Sean Hibbs demonstrated the SoloShot automated tripod at Outdoor Retailer's All Mountain Demo Day: