Outdoor Retailer Day Two: Nau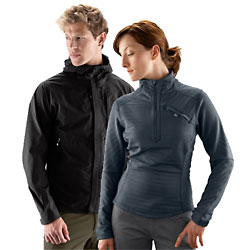 You may already have heard of Nau, the stylish, sustainability-minded, outdoor clothing company that launched earlier this year. It's headed by several outdoor industry veterans who wanted to combine function, sustainability, and beauty in their designs.
Since Nau only sells direct to consumers through its unique webfront stores (so far in Boulder, Chicago, Bellevue, Wash., and Portland, Ore., with more to come next year) and online, I hadn't had the chance to see the clothes in person until today when I met Ian Yolles, Nau's VP of Brand Communication, and Mark Galbraith, VP of Product Design.
Wow. I came away amazed and impressed by the incredible level of detail and high sense of design Mark and his colleagues at Nau infuse in their clothing, whether it's a softshell, a merino wool baselayer, an 800-fill down shirt, organic cotton top or dress. "Good design is restrained," said Mark. "It just takes some effort." That effort shows.
With their clean lines and muted tones the clothes look deceivingly simple on the rack, but put them on and you'll discover meticulously designed, tailored clothing, often with a couture influence. The pieces are so beautiful and flattering due to their excellent fit, you might forget you're wearing technical clothing. You just look darn good. Yes, they're pricey, but you get a more versatile piece, made to Nau's sustainable standards, and Nau donates 5 percent of every sale to charity.
Lots of outdoor companies tout pieces you can take from the trail to town. Nau delivers with clothes you can wear from the trail or crag to the hottest spot in town. I wanted to leave with several pieces stowed away in my bags (I didn't).