When boot- and shoemaker Merrell decided last year to enter the outerwear market, the company didn't want to do so with a "me-too" collection of copycat clothing. What they came up with is a line of outerwear that fuses technical fabrics and features with a decidedly sophisticated urban style. But they didn't stop there. Merrell's product managers challenged their designers to create something entirely new and "out of the box" every year – a "concept piece," similar to the futuristic concept cars that automakers roll out at the big car shows.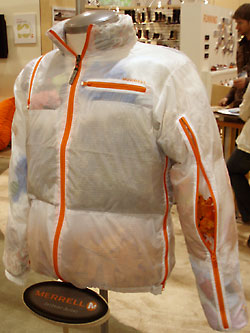 This year's concept piece is the Merrell Gatherer: a lightweight insulated jacket with a surprising omission: the jacket's sewn-though baffles don't contain any insulation. Instead of coming filled with a pre-determined amount of down or synthetic insulation, the Gatherer features several strategically-placed zippers that allow the wearer to stuff the jacket with whatever insulation material they like: dried leaves, scraps of yarn, pine needles, shredded newspaper, and any other reused, recycled, or found materials.
The translucent nylon fabric gives a glimpse of whatever you've chosen for insulation, so the jacket becomes a vehicle for both self-warmth and self-expression. While the Gatherer concept – a combination of do-it-yourself creativity, exploration, and personal expression –may be a bit more art-school than outdoors, Merrell hopes that it will push designers, consumers, and other companies in the outdoor industry to think more creatively and to consider new approaches to designing technical outerwear.
Like many of Detroit's concept cars, the Gatherer may never become a mainstream technology. But unlike those four-wheeled concepts, the Merrell Gatherer concept will be made available to the public in limited release. Men's and women's versions will be available in limited quantities this fall through the Merrell web site and select Merrell retail stores for $99.