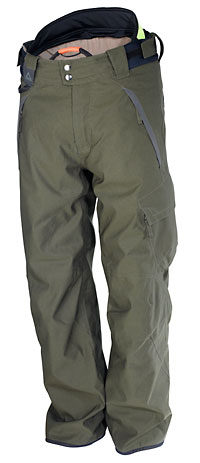 Ski maker Rossignol debuted a very interesting pair of pants at Outdoor Retailer. The Harness Pant is an insulated, waterproof-breathable ski mountaineering pant that features an integrated climbing harness.
The minimalist 3.3-ounce Cilao harness is sewn into the pants, with the belay loop rising above the waistband and a single gear loop on the right hip. A pair of inseam zippers provide ventilation and allow for adjustment of the harness's leg loops, which are inside the pant legs. When not being used the low-profile harness, which complies with European, American, and Canadian standards, is mostly hidden and out of the way.
While the Rossignol Harness Pant is designed specifically for ski mountaineering, it could also have applications in alpine climbing and glacier travel. However, the minimally padded harness is unlikely to provide much comfort on a hanging belay, and the single gear loop limits the amount of hardware a climber could comfortably carry.
The fact that it's insulated also limits the Harness Pant to winter activities, but the concept could easily be extended to other products. For example, a soft shell pant with a similar harness could be a nice option for via ferrata routes or for alpine scrambles that require only short sections of roped climbing or rappelling.
The Rossignol Harness Pant will be available in September with an MSRP of $295.