Canada Likely to Declare BPA as Toxic
Bisphenol-a (BPA), an endocrine disrupting chemical found in polycarbonate plastic water bottles, has raised health concerns recently. Now, BPA soon may be considered toxic, at least in Canada, according to this April 16th article in The New York Times: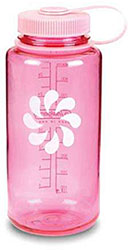 Canada Likely to Label Plastic Ingredient 'Toxic'

The Canadian government is said to be ready to declare as toxic a chemical widely used in plastics for baby bottles, beverage and food containers as well as linings in food cans.

A person with knowledge of the government's chemical review program spoke on the condition he not be named because of a confidentiality agreement. He said the staff work to list the compound, called bisphenol-a, or B.P.A., as a toxic chemical was complete and was recently endorsed by a panel of outside scientists.
You can read the full article on The New Yorks Times site.
Looking for an alternative water bottle? Read "Building a Better Water Bottle: Aluminum, Steel, and No BPA" in the Gear Guide.
Committed to your Nalgene? The company recently launched NalgeneChoice.com to profile its full product line, which also includes polyethylene, stainless steel, and Eastman Tritan copolyester bottles, in addition to polycarbonate.