Amid all the tents, backpacks, and sleeping bags, I spotted a few interesting camp kitchen items at Outdoor Retailer:
For 2009, Mountain House has reduced the sodium content of ten of its most popular meals, replacing much of the salt content with sea salt and other flavorings. Mountain House also now has ten different meals available in their ProPak packaging, which is smaller, lighter, and vacuum-sealed. The company's sole new entrée is a Beef Tostada (with "crispy tostada shells" – no word yet on how those survive being stuffed into a backpack).

Not new, but new to me, are the dehydrated meals from Peak Camp 'n Trail. These all-vegetarian offerings are priced between $3 and $4 – more than grocery store ramen, but less than most backcountry-oriented dehydrated meals. The "meat" meals use a wheat-based meat substitute that's reasonably convincing and pack a decent caloric punch – about 100 calories per ounce for the entrées I sampled.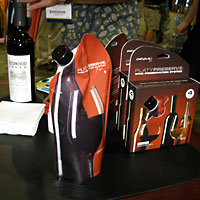 For those who enjoy watching the sunset with a robust merlot in hand, carrying quality wine into the backcountry just got a little easier. The 1-oz. Platypus PlatyPreserve carries a full 750 ml of any wine, at a fraction of the weight of the original glass bottle. More importantly, the PlatyPreserve addresses wine's two taste-altering enemies: oxygen and ultraviolet light. By squeezing the PlatyPreserve, you can purge nearly all the air from the container, while a special UV-blocking plastic keeps out the harmful light. Platypus employees claim to have kept wine in the PlatyPreserve for up to six months without noticeable taste degradation. The PlatyPreserve will be available this fall for $13.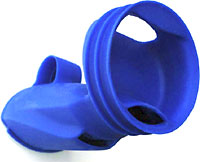 Speaking of taste, Guyot Designs is introducing the TapGuard, an activated carbon filter that nests in the mouth of Nalgene or other widemouth water bottles. The TapGuard won't protect against nasties like giardia or cryptosporidium, but it will remove the taste of iodine or chlorine, combining with those treatments to provide a fresh-tasting alternative to pumping.

Harking back to the classic scouting mess kit, "integrated cookware systems" seemed to be all the rage at OR. Bowls, plates, and mugs designed to nest together were on display at the MSR and GSI Outdoors booths. The MSR version is available in pre-packages sets size for 2, 3, or 4 people. Primus's new EtaPackLight stove includes a plate and bowl, not to mention a locking lid with built-in strainer. Also featuring a strainer-lid is the Vargo Titanium Sierra 750, a traditional Sierra Cup design made large enough to use as a pot or bowl. And to complete your multi-use cookset, Sea to Summit's AlphaSet utensils have 3-, 4-, and 5-mm hex wrenches built into the handles – potentially useful for emergency stove repairs.