Lost on a Mountain in Maine: Donn Fendler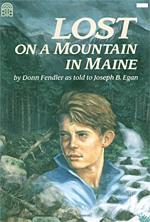 It's arguably the classic Maine survival story—Lost on a Mountain in Maine, the story of 12-year-old Donn Fendler, who got separated from his family during a hike high on Mount Katahdin in 1939. Nine days and more than 35 miles through the Maine North Woods later, he finally came upon an inhabited cabin and was rescued, 16 pounds lighter, covered in bug bites and cuts, but alive. His resurrection made the front page of The New York Times.
Having read the story as a kid and an adult, I was eager when I had the opportunity to hear and meet the 81-year-old Fendler at a conference on kids and the outdoors last week in Maine.
"We were not prepared to climb that mountain," Fendler readily admitted during his talk. Like the others in his hiking party, which included his dad, two brothers, and friend Henry, Fendler was wearing dungarees, old, beat-up sneakers (nothing like today's footwear, he says), and no socks. He had no water, two handfuls of raisins, and no semblance of survival gear. When a storm came upon Fendler and Henry on Katahdin's summit, Fendler got scared and, against Henry's better judgment, left to find his father below, losing the trail in the clouds.
A massive rescue effort was launched, but with Fendler on the move his trail was lost. "I wasn't a very good Boy Scout," said Fendler. "If I'd stayed on the mountain, they would have found me."
During his journey, Fendler lost his sneakers, pants, and underwear (though, for coverage, he later found a gunnysack, which he still has), and track of time. He ate berries, followed a stream in hope of finding people, and was driven into the water by swarms of bugs. "That to me was the worst thing I ever experienced," he said; he now rarely gets bitten.
So how did Fendler survive nine days in the wilderness after disobeying the first rule when lost—stay put? Fendler credits first, his faith in God and prayers; second, the Boy Scout training that ultimately helped him calm down and keep his head; and third, an inner will that did not let him give up. Ultimately, the experience taught him faith, responsibility for his actions, and love of family, he says.
Fendler still summers in Maine and visits Baxter State Park every year, sometimes watching the hikers heading up Katahdin. While the majority of hikers look prepared, he says, "it's amazing what you see, people in flip-flops." (Maybe he should hand those hikers a copy of his book.)
Fendler regularly shares his survival story with school children, as both a lesson in proper preparation and an inspiration to never give up. He tells kids they all have something inside of them that they don't know they have until they're tested. Then "you'll find out how tough a person you are," he said. "Tough in the heart and tough in the mind."
For more information: read the book, Lost on a Mountain in Maine, or visit www.donnfendler.com