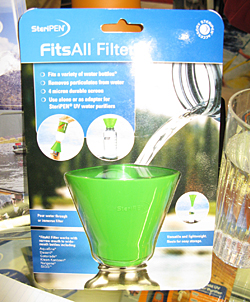 SteriPen, makers of ultraviolet water purifiers, introduced the FitsAll Filter, a 4-micron filter for use before purifying water with a SteriPen.
The FitsAll Filter consists of a flexible cup and funnel and a 4-micron filter cartridge, and is designed for use in a wide range of bottles. In narrow-mouth bottles, like Siggs or canteens, the cup and funnel fit together. On wider-mouth bottles, like Klean Kanteens and Nalgenes, the cup is used alone.
To filter, water can be pored through the FitsAll Filter and its filter cartridge, or the FitsAll Filter and bottle of choice can be immersed together into the water source. For wide-mouth bottles, the FitsAll Filter also works as an adapter for use with the SteriPen Journey and Classic.
SteriPen FitsAll Filter
Weight: 2.3 oz (65 g)
Nesting storage dimensions: 3.5" (88 mm) x 3.7" (95 mm) x 2.8" (72 mm)
Available: April 2009
Retail: $14.95
Ed Volkwein, president of SteriPen, showed us the FitsAll Filter this afternoon: