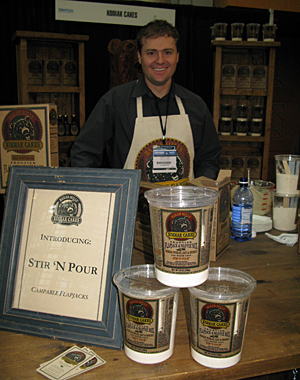 One thing I like about Outdoor Retailer (in addition to all of the gear, of course), is meeting people and their products I'd never hear about otherwise. Take Joel Clark and his family's Kodiak Cakes.
Back in 1982, then 8-year-old Joe was recruited by his mom, Penny, to sell lunch sacks full of the family's whole-grain pancake mix to their Utah neighbors. Young Joe, along with the family sheepdog, walked the neighborhood with his Radio Flyer red wagon full of pancake mixes, sold them all, and even got some reorders.
In 1995 the Clarks started selling an add-water-only version of the recipe, developed by brother Jon, to gourmet markets and gift shops. Now, after 13 years in business, the Clarks sell Kodiak Cakes flapjack and waffle mixes in more than 3,000 stores in 25 states. At OR, the company introduced a stir-n-pour version, which comes in a compostable container, sized and measured for water to be added and mixed within.
One morning this week, Joel made me my own Kodiak Cake pancake with mountain berry sauce on top. Yum. There's also a brownie mix.