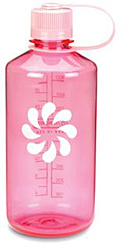 If you're still drinking out of your old #7 polycarbonate water bottle, read the results of a new study from the Harvard School of Public Health before your next fill-up. The study is the first to directly show that drinking from polycarbonate bottles raises BPA levels in urine.
Participants (77 Harvard students) first spent a week drinking only cold beverages from stainless steel bottles, which are BPA-free, as part of a "washout" phase to minimize BPA exposure. They used 27-ounce Kleen Kanteens by the way.
The following week, participants drank only cold beverages from new polycarbonate bottles (32-ounce Lexan Nalgenes). After one week of polycarbonate use, the concentration of BPA in participants' urine increased 69 percent.
According to the Harvard press release, exposure to BPA has been shown to interfere with reproductive development in animals and has been linked with cardiovascular disease and diabetes in humans.
It's important to note that participants didn't drink hot beverages from their bottles, wash them in dishwashers, or use old ones. BPA levels could have been "considerably higher" if the bottles had been heated.
"This study is coming at an important time because many states are deciding whether to ban the use of BPA in baby bottles and sippy cups" said researcher Jenny Carwile. "While previous studies have demonstrated that BPA is linked to adverse health effects, this study fills in a missing piece of the puzzle—whether or not polycarbonate plastic bottles are an important contributor to the amount of BPA in the body."
Read the full study on the website of the journal Environmental Health Perspectives (pdf).
via Treehugger