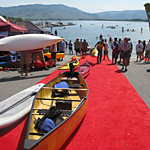 Outdoor Retailer began with a day of sunshine (and heat) at Pineview Reservoir near Snowbasin Resort.
The location offered attendees the opportunity to test out kayaks, canoes, and paddleboards on hand, and to do some early browsing of new gear that will be at the show this week.
Here are a few pieces of notable gear that caught my attention:
Chaco Pro Series Sandals
Chaco's Pro Series of river sandals has been "amped up" for its new versions. In addition to Pro versions of the Z/1 and Z/2, Chaco will offer its popular Flip and Hipthong sandals in Pro versions.

According to the Chaco rep who fit my feet, they heard from river guides who wear their Flips to guide, but wanted a more serious outsole underneath. Hence the Flip Pro. Pro sandal versions feature ultra sticky Vibram Pro outsoles, Chaco's Biocentric footbed, and high abrasion webbing.

Columbia Mobex Pack
For spring 2010, Columbia has several new offerings, the Ravven trail running shoe, the Switchback trail shoe, and the Mobex and Sprint backpacks.

The Mobex is geared toward adventure racers. It has an exo-skeleton frame, which was kind of cool and reminded me of crossed tent poles, and is very lightweight. How light? I don't know, but Columbia was running a contest giving away the pack to anyone who could guess the weight and volume correctly.

The Mobex has space for a hydration bladder, a removable mesh inner pouch, an outer space for a water bottle, and attached whistle. The back has a DWR finish to keep mud and grime out. It will come in three sizes: large ($120), medium ($100), and small ($80). A smaller Sprint version is aimed at mountain bikers and trail runners.

DeLorme Topo USA 8.0 and PN-30
"For DeLorme, it's all about the map," said product and design manager Chip Noble. Because there's no one map for all occasions, DeLorme offers a variety, including aerial imagery and topos, which can be layered.

The company recently launched Topo USA 8.0, the newest version of its mapping program. The updated maps have thousands of new trails, updated terrain and hydro data, the latest roads, BLM, National Park, National Forest, and other publicly-managed lands, Game Management Districts, and more. For an additional $29.95 yearly subscription, you can download for permanent use all the aerial imagery, USGS Quads, and NOAA Nautical charts you want from the DeLorme map library.

The Earthmate PN-40 handheld GPSR ($399.95) has been updated as well, and now is 10 times faster, said Noble. An Earthmate PN-30 ($299.95) was recently introduced, which is the same as the PN-40, but without the digital compass and barometric altimeter.