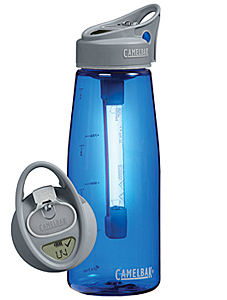 CamelBak introduced the All Clear UV Microbiological Water Purifier at Outdoor Retailer.
The All Clear neutralizes 99.99 percent of bacteria, protozoa, viruses, and other impurities. Users fill the bottle, secure the cap, hold the power button down for 4 seconds and rotate the bottle, allowing the ultraviolet light to neutralize water-born viruses and bacteria. It takes less than 80 seconds to purify .9 liters of water.
The All Clear has an LCD screen that shows cycle time, successful conclusion of cycle, and battery life. It works with most 63mm opening reusable bottles. Usage directions are printed on the bottle.
CamelBak's Jon Austen, director of product management, gave us a demonstration of the All Clear.
It's available in two versions:
All Clear UV Water Purification System Kit
Includes: integrated UV Cap, 1L Better Bottle with Classic Cap, and 2 non-rechargeable CR123 batteries; kit is recharge-capable (recharger not included)
MSRP: $100

All Clear Deluxe UV Water Purification System
Includes: all of the above plus a custom rechargeable battery pack instead of the CR123's
MSRP: $130
Available: October 15, 2009