Outdoor Retailer: Hygiene - GoGirl and CleanWaste
Let's talk personal hygiene.
Here are a couple of products from Outdoor Retailer that will help women and men take care of business neatly and discreetly in the outdoors.
GoGirl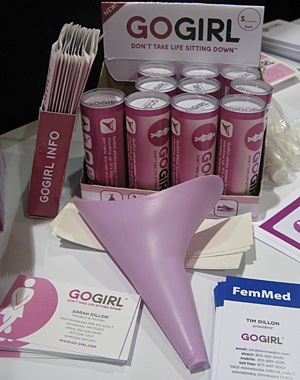 Ladies, now you too can pee standing up, without having to drop trou, squat, or worry about dribbling or unsanitary bathrooms. The GoGirl (motto: don't take life sitting down) is a small, medical-grade silicone, funnel-like device with a spout for peeing (aka a FUD or female urination device).
It's soft and collapsible and seals to your body, for mess-free use. It's reusable: just store it in the plastic bag, and clean later with soap and water.
According to GoGirl president and founder Sarah Dillon, the product was developed for women 20 years ago under a different name, but never made it to the medical market. The GoGirl was introduced in January 2009 for outdoor, travel, everyday, and medical needs, and has been sent to military women overseas.
I have not had the chance to try mine yet, but I can imagine the GoGirl being handy for peeing in a pee bottle inside a tent, on a boat, or when wearing a harness, among other times where you don't want to or can't drop your pants.
Dillon says she's done light to "four-beer" tests of the GoGirl and "it holds." She recommends users do an initial practice run in the shower to get comfortable with the technique and be sure they form a full front-to-back seal.
The GoGirl silicone funnel comes in a small tube with a biodegradable storage bag and two tissues.

MSRP: $6.99
CleanWaste

CleanWaste is the new name for Phillips Environmental Products, makers of the original Wag Bag. The Wag Bag, now called the Go Anywhere Toilet Kit, can be used on its own, in a cathole or bucket, or with a portable toilet set-up to pack-out human waste. They're required at certain locations, like Mount Whitney and Machu Picchu, to lessen environmental impact.
The waste kit is a double bag system made from spill-proof, puncture-resistant material. An inner waste bag comes preloaded with a Poo Powder gelling agent that turns liquids solid, and contains natural odor control and decay catalysts (also available separately). The inner bag can be used multiple times, for up to 32 ounces of waste. When finished, put the inner bag inside the sturdy, outer zip-close disposal bag.
The kit's packaging and ingredients are biodegradable, EPA Class II waste, landfill approved. Each kit includes toilet paper sheets and an antiseptic hand wipe.
MSRP: $39.99 per 12 pack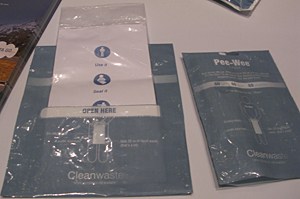 At Outdoor Retailer CleanWaste introduced the Pee-Wee a small pouch for the guys (or ladies with a GoGirl!) preloaded with Poo Powder. CleanWaste only had a prototype of the plastic bag available to see at the show.
The Pee-Wee holds 20 ounces of liquid. After use, the puncture-resistant bag is zipped, sealed, and tossed into a trash receptacle, once one is available. All packaging and ingredients are biodegradable and EPA Class II waste landfill approved.
The Pee-Wee is expected to be available in multi-packs in August.