Outdoor Retailer: Granite Gear Uberlight CTF3 Drysacks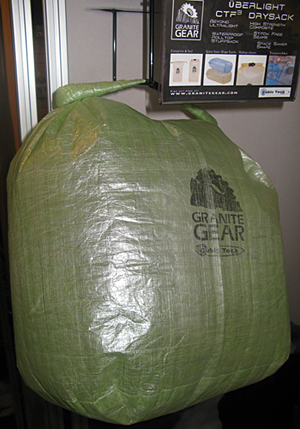 Remember yesterday's post about Brooks-Range's ultra ultralight winter Rocket Tent? Well, CTF3 fabric, the same extremely light, strong, waterproof material used in the Rocket, is being introduced in a line of stuff sacks for Granite Gear.
The Uberlight CTF3 Drysacks are fairly transparent roll-tops with stitch-free seams in a "space saver shape" (meaning they're more boxy than round, so as not to leave gaps in your pack).
CTF3 is madeby Cubic Tech, a company that specializes in high performance fibers with high strength-to-weight ratios, such as sail cloth and aerospace materials.
The Uberlight CTF3 Drysacks will come in four sizes: 7 liters, 10 liters, 13 liters, and 18 liters, and in four translucent colors: blue, green, yellow, and orange.
They're "half the weight of ultralight!" proclaims Granite Gear's product information. Unfortunately, those weights aren't included in that information, but I will add them once known. Until then, if you know how much "ultralight" weighs, just divide that in half! (Edited to add weights below on 7/27/09)
Granite Gear says, the drysacks weigh less than half of similarly sized sil nylon sacks, but the CTF3 fabric (a non-woven laminate reinforced with Dyneema fibers) has five times the tensile strength.
Personally, I've checked out both the Uberlight CTF3 Drysacks and the Brooks-Range Rocket Tent and can vouch for their extreme lightweight and strength (Brooks-Range let me reef on a piece of the fabric at their booth). Suffice to say, if they can build a 1 pound 7 ounce tent out of CTF3, stuff sacks shouldn't weigh much at all. However, that weight-to-strength ratio doesn't come cheap.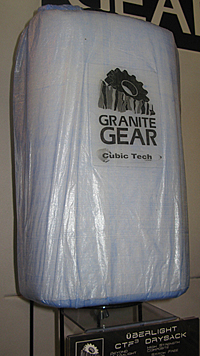 Granite Gear's Uberlight CTF3 Drysacks will be available February 1, 2010.

Dimensions:
7L: 4.5" x 7" x 17"
10L: 5" x 7.25" x 20"
13L: 5.25" x 7.75" x 21"
18L: 6" x 8.75" x 22.5"

MSRP's:
7L: $38.95
10L: $41.95
13L: $44.95
18L: $48.95
Weights:
7L: 15 grams
10L: 17 grams
13L: 19 grams
18L: 21 grams
(Edited to add weights above 7/27/09)