Outdoor Retailer: All Mountain Demo Day (part 2)
T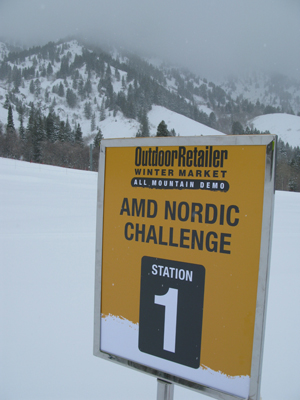 he three intrepid Trailspace OR reporters (Bill, Alicia, and Tom) met early Wednesday morning at the Salt Palace to get on the bus to the Demo Day site at Snowbasin. After an hour's ride (better and more green than driving individual vehicles, and far more pleasant than dealing with the morning commute traffic), we arrived and headed into what has to be the world's fanciest ski resort headquarters building to pick up the tickets to the various activities (a free lunch ticket, tickets for borrowing demo gear, and a score card for the Nordic Challenge). Then off to tour a smaller number of booths than in past years.
As I passed one booth, a nice lady handed me some furry earmuffs — very nice, but I did have my Trailspace beany on, which covered my ears. Then on to the Nordic Challenge booth to learn the rules. Seeing the prizes for reaching all the stations out on the 7.5 km course, I headed immediately for the Salomon ski booth to borrow a pair of SL7 skate skis, skate boots (really comfortable, and a perfect fit), and the usual long Nordic skating poles. Then rapidly out onto the course and to Station 1 (I can skate pretty fast downhill). Then on quickly to Station 2 (some level, but mostly downhill), and on further to Station 3. Station 4 was reached by a somewhat steeper downhill. Since I noticed that the time on the course was still pretty short, I decided to do a couple of the side loops, one of which had a stiff uphill. This yet again proved that I have a lot to learn about skate skiing — how do those guys skate uphill faster than I go downhill?
Well, time to return and claim my prize before the good selection was gone. So why are skate courses all downhill on the way out and all uphill on the way back — yet another proof that there are more uphills than downhills. Still, I got to claim a Gibbon slackline kit (I found out later that Alicia had also scored a slackline kit to go with the one she and Dave already had).
Having now expended too much energy, I toured the booths in more detail, contacting several representatives for more detailed discussion in the main show starting Thursday (Leki for more on their new shock poles, Osprey to arrange a review of their expedition packs, and a few others). Discussions with two of the vendors produced the interesting tidbit that they and others in the industry had kept their inventory skimpy this winter due to the economic downturn. So there will be a shortage of gear for a few months, even for in-demand gear.
By now it was time for lunch. After standing in the exorbitantly long line staring at the prices ($9 for a burger, $12 for a turkey sandwich), I stuck with the free version (burger with cheese, fries, soda, cookie), while Alicia, who had caught up with me took the veggie burger and fries and cookie, but skipped the soda — not the most healthful of meals, but it was free. Tom caught up with us as we found a table to share. Well, okay, both Tom and I had the clam chowder at the Jetboil booth.
I headed for the Black Diamond booth to try out a pair of Verdicts, then up the lift (wonder if it was the same one used in the upcoming Frozen?). At the top, I discovered that the storm was moving in, with very low visibility. So all I could do was carefully follow the yellow markers halfway down the mountain until I got to somewhat clearer air — good thing the Verdicts are such easily controllable skis — almost twice as wide as my Big Easies, with a whole lot more sidecut, which makes turning very easy, especially in the nice powder. On the lower part, I was able to get on a slope a bit wider than the cat track and get in some very nice tele turns - again, the Verdicts turned very well.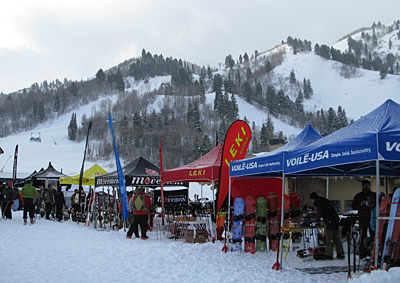 By this time, I was thinking about catching the bus back, but did spend some time talking to the Dynafit people and two guys I had skied part way down with who worked for Thinsulate. They showed me their new footbeds which they claim provide much more insulation than other footbeds. I will pick up a pair to try out during the Winter Camping course I will be teaching. Certainly they look promising (cold feet are a problem for many winter campers).
Then it was back onto the bus for the return. While on the bus, I picked up a message (the curse and blessing of modern electronics) that one of Dick Bass's companies is a coal company planning to open a strip mine in Alaska impacting a major salmon spawning river. Bass owns Snowbird ski resort and is known for being the first person to climb the Seven Summits. He is also well known to support environmental causes, which makes this strip mine a huge shock. I have a slight acquaintance with Bass, and find this quite out of character with my encounters with him. So the question is — what is going on here? A petition will be available at the OR Show opposing this development.