Question of the day: are snowshoes getting better because their popularity is booming, or is their popularity booming because snowshoes are getting better?
Like all yes-or-no questions, the answer lies somewhere in the middle, but I can't help thinking the engineers are ahead of the customer-demand curve at the moment. Most of the shoes I tried out seemed better than they needed to be, truth be told, but I doubt the customers are complaining.
Snowshoes I tried out, by brand:
Category: Recreational Snowshoe
Retail: $160
Synopsis: Entry-level shoe designed for casual hikers who stick to groomed trails.
Impressions: A decent shoe for the price -- bindings are easy to get on and off. Flotation and traction were pretty good for a shoe in this category. I'd be tempted to seek out one of the Mountain Hikers in Atlas' 11 and 12 Series, though they do retail for around $280.
Category: Recreational Snowshoe
Retail: $170
Synopsis: Get most of the performance of Crescent Moon's top-end Gold Series at a lower price.
Impressions: I'll admit I may have been influenced by the fact that Crescent Moon founder Jake Thamm fitted me personally for an outing on these shoes (see the video of the fitting below). Crescent Moon bindings allow a dialed-in fit missing from the others I tried -- it has a cam on the heel strap that clicks the foot into place after the front straps have been tightened. Might be more than the average hiker wants (and definitely the most complex of the bunch), but the fit was in the top two of all the shoes I tried.
Thamm also pointed out that his bindings use waterproof straps that won't freeze; this helps maintain a tight fit that some shoes lose because their nylon straps stretch when frozen.
Category: Hiking Snowshoe
Retail: $200
Synopsis: Sophisticated design uses aluminum on the sides and plastic connectors fore and aft.
Impressions: The best ride of all the shoes I tried. Great traction and good flotation, but the most telling feature is how good they felt on my feet compared to the rest. Binding cinches down with a single pull (one-pull is a benchmark for all the better name-brand shoes; Easton's is among the better ones.)
Easton Aluminum has long manufactured tent poles for many top outdoors companies and is now making a major push into the outdoor gear marketplace. I was impressed with Easton's snowshoe poles, which have innovative clips that allow you set the exact amount of tightness you prefer when adjusting the size. Straps were fat and comfy.
Category: Backcountry snowshoe
Retail: $220
Synopsis: Aggressive crampons and flexible plastic deck make for what Tubbs calls its most advanced technical snowshoe.
Impressions: I should've given these a second look after a several hours of testing other shoes. I tried the Flex Alp first and had a bit of trouble getting used to it (mainly because it was my first snowshoe outing in a couple years). While these have a host of technical features and have drawn raves across the industry, what sticks in my mind most is how easily the bindings can be loosened to remove them. This is the near-idiot-proof solution that seems to be just a bit out of reach for everybody else.
Honorable mentions
No test models were available for these, which aren't in stores yet: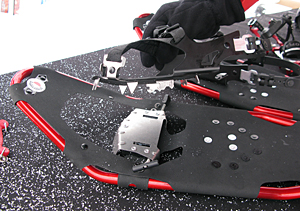 Kahtoola is announcing a major upgrade to its crampon-and-snowshoe package for next fall. Kahtoola's snowshoes (at right) combine a crampon that straps to a hiking boot. The crampon easily snaps into and out of the snowshoe, allowing hikers to endure the extra weight of a full snowshoe only in deep snow.