Outdoor Retailer: The all-in-one TentPak
My most intriguing gear discussion on Thursday (Day One) was with TentPak, a company that makes 12 models of a combined tent and pack. Well, that's an interesting way to describe it, but not quite accurate. What TentPak has done is devised a way of marrying an existing two-person tent with an existing pack.
The two tents, a 3-season (H Series; two poles) and a 4-season (E Series; three poles), are quite nice tents, with aluminum poles. Both two-person tents have a fly made of polyurethane-coated ripstop nylon that provides a reasonable vestibule. I would actually call the 4-season tent a convertible 3-season, but the industry trend is to call tents with lots of mesh that can be covered by a zip flap 4-season. The North American Hunting Club goes along with TentPak's 3- and 4-season designations and gives them their field tested seal of approval.
The pack capacities range from 45 liters to 80 liters, with a 75+10 liter model on the way. The line includes women-specific models, with changes in the waist and shoulder straps (along with the usual colors designed to appeal more to women).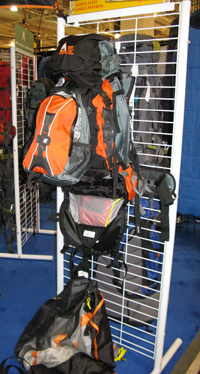 The tent is joined to the pack by a buckle and strap that attaches in the sleeping bag compartment. The tent is rolled into the sleeping bag compartment at the bottom of the pack, with the rolled fly, folded tent poles, and pegs. There is extra room in the compartment in most of the models for a stuffed 0 degree (F) down bag. The combined tent-pack packages average 13 pounds.
The packs themselves have several interesting features. Two entry-level models, the Phantom 45 and Luna 45, include a 20-degree sleeping bags. Several models have a removable auxiliary pack that is just right for a sizable emergency kit or day pack.
One of the main target audiences for these packs is Boy Scout and Girl Scout troops. These packs also would work well for adult leaders, who need to carry the removable first aid kit (for those incidents that result from an exuberance of youth). Another target audience is search-and-rescue organizations, for which the removable emergency kit also would be very appropriate. The zipper arrangement lends itself well to that type of usage on some of the packs, though most in the lineup are top-loader only. The shoulder straps are more readily and easily adjustable for torso length than the vast majority of packs out there.
TentPak packs and tents are made by High Peak, the brand name of Germany's Simex Sports, with TentPak doing the modifications.
Overall, TentPak has an interesting series of packs with an interesting system for integrating pack and tent, and is well worth considering. Of course, the real test of any pack or tent is in the actual usage. And not all packs fit every backcountry traveler. Hopefully, we will have the opportunity to test the TentPak system ourselves to see how the concept works in practice.
Adrenaline 60+10 (at right)
Capacity: 4,000 to 5,000 cubic inches
Weight: 11.81 lbs combined
MSRP: $350.99
www.tentpak.com