Outdoor Retailer: Snapshots from the show
We've reached the end of Day Two at Outdoor Retailer, which means we're halfway through this winter's gearapalooza. If this was a cheesy outdoor metaphor I'd say something like, we've reached the summit, but we still have the all-important trek back down before we start celebrating.
But it's not, so I'll just share some snapshots and comments from the past two days.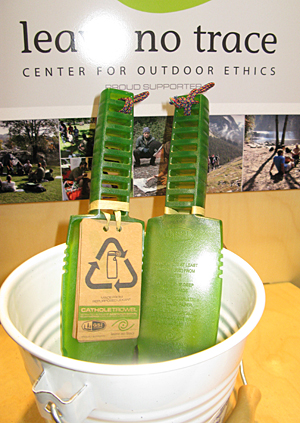 GSI Outdoors has a Leave No Trace Cathole Trowel with imprinted instructions that tell you how to dig a proper hole in the woods, in case you forgot (do it 70 paces from water, dig 6-8" deep and 4-6" wide, etc.). The trowel is made from repurposed Lexan. So old BPA-laden waterbottles can gain a new life digging holes in the woods. The trowels will retail for $5 this spring; One percent of sales go to LNT.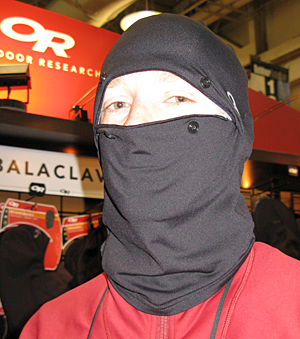 Christian Folk of Outdoor Research modeled the Shapeshifter balaclava, which can be worn three different ways. OR also has some excellent looking ice and backcountry gloves coming for winter 2010-11, though women will have to wait till 2011 for their own ice gloves. In the meantime, Christian personally suggests they check out the Stormtracker.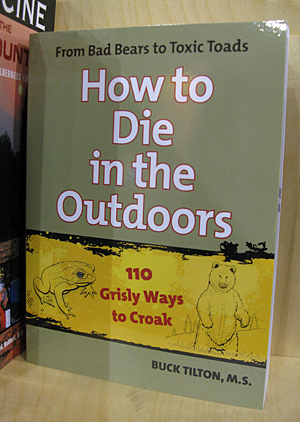 I believe you can find an outdoor book on pretty much any subject at Outdoor Retailer.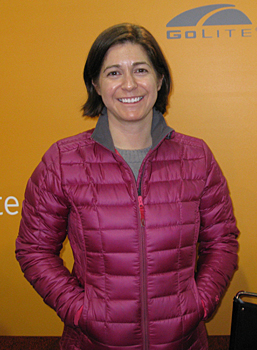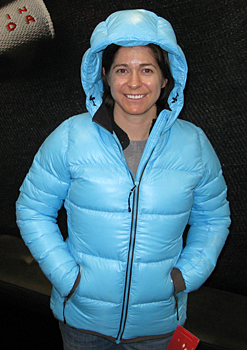 What's winter without insulation? The answer: cold. Even in the middle of an indoor tradeshow I'm happy to try on some soft, puffy insulation. GoLite (left) has the Demery Canyon, an 800 fill down jacket (shown) and anorak, as well as a synthetic version, the Cross Canyon. Westcomb (right) is introducing its very first down pieces, the Chilco Hoody with 850 fill, and a sweater version for layering.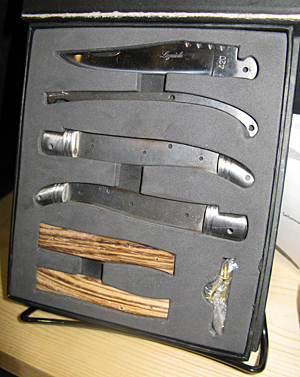 "Smell the knife," I was instructed at the Baladeo booth. It wasn't a macabre order, but a comment on the hickory handle of several Laguiole-style knives. In addition to various outdoor knives, tools, and cutlery, the French brand also sells a make-your-own knife kit, that you could use as a template for your own handle.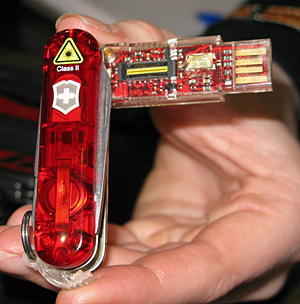 Okay, it's not an outdoor multi-tool, but the Victorinox Presentation Master is still pretty cool. See that shiny bar? It's for fingerprint recognition as a security feature to protect all that data on the USB. (It also has a laser pointer and Bluetooth remote.) Victorinox told me that at the Consumer Electronics Show earlier this month, the company gave hackers a $100,000 challenge and two hours to try and hack through their security. None did. The Presentation Master will be available in early-April. Price range: approximately $100-$300 for the 8G, 16G, or 32G.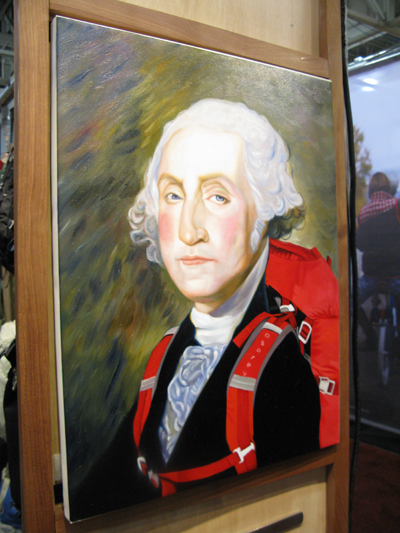 And finally, George Washington wore an Osprey.