Outdoor Retailer: Brunton Flip N' Drip
This one is for all the backcountry coffee drinkers out there (I know from our forums that plenty of you exist).
Brunton is introducing the Flip N' Drip coffee and tea maker next month. Weighing in at 16 ounces it's no lightweight, but if you think coffee is an essential piece of outdoor gear, it's worth a look. The Flip N' Drip (or, as I like to call it, the Flippin' Coffee Maker) makes 16 ounces of your backpacking beverage of choice, from a minimum of 5 tablespoons of coffee.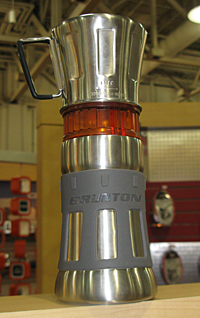 Brunton Flip N' Drip Directions:
1. Fire-up your stove and heat water in the stainless steel carafe.
2. Then, twist-on the reusable mesh coffee filter and drinking mug.
3. Flip N' Drip
4. Twist-off the double-walled, insulated mug and enjoy your piping hot beverage.
Specs:
Dimensions: 11.13" x 4.38" x 4.38"
Weight: 16 oz
Capacity: 16 oz
MSRP: approximately $60
Available: February or early-March 2010