The chance to pull the cord on an avalanche airbag doesn't come along every day (one hopes it never happens). So, when Pierre from Snowpulse asked if I'd like to try on one of their ProRiders and deploy it, I jumped at the opportunity to set one off in a safe environment.
Pierre told me that when the Swiss company started three years ago only one other company (see ABS below) was making avalanche airbags. Snowpulse started working extensively with mountain guides to develop a lighter airbag-backpack combination than the original offerings.
In addition to acting like a life vest to keep your head up and out of the snow, Snowpulse airbags provide head, neck, and chest trauma protection (10-20% of avalanche deaths are due to trauma).
Snowpulse packs come in 10- to 45-liter sizes and the airbag is 150 liters. The company claims more interior space in their packs and better weight distribution for guides. The compressed air cartridges are refillable by the user at paintball and scuba shops (with the right equipment and know-how).
I'll note that it was morning four of Outdoor Retailer and the tank of compressed air was starting to run low, so my pack's cartridge was not as fully charged as it would be normally. A full charge would cause the ProRider to deploy in about three seconds. Still, it made an impression. The Snowpulse airbags retial for around
Next I visited Backcountry Access which introduced its first airbag, the Float 30, earlier this winter. The BCA rep told me, they can't even keep the Float in stock due to a huge response. They also offered me the same opportunity to try one out.
The Float 30 integrates a 150–liter airbag into a 30-liter pack. The total Float 30 system weighs 7.4 pounds (3,357 grams), while the Snowpulse Life Bag 30 weighs about 3,000 grams, for comparison. Like Snowpulse, the oxygen cartridge is refillable at paintball and scuba shops.
The Float's airbag was not as fully encompassing and supportive as the Snowpulse airbag, but is supposed to help protect the head, neck and upper body, while maintaining the user's peripheral vision and ability to escape the avalanche before it picks up speed. The Float retails for around $700.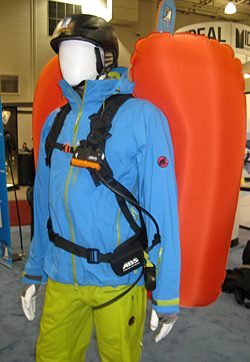 Since 1985 ABS has been the original (and until recently the only) maker of avalanche airbags. Their airbags have a few key differences from those offered by Snowpulse and Backcountry Access.
The ABS airbag is actually a double airbag (total volume 170 liters). Two airbags attach to either side of the backpack. The company says the configuration allows a user to hold a horizontal and upwards moving position in an avalanche. The airbags are supposed to fully inflate in two to three seconds.
The most noteworthy feature from ABS is a remote activation option. In addition to the original activation handle, ABS offers the world's first wireless activation of an avalanche airbag, particularly useful for guided tours and other groups. The remove activation allows everybody in a group to active anybody else's airbag (including his or her own) within 300 meters, with each wireless handle acting as a relay station. All of ABS's airbags can be retrofitted with the new wireless activation.
ABS's line of Vario backpacks allow you to zip the airbag system onto different packs for versatility. ABS offers the choice of a steel (filled weight 515 grams) or carbon cartridge (filled weight 280 grams). Both are refillable with compressed gas [Argon or N² (nitrogen)] by ABS. If you're comparing weights, the 30-liter Escape weighs approximately 3.1 kg (6.8 lbs).
If you decide an avalanche airbag is for you (and you can find the one you want in stock), it will cost you around $600-$1,000, depending on the brand and model.