What stood out after a full day on the show floor that included seeing Ken Salazar, secretary of the Department of the Interior, speak on conservation and the outdoor industry's economic role, Glen Plake (and his mohawk) walk by, and Laird Hamilton chilling alone before the show started?
Read on for some gear sightings.
Outdoor Shells and Apparel
Amongst a number of new hats for spring 2011, Outdoor Research had the two-in-one Sunshower Sumbrero, with a removable Pertex cover (it's like a hat in a hat) and a Bug Net Cap. They also had some sweet looking, lightweight, breathable softshell pants, the Cirque Pants ($100), and the lightweight softshell Ferrosi Jacket (at right).
GoLite has a super lightweight (surprise!), 6-ounce three-layer shell, the Malpais Jacket, made from Trinity nylon membrane. It's undecided if it will only be for men or if a women's version will be offered also ($250). I was so distracted looking at it I forgot to take a picture. There's also a men's and women's 2.5-layer Kenai Jacket made of Pertex ($200) with pit zips, and more pockets, that weighs 9-10 ounces.
Rab, looking to break into the backcountry ski market, is introducing the Sawtooth Jacket, a lightweight soft shell for late-spring/early-summer backcountry skiing (17 oz/475 g men's, 14 oz/395 g women's). The company's offerings have more year-round range than previously, from the 16-ounce, 850-fill down women's Infinity Jacket (very nice) to lightweight wind shells and expedition suits and mitts. But, all remain technical pieces for an alpine setting, particularly alpine and rock climbing and skiing."Everything here has a specific purpose in a mountain setting," said Samantha Kilgore of Rab.
A Stitch in Time
In addition to looking at numerous tools (and making our own, which we'll cover in a separate blog!), at Victorinox I met Polar explorers Tyler Fish and John Houston. Last year, Fish and Houston completed the first unsupported, unassisted American expedition to the North Pole. (My first thought: Really? No one had done that yet? Good for Fish and Houston.)
On the pair's gear list were two Victorinox SwissTool Spirit Plus Ratchet tools, which they used regularly to fix bindings and skins, and to help stitch gear back together. If you're going to ski 500 miles to the North Pole unsupported, you better have the tools to maintain your gear, including scissors to help you stitch your gloves back together, like Fish's pair at right.
(On a semi-related gear note for camera tech geeks, while taking pictures with my Canon G9, Fish and Houston told me they used a G10 to record their expedition.)
Packs
GoLite will have its largest carrying capacity packs yet for spring 2011. The Terrono packs are "still simple, no bells and whistles," according to Scott Surface with GoLite, who told me they've loaded the 90 liter model with up to 75 pounds and it was comfortable, "once on."
The packs use a "Lite Rail A/" adjustment system that lets you adjust back length and hip belt up to 10 cm in either direction, as well as contoured aluminum stays and are made from Tier 1 recycled materials. Available in January.
Sleeping Bags
Sierra Designs is introducing the Pyro 15 sleeping bag, with core comfort technology. The 600-fill down bag has a second set of baffles over the core area, for extra warmth.
Regular: 2 lbs. 13 oz.
Long: 3 lbs., 0 oz.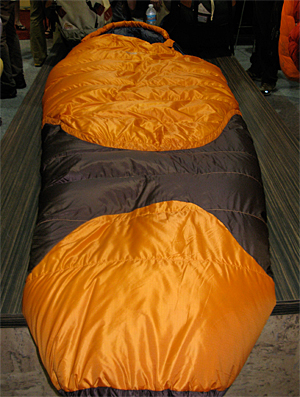 Interestingly, Sea to Summit is working on a series of four down sleeping bags for next year. Details are few for now, but expect 650 to 850 fill bags in Trek, Micro, Traverse, and Alpine versions. The Trek prototype we saw (below) had a zipper at the foot/base for venting.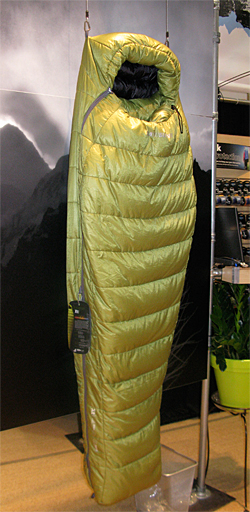 Bonus question: Do you know where the name for Sea to Summit came from? You'll find the answer in the photo below.