Tents and Poles
How do you make a tent pole up to 59 percent lighter and leave out the shock cord? Ask the folks at Easton Mountain Products. After all, as Rich Packer of Easton said of his brand, "Easton's a development company."
For spring 2011, the company has designed a completely new pole technology, the lightweight AirLock connector system, which uses modular connections instead of full shock cords. The technology can be found exclusively in three Easton tents next year and two types of poles, Easton's Carbon ION and Carbon EVO.
One of those tents is the Kilo, an ultralight, three-season, two-person tent that weighs in at less than a kilogram (2 pounds). That's less than a kilo including the stuff sack (see the picture at right).
Packer calls the Kilo "the lightest, two-person, freestanding tent."
Part of what makes the Kilo so light and innovative is its brand-new Carbon ION pole system with AirLock connectors. The carbon fiber ION poles have a smaller diameter than other poles, are significantly and noticeably lighter (up to 59 percent less than standard aluminum poles), and lack a full-length shock cord, instead utilizing an exclusive, patent-pending AirLock connector system (see the video below).
Easton's product info explains it so: "AirLock replaces heavier shock cord with a short ultra-strong monofilament tether. The field replaceable modular design starts with a precision-machined aluminum/carbon composite core tube. This core mates to pressure-melded Delrin receivers that pressure-fit between the high-strength carbon fiber pole sections to increase the strength of every connection point and create a lighter, stronger tent structure."
If a pole breaks under great stress, the break is designed to happen at the weakest center point in the connector, which can be replaced in the field, with no harm to the pole's strength.
Currently, the AirLock technology is exclusive to three of Easton's tents. In addition to the Kilo, it will be used in Easton's existing Si2 Mountain tent and the new-for-2011 Hat-Trick, an all-season, three-person tent that uses Carbon EVO poles (40 percent lighter than standard aluminum) with AirLock connectors.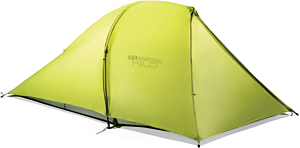 Kilo Specs:
Weight: 2 lbs (910 g)
Area: 26 sq ft (floor), 6 sq ft (vestibule)
Head height: 44"
MSRP: $399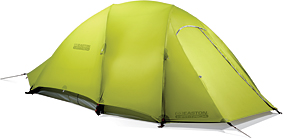 Hat-Trick Specs:
Weight: 5 lbs 5 oz (2.4 kg)
Area: 48.2 sq ft (floor), 9 sq ft (vestibule)
Head height: 48"
MSRP: $599
AirLock video
Trekking Poles
Easton has even more patent-pending technology coming out in its Vi-Brake grips and external Rock-Lock clamps on its two newest trekking poles, the ATR-80 and CTR-80.
The Vi-Brake grip is Easton's answer to other company's shock absorbers, says Packer. But, "it's not a shock absorber. It's an anti-vibration grip," he said, designed to reduce the shock energy transferred to the hands.
The poles' ergonomic molded grips have 360-degree dampening gel inside to fully isolate each grip from shock and pole vibration.The absorption gel insulates the grip from the pole in all directions and absorbs vibration in all directions. "It stops dead vibration," said Packer.
The three-section poles also feature Easton's patent-pending external Rock-Lock clamps, which can be adjusted by rotating the buckle lever and snapping closed. The lever is field-adjustable, no tools required.
Both the CTR-80 and ATR-80 poles will be available in spring 2011.
CTR-80 Specs:
Weight: 1.44 lbs (517 g)
Length: 22.25" (collapsed) to 55.12" (extended)
MSRP: $139.99


ATR-80 Specs:
Weight: 1.46 lbs (662 g)
Length: 22.25" (collapsed) to 55.12" (extended)
MSRP: $99.99