Alicia stopped by the Cascade Designs booth at Outdoor Retailer in Salt Lake City last week and did what any savvy editor-in-chief would do when confronted with such a massive collection of new gear: she delegated.
So it falls to me to share the gear news from Cascade Design's biggest brands -- Platypus, MSR, and Therm-a-Rest. While the news from MSR (a few new tents and expanded cookware lines) and Therm-a-Rest (new ultra-light down bag) is worth a look, the new Platypus line of hydration packs seems like the best story of the bunch, so I'll start there. Note: all these products come on the market in January 2011.
Platypus Origin hydration packs
Maybe I've seen too many movies, but my imagination conjures a furious rivalry between Platypus and Camelbak -- with each brand consumed by a mad scramble to one-up the other.
The reality is probably more mundane (think "The Office" with bite valves) but anyway: in a year when Camelbak heavily redesigns its core hydration bladder (upping the ante for the Platypus Big Zip), Platypus rolls out a direct challenge to Camelbak with seven new hydration packs.
How will Camelbak parry? Tune in next summer.
The Origin series gets Platypus back into the hydration pack business after a few years' absence. Perhaps most notable is that all the Origin packs include waterproof storage. The line is divided between the smaller day packs (Origin 3, Origin 5, Origin 9) and the larger packs (Origin 22.18, Origin 22.20, Origin 32.20, Origin 32.22), which could be suitable for a fast-and-light overnighter.
If you're shopping for these when they arrive next January, take note of which bladder goes with which pack -- the Origin 3, 5, 22.18, and 22.20 have the 2-liter Big Zip SL, while the Origin 9, 32.20, and 32.22 use the 3-Liter Big Zip SL.
| | | | | |
| --- | --- | --- | --- | --- |
| Pack | Capacity | Reservoir | Weight | MSRP |
| Origin 3 | 3 liters | 2.0L Big Zip SL | 1 pound 4 ounces | $79.95 |
| Origin 5 | 5 liters | 2.0L Big Zip SL | 1 pound 6 ounces | $89.95 |
| Origin 9 | 9 liters | 3.0L Big Zip Sl | 1 pound 8 ounces | $99.95 |
| Origin 22.18 | 22 liters | 2.0L Big Zip SL. | 1 pound 15 ounces | $139.95 |
| Origin 22.20 | 22 liters | 2.0L Big Zip SL | 2 pounds | $139.95 |
| Origin 32.20 | 32 liters | 3.0L Big Zip SL | 2 pounds 1 ounce | $159.95 |
| Origin 32.22 | 32 liters | 3.0L Big Zip SL | 2 pounds 3 ounces | $159.95 |
MSR Shelters, Tents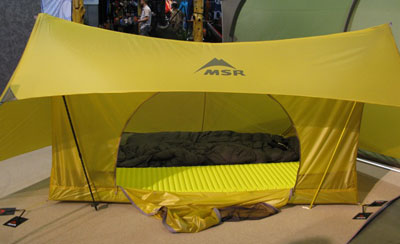 MSR dipped into its past to deliver the Fast Stash, an upgrade of the old standby Missing Link.
The Fast Stash, a floored shelter with bug mesh windows, can be supported by its own poles or by trekking poles. The front porch and side wings keep away the rain and allow more ventilation options.
Fast Stash facts:
Capacity: 2+ gear
Minimum weight: 2 pounds 14 ounces (not including poles)
Floor area: 36.5 square feet
Interior peak height: 46 inches
MSRP: $299.95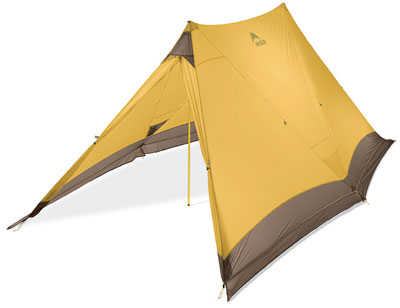 MSR also is rolling out the Twin Brothers, a bigger version of its floorless Twin Sisters two-person shelter. Designed to hold four to six people, the Twin Brothers comes with poles but can also be supported with trekking poles or guyed out from the outside. An optional floor is sold separately.
This kind of shelter is ideal for winter ski/snowshoe touring (the rest of the year, however, no floor or bug netting can get very messy, depending on the climate).
Twin Brothers facts:
Capacity: 4-6
Minimum weight 4 pounds 14 ounces (not including poles).
Floor area: 96 square feet
Interior peak height: 68 inches
MSRP: $399.95
MSR hasn't forgotten the free-standing dome tent. It's introducing the two-person Hoop and the three-person Holler, both designed to be among the most spacious in MSR's line of backpacking tents. Campers may pay the price in extra weight, but they might savor the extra elbow room.
Hoop facts
Capacity: 2
Minimum weight: 4 pounds 8 ounces
Floor area: 32 + 18 square feet
Interior peak height: 44 inches
MSRP: $349.95
Holler facts
Capacity: 3
Minimum weight: 6 pounds
Floor area: 47 + 17 square feet
Interior peak height: 45 inches
MSRP: $399.95
Other additions to MSR's shelter line:
AC-Bivy: Ultralight, minimalist bivy has a waterproof/breathable top, DuraShield coated floor, and mesh closure to let air in and keep bugs out. 1 pound, $99.95
Gear Shed: An add-on vestibule adds gear storage for Hubba and Hubba Hubba tents. 1 pound 12 ounces, 26.5 square feet, $149.95
Backcountry Barn: This capacious base-camp tent can sleep 4-5. 14 pounds 11 ounces, 80 square feet, $699.95
MSR Cooking Gear
MSR was all about the titanium a few years back, till folks realized that this tough, light metal is among the worst for thermal conductivity, making it a less-than-ideal cooking surface. Now everybody is all about hard anodized aluminum, a non-stick surface made with the same metal as high-end culinary cookware. Highlights from more than a dozen products MSR is adding to its cookery lineup: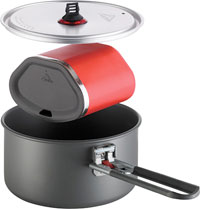 Quick Solo System: This four-piece kit is a hard anodized aluminum variant of the titanium Quick 1 System unveiled last year. Aluminum adds about four-tenths of an ounce, but shaves $20 off the price. The parts:
1.3 liter hard anodized aluminum pot
Talon pot handle
Strainer lid
12.5-ounce insulated stainless steel mug with cover.
11.4 ounces, $59.95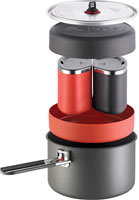 Alpinist 2 System: Two-person version of the Quick Solo, but with two plates and two mugs. The parts:
2.4L hard anodized aluminum pot
Strainer lid
Talon handle
2 Polypropylene DeepDish plates
2 12.5-ounce insulated stainless steel mugs with covers.
23.2 ounces, $89.95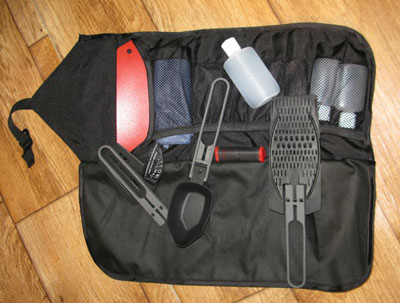 Alpine Kitchen Set: Everything you need to be Iron Chef of the High Sierra is in this kit. Most of the components also will be sold separately. The parts:
Alpine Folding Utensil Set (spatula, spoon, grater/strainer)
Salt & Pepper Shaker
Cutting Board
MSR Packtowl Dish Towel
2 1-ounce squeeze bottles
Carrying case.
10.4 ounces, 39.95
Other notables:
Alpine Bottle: Stainless steel bottle fits all MSR filters. Built so it won't roll when placed on its side. 750 ml, 21.95; 1L $26.95
Universal Canister Stand: Wide three-legged base provides stable platform for MSR stoves. 1.2 ounces, $14.95
Therm-a-Rest
Therm-a-Rest joins the minimalist crowd with the Alpine Down Blanket, a 700-fill down insulator rated at 35F. I walked by one of these a half-dozen times at OR, but do you think I could have enough sense to stop by and see what keeps it snug against that Therm-a-Rest pad?
Therm-a-Rest's data sheet says "perimeter snaps work with Therm-a-Rest Fitted Sheet or a Mattress Snap Kit to keep blanket in place while sleeping." Sounds like you have to buy some accessories to secure a warm night's sleep. Good to know.
Alpine Down Blanket Facts: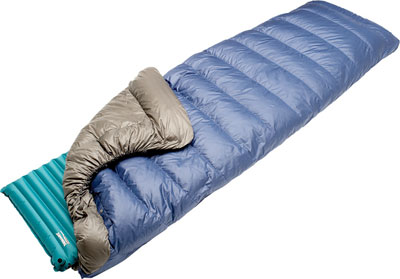 Regular
Dimensions: 48 x 76 inches
Weight: 1 pound 5 ounces
Rating: 35ºF
Fill: 700 Goose Down
MSRP: 239.95
Large
Dimensions: 52 x 80 inches
Weight: 1 pound 8 ounces
MSRP: $249.95
While the Alpine Down Blanket appears to be inspired by the classic Ray Way Quilt designed by ultralight backpacking pioneer Ray Jardine, I can't help thinking it might have crossover appeal for car campers craving some of that "more like my bed at home" comfort.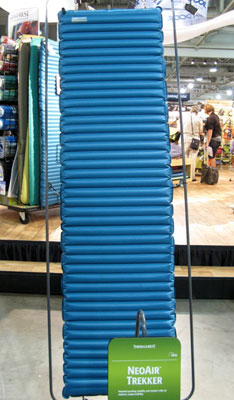 Speaking of comfort, Therm-a-Rest is introducing a Trekker version of its popular NeoAir mattress -- minus the Reflective Barrier that provides more insulating power in the original NeoAir. Upside for consumers who don't need all that warmth: The Trekker slices $30 off the NeoAir's list price.
For those unfamiliar with the NeoAir: it's an air-inflated mattress without the self-inflating foam that made Therm-a-Rest famous. Air mattresses usually aren't as warm as self-inflating pads, so Therm-a-Rest added the Reflective Barrier to help reflect body heat and boost insulation.
Trekker facts:
Regular: Dimensions: 20 x 70 inches; packed: 9 x 4 inches; weight: 1 pound 4 ounces; MSRP: $119.95
Large: Dimensions: 25 x 70 inches; packed: 11 x 4.5 inches; weight: 1 pound 8 ounces; MSRP: $139.95
Large-Torso: Dimensions: 25 x 47 inches; packed: 13 x 3.5 inches; weight: 16 ounces; MSRP: $99.95
All Trekkers have 2.5 inches thick with an R-value of 2.0 (the original NeoAir has an R-value of 2.5).