MSR Universal Canister Stand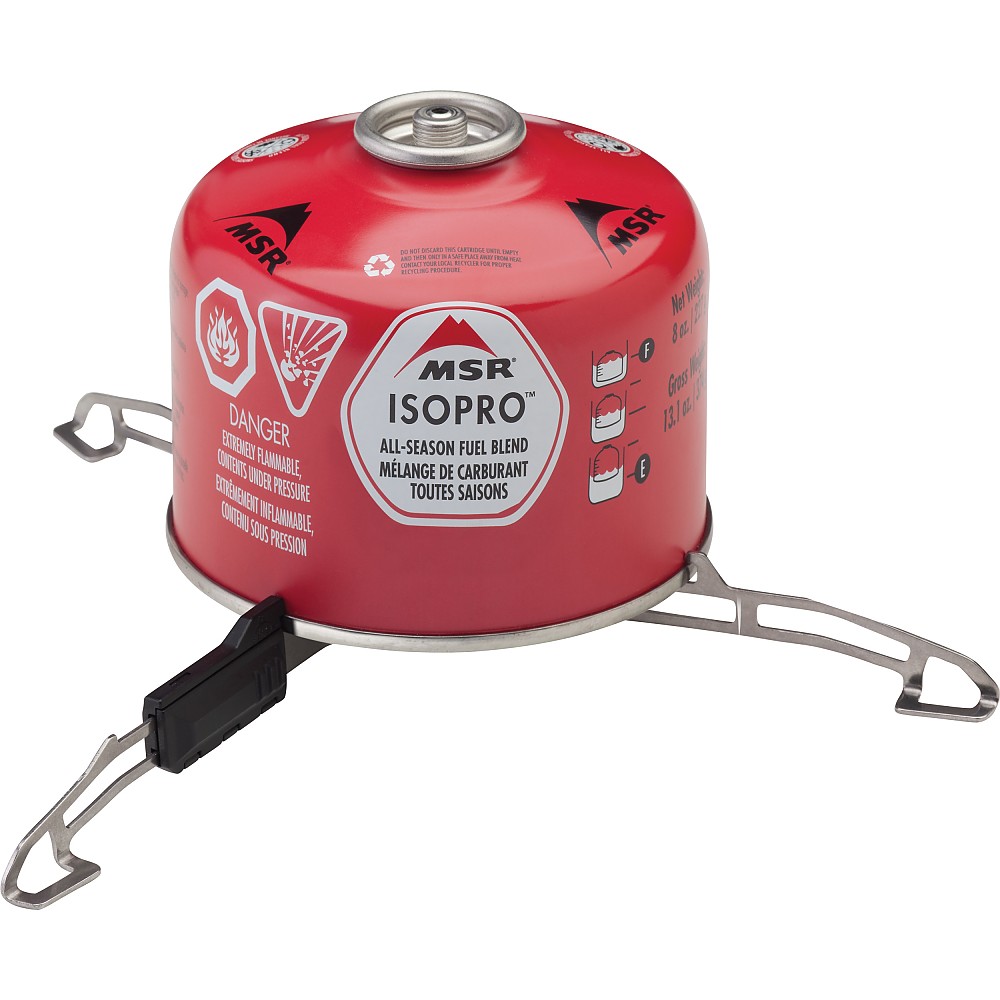 Inexpensive and lightweight GICD prevention for canister top stove users.
Pros
Helps prevent GICDs
Mostly metal
Wide footprint
Reliable attachment to small and large diameter canisters
Cons
10-15 grams heavier than alternatives
Too long to stow along with other items in some stove/pot systems
"If you push something hard enough, it will fall over" — Fudd's First Law of Opposition (from the Firesign Theater comedy album "I Think We're All Bozos on This Bus")
Mathematics tells us that when you put a heavy object on top of a tall support with a relatively narrow base, well, it will fall over. For example, let's say you're boiling up some pasta on your fancy canister top stove system (i.e. MSR Windburner or one of the various Jetboil models) or maybe a pocket size canister top stove (i.e. MSR PocketRocket or Soto Windmaster) with a titanium pot balanced on pot supports. You open it up and give it a stir and… OOOPS! over it goes. Not wanting to waste valuable food, you end up picking your pasta out of the duff, rinsing it off, and boiling it over again.
You might call that a Gravity-Involved Culinary Disaster (GICD). Over the years I've survived more than a few GICDs, some when cooking over a campfire but also when cooking over those inherently tippy canister top stoves.
A canister stand provides good, lightweight GICD prevention for canister top stoves. It adds stability to any tall and often tippy canister top stove system, especially on off-level or uneven ground, which is more norm than exception on backcountry campsites.  
I have three MSR canister stands in the gear cave. My 1.1L MSR Windburner system came with a small, triangular folding stand designed to fit in the pot along with the burner head and a 100g canister (basal diameter about 9 cm / 3.5 in; very tippy).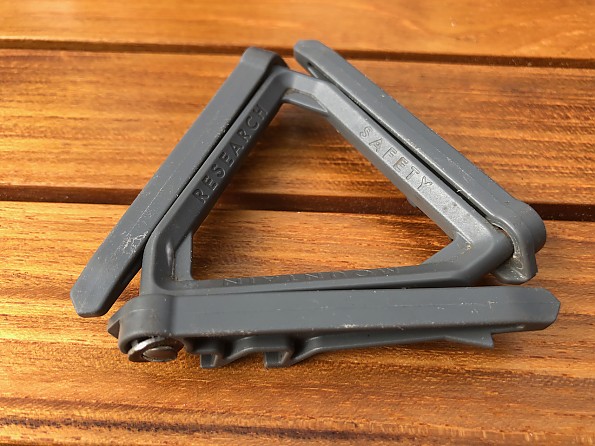 It has notches to fit both 100g canisters and the larger diameter 230g and 450g canisters.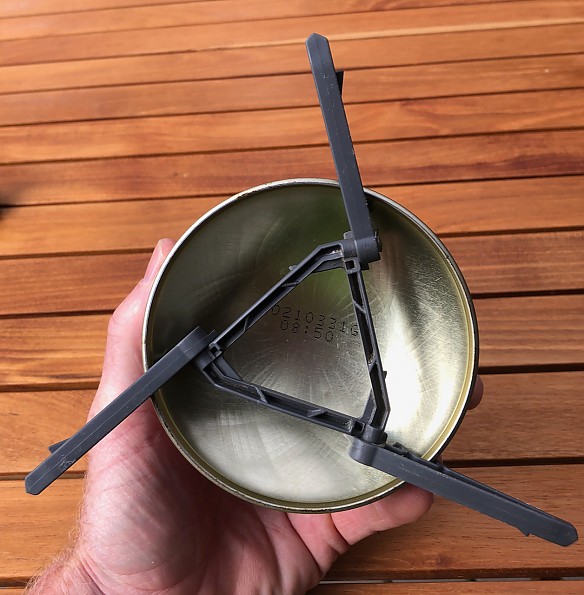 I managed to break it more or less out of the box because I thought the legs would rotate horizontally. They don't, but I managed to repair it and it has held up to episodic use ever since.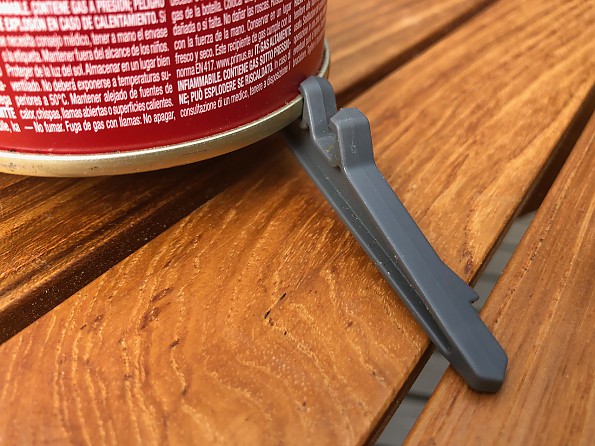 The legs rotate to a position that is somewhat tangent to the canister, giving it an effective radius of about 9.5 cm, a little more than double that of a 100g canister. It weighs 17.7 grams and as far as I know is not normally sold without the 1.1 L pot or Windburner system.
The 1.8 L Windburner pot that I added to the system came with a larger stand with plastic legs joined by a silicon rubber triangle that will stretch to accommodate different canister sizes.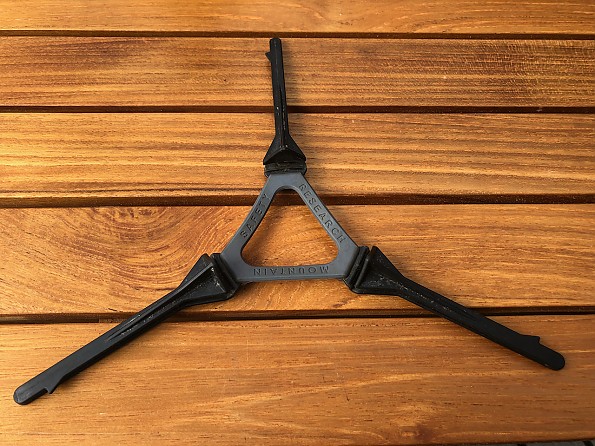 It's designed to fit in the pot along with the burner head and a 230 g canister. It attaches to the rim of the canister via fitted notches on the legs.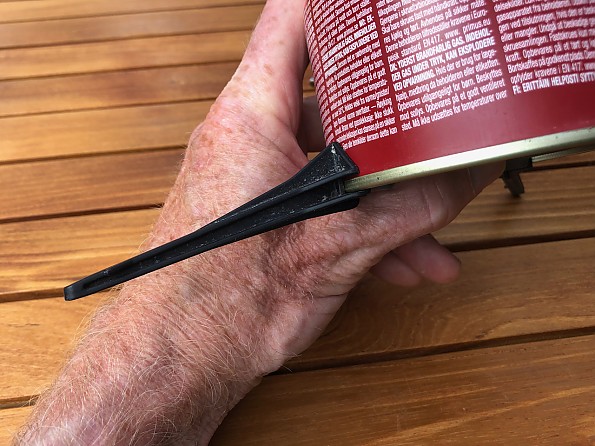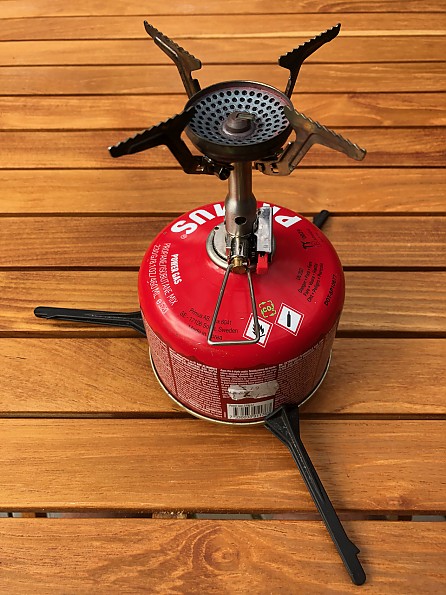 I have used it a lot, but it can be a bit fiddly to stretch on to the canister and the legs can rotate to non-equilateral positions, resulting in less stability.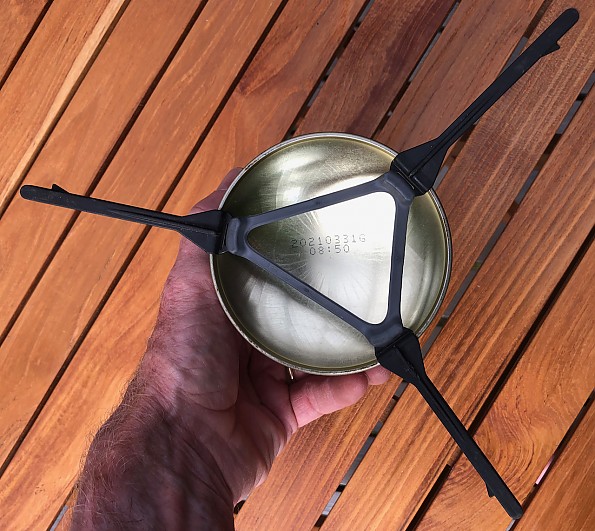 The legs can also come partially loose and collapse under a heavy pot, again resulting in less stability. That has proved hard to replicate at home but has happened repeatedly outdoors. 
Because it relies on the stretch of the silicone, the fit is a little looser on the smaller diameter 100 g canisters. On 230 and 450g canisters it has an effective radius of about 14 cm, for more stability than the smaller canister stand. It weighs 20.7 grams and is also sold only with the 1.8 L pot or system.
My favorite of the three is the subject of this review, the Universal Canister Stand.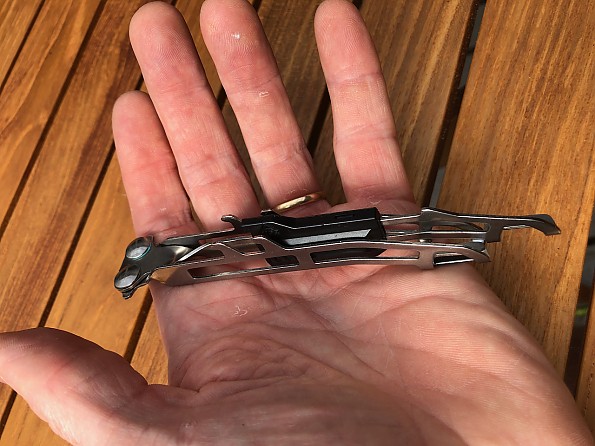 I bought one some years ago when I was using an MSR PocketRocket canister top stove, but at some point I donated the stove and stand to my daughter. I only recently got around to replacing it, to use with a Soto Amicus, which is lighter than my Windburner but uses simple pot supports rather than locking the pot on to the burner head, so a solid base is even more important.
The Universal Canister Stand attaches solidly to the canister and has a wide footprint (about 13 cm radius) despite its extra weight (32.9 g) as compared to the other two.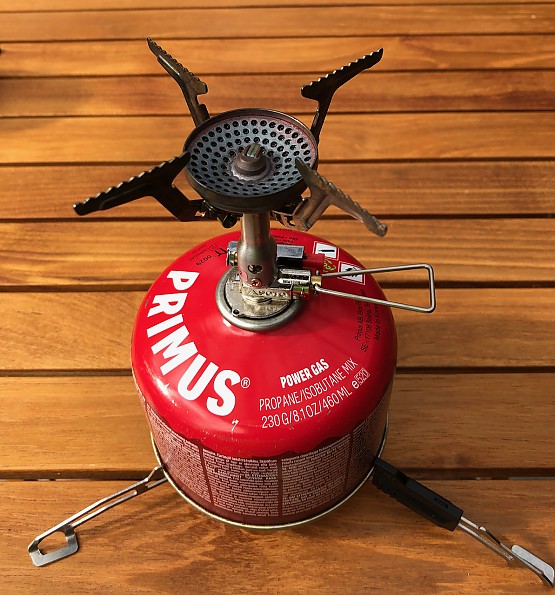 The stainless-steel legs swing out horizontally from the storage position. It attaches to both canister diameters via notches on two of the legs and a simple spring-loaded slider, giving a much more reliable attachment than the silicone rubber version.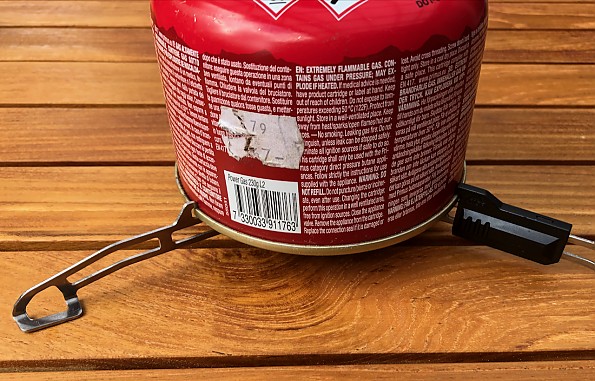 When folded it up it is about 14 cm long, too big to fit across either of the Windburner pots, but it will drop into a larger diameter sauce pot along with bowls, cups, and other loose items.
Optimus and Primus make plastic canister stands that function similarly, and cost and weigh a little less. I haven't tried them, but I'd guess the stainless steel is tougher and so is worth the extra cost and weight.
The MSR Lowdown Remote Stove Adapter, reviewed here on TS by Sheila Bergin Goss, offers a somewhat heavier and pricier solution to the GICD problem, but well worth considering because it moves the stover closer ti the ground, a bit more out of the wind and with a lower center of gravity.
The Universal Canister Stand will be coming along on a multiweek hike we are planning for next summer. We're hoping for a GICD-free tour!
Note: In case there's anyone out there using them: I happen to have a Campingaz type canister that I mistakenly bought in France. It has the same base diameter as the 230/450 g canisters and so all three canister stands work with it.
Experience
As noted, I have used three different MSR canister stands and think this is the best. I have been cooking in the backcountry one way or another for over 50 years (beginning with a Svea 123 and Sigg Tourist pot/windscreen system), and switched to canister stoves about 10 years ago, including three different canister top models.
Source: bought it new
Price Paid: NOK 199 (about $20 including 25% VAT)

Your Review
Where to Buy
Help support this site by making your next gear purchase through one of the links above. Click a link, buy what you need, and the seller will contribute a portion of the purchase price to support Trailspace's independent gear reviews.
You May Like
Specs
Price
MSRP: $14.95
Current Retail: $24.29-$24.95
Historic Range: $11.74-$24.95

Weight
1.2 oz / 34 g

Materials
stainless steel and ABS plastic

Dimensions
5.5 x 1.5 x 1 in

Packed Size
13.7 x 2.5 x 2 cm / 5.4 x 1 x 0.8 in