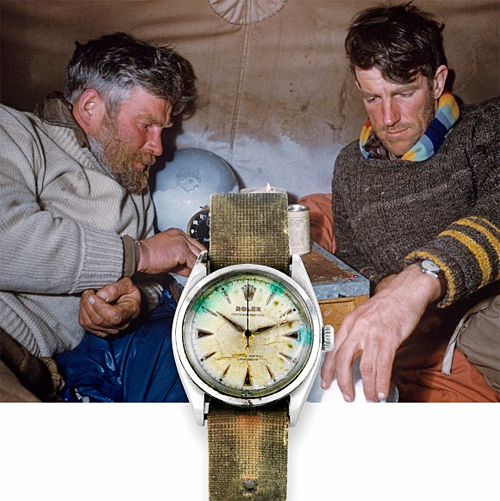 If you've always wanted a Rolex, how about one used by explorer Sir Edmund Hilary to reach the South Pole? Five Rolexes and a Casio watch from Hillary's own collection, including the Rolex Oyster Perpetual above, are up for auction this month.
Hilary was given the watch, estimated at $10,000 to $20,000 in value, in 1953 by Rolex retailer Bosecks in India immediately aftter summiting Everest.
The watch is inscribed "To Sir E. Hillary from Rolex Bosecks, Calcutta" on its back. Hillary wore it during the 1955-1958 Commonwealth Trans-Antarctic Expedition, the first overland crossing of Antarctica and the first expedition to reach the South Pole since Robert F. Scott in 1912. You can see it on Hillary's left wrist in the expedition photo above of him with fellow explorer Vivian Fuchs.
Rolex went on to make the Explorer series following Hillary's Everest success, and Hillary, who died in 2008, would promote the brand.
The auction is November 13 at the Mandarin Oriental Hotel in Geneva, Switzerland. You can view the watches, or place an absentee bid, at Antiquorum (search Hillary).
via @thegearcaster and Telegraph