Outdoor Retailer: How to use a snow density gauge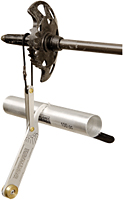 Today at Outdoor Retailer, Donny Roth — a professional ski guide, ambassador for Brooks-Range Mountaineering, and Trailspace member — explained how to use a snow density gauge for avalanche assessment.
Snow density gauges can be helpful for assessing the quality of new snow, the rate of snow metamorphosis, snow pit data, precipitation rates, slab conditions, and water density in snowpack.
Donny walked us through the Pocket Snow Density Gauge 100 model from Brooks-Range.