Judging by the quantity and variety of technical apparel shown at Outdoor Retailer last week, no outdoorsperson should complain that he or she can't find something appropriate to wear for their favorite backcountry activity.
Here are a few clothing highlights, from head to toe, culled from the masses of wool, down, softshell, and other fabrics on display. (Though we're not suggesting you wear all of these pieces at once.)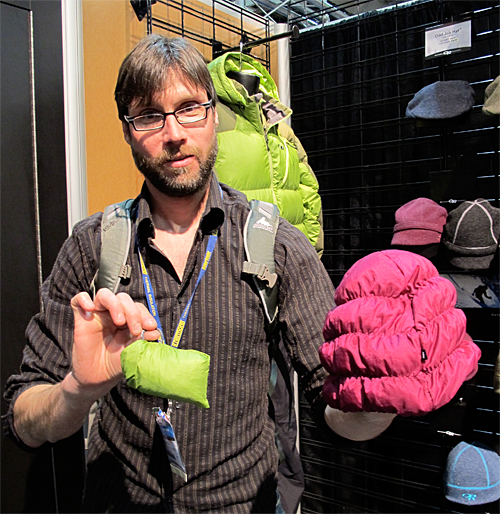 Dave Simpson showed us Outdoor Research's Transcendent Beanie in both its stuffed and ready-to-don states. The Transcendent Beanie is cushy 650-plus-fill down in an ultralight ripstop shell. It stuffs into its own integrated pocket, packing down to 4 by 2 inches. $40.
(It's only fair to note that this isn't the first down beanie on the market. Black Rock Gear's been selling a 1-ounce, 900-fill Down Beanie for several years.)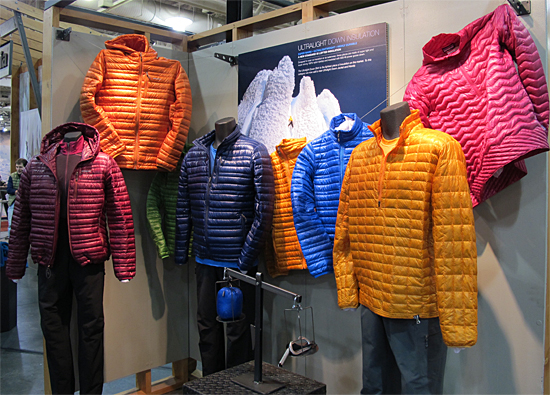 Patagonia is expanding its ultralight down insulation. Last year the brand announced the 5.9-ounce Ultralight Down Shirt as "the lightest piece of insulation ever made." For fall 2011, it's adding an Ultralight Down Jacket (8.5 oz men's, 7.8 oz women's, $279) and an Ultralight Down Hoody (10 oz men's, 9.3 oz women's, $299), both with 800-fill power goose down.
Patagonia says the 10-denier ripstop nylon is their lightest weight fabric ever for down garments and is twice as strong and half the weight of fabrics it uses in other down insulation.
Patagonia's also adding the Hi-Loft Down Sweater, an 800-fill-power jacket made with a 100 percent recycled polyester shell (13.8 oz men's, 12.7 oz women's, $229).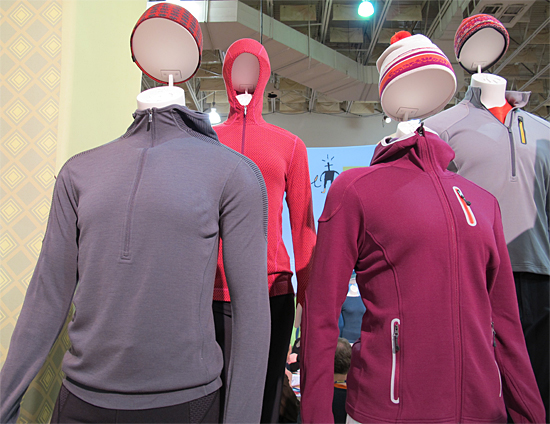 Just as ubiquitous as those insulated down sweaters were baselayers in every form and weight. Rab introduced a new baselayer line made from merino and Cocona (MeCo). Patagonia redesigned its wool baselayers with 80 percent chlorine-free merino wool and 20 percent recycled polyester. Smartwool (above) modified its fits and silhouettes to be more flattering, following an extensive fit study. And, moving outward, Ibex will offer Nomad mid-layers and hybrid jackets and pants with Schoeller Climawool for nordic skiing and winter running.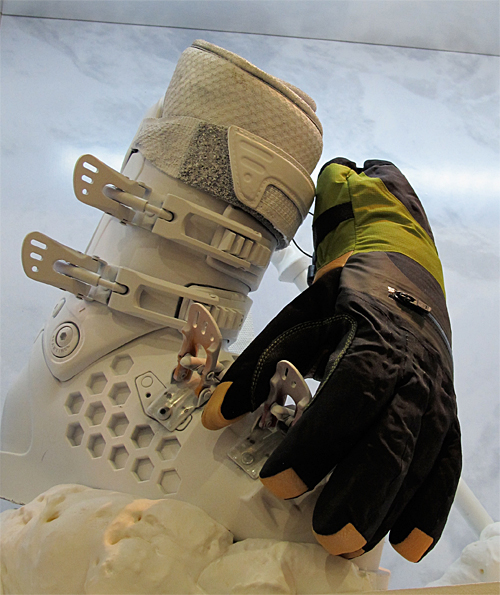 Sierra Designs made a move to join glove stalwarts like Outdoor Research and Black Diamond, introducing its own line of gloves. Offerings include the waterproof/breathable Enforcer ($109, above) and the softshell polyester/leather Transporter for spring skiing and ice climbing ($79).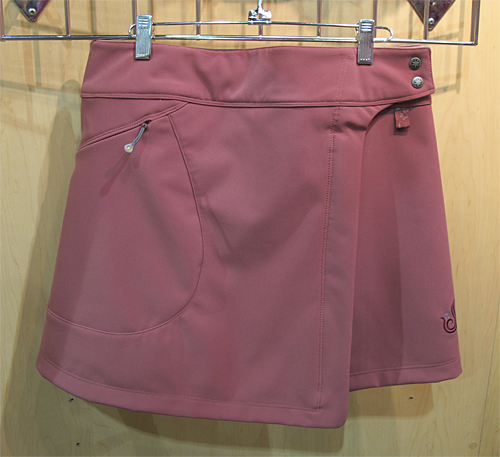 Isis introduced the Valkryie, a softshell skirt. Before you dismiss this piece as pure fashion, Isis is selling the Valkryie under its outdoor Adventure line (not its lifestyle one) and says the skirt has "full-on technical fabric and features" and "it's all girl, all over the mountain." ($79.99)
Also for the ladies, Mountain Mama introduced the Jasper Snow Pant, a maternity ski or winter hiking pant for comfort in the snow before, during, and after pregnancy ($150).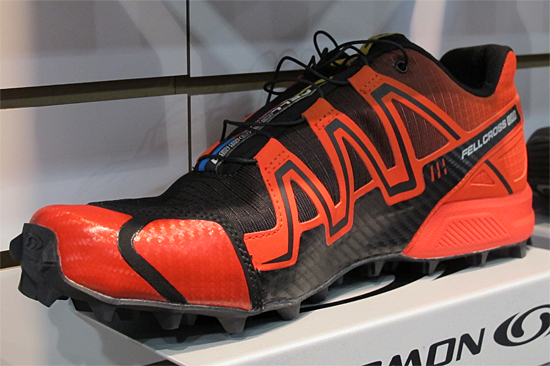 Salomon's Fellcross runner was designed by elite fell (cross-country mountain and hill running) athletes. The shoe is very light (9.3 oz / 263 g) and very low profile, with aggressive traction for racing in tough conditions. "This is the most minimal shoe we'll make," said Hilary Hutcheson for Salomon. "It's low profile and fast." ($160)
Five Ten has created a new super sticky Stealth rubber, the M16. The M16 is the result of two development projects: building a better rubber for prosthetic sport devices for the Wounded Warrior Project, and for a climbing scene in the newest Mission Impossible movie starring Tom Cruise, in which he climbs a Dubai skyscraper (don't try this at home, even if the M16 will stick to glass).