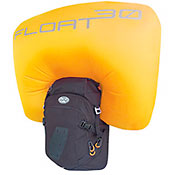 Avalanche airbags have become increasingly popular among backcountry skiers the past few years. When heli-skier Jeff Wyshynski was caught in an Alaskan avalanche earlier this month, he survived the slide by deploying his Backcountry Access Float 30.
Wyshynski was wearing a point-of-view camera that captured the fractures under his skis, the mass of snow he was caught in and under, and his rise to the surface after deploying the airbag (marked by a hissing sound and orange glow). Wyshynski was uninjured, but broke a ski and lost a pole in the slide.
You can watch raw video from Wyshynski's helmet cam or a multiple-perspective edited version below:
BCA celebrates at its Boulder headquarters each time a report comes in with a live recovery thanks to their Float airbag or Tracker avalanche beacons. "This one was especially emotional for us because you can really put yourself in the place of the potential victim," said BCA co-founder and marketing VP Bruce Edgerly.