Whatever craft enables me to get out on the water, I am happy with. I do confess to having a soft spot for open canoes, which is why I was enthused to see several new canoes debut at this year's Outdoor Retailer show. Demo Day at OR is a chance to see and actually pedal or paddle, bicycles and boats at the show. Among the plethora of kayaks and SUP boards, was a diminutive little canoe that everyone seemed anxious to try.
The Serenade 13 is a brand new canoe from Mad River Canoe. The designer, Bob McDonough, walked me through some of the choices he made when designing the fiberglass boat. McDonough wanted a boat that was stable, light, and fast.
We all want that, but achieving all three at the same time is often difficult. In a time when solo kayaks are the rule, and most people think of canoes as big tandem monsters, solo flatwater canoes are still relatively rare today.
Not so over 100 years ago when a frail little man named George W. Sears had the Rushton Canoe Company build him a small light canoe that he could paddle with a double bladed paddle. His trip in that canoe formed the basis for a series of articles in Forest and Stream, and the Rushton Company built a standard model along the lines of that first little canoe. Skip ahead to today and a few canoe builders build small solo canoes.
On first look, you could say that the Serenade 13 is like a kayak without the decks. This makes it easier to enter and exit, and easily store gear. Inside is an adjustable seat, much liked a kayak seat, but with much more adjustment. Aluminum gunnels add to the impression that it is indeed a canoe.
At 13 feet and 36 pounds for the bare hull (the seat adds about five pounds), this boat is no toy. A slightly veed bottom that is a feature on many Mad River canoes, gives it good tracking ability, if adding a bit of unsteadiness when you first get in.
I paddled the Serenade first with a single bladed canoe paddle and then switched to a double blade. Because of the low seat, I chose a single bladed paddle that was much shorter than the length I usually paddle with and it worked fine. With the double bladed paddle it took off.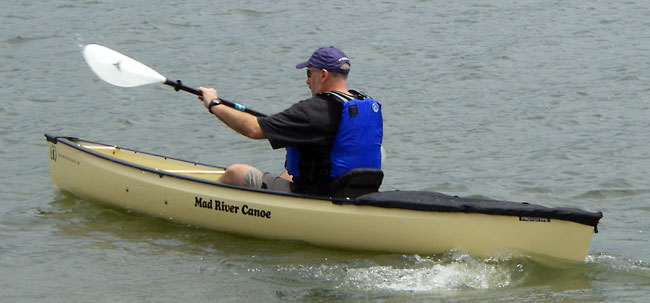 Stability is good, especially when leaned, and McDonough claimed that it was stable enough to stand up in, though I didn't try.
For first-time paddlers looking for a stable solo boat that feels more like a kayak, but has the light weight and generous capacity of a canoe, this is a great boat. It will also appeal to experienced paddlers who will appreciate the speed and the ability to paddle solo on overnight trips.
In end, I don't know whether to call this a canoe paddled with a double blade or a deckless kayak. There are fabric spray decks available, so that really blurs the distinction. One thing is, it made me happy being out on the water in it.
Serenade (Fiberglass Hull, Aluminum Gunwale)
Weight: 26 lbs
Length: 13 ft 1 in
Width: 28.25 in
MSRP: $1,499
Capacity: 300 lbs

Serenade (Fiberglass Hull, Wood Gunwale)
Weight: 29 lbs
Length: 13 ft 1 in
Width: 28.25 in
Capacity: 300 lbs
MSRP: $1,719
Made in the USA. Available September 15, 2011.