ACR ResQLink is world's smallest personal locator beacon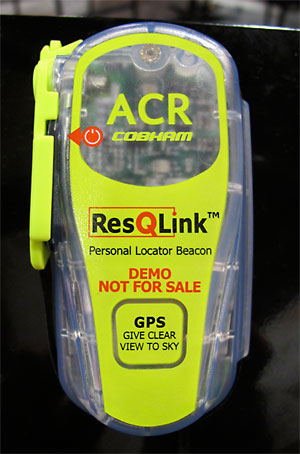 ACR Electronics has released ResQLink, which it claims is the world's smallest 406 MHz personal locator beacon. The ResQLink's small and light waterproof package can be held in one hand and clocks in at less than four inches tall and 4.6 ounces in weight. It's designed for backcountry enthusiasts, anglers, pilots, and boaters.
In a true emergency, deploy the antenna and activate the unit and the ResQLink will broadcast a unique registered distress signal with a GPS fix on your location. A 406 MHz signal relays your information to a worldwide search-and-rescue satellite system, typically within five minutes. Search and rescue teams then use a separate homing signal emitted from the ResQLink to reach your position.
The ResQLink features a strobe light that turns on automatically during activation. With the optional monthly subscription service, users can test the device for peace of mind through the Cospas-Sarsat satellite system.
The monthly service also allows you to send a check-in message to specified contacts via email or text message, without emergency activation. However, no monthly service fee is required for emergency use.
After receiving FCC approval this summer, the ResQLink is now available and retails for $325 (without optional subscription service). International approvals are expected to follow.
Mikele D'Arcangelo of ACR Electronics showed us the ResQLink at Outdoor Retailer.
ACR ResQLink Features:
Weight: 4.6 oz (130 g)
Dimensions: 1.3 x 1.9 x 3.9 in (3.3 x 4.8 x 9.9 cm)
Waterproof to 5 meters at 1 hour
Operational Life: exceeds required 24 hours at -4°F (-20°C)
Onboard 66 channel GPS can fix sender's position within 100 meters
MSRP: $325