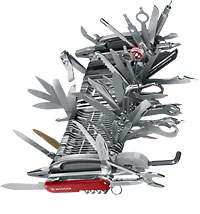 Wenger's outrageously large Giant Knife boasts 87 implements, 141 functions, and a place in the Guinness Book of World Records for "most functions on a penknife." It weighs more than two pounds, is 8.75 inches wide, and would cost you more than $2,000 to buy direct from the company.
In case you're wondering, those implements include a double-cut wood saw, compass, laser pointer, magnifier, fiber optic tool holder, toothpick, can opener, toothpick, and a whole lot of screwdrivers and other tools.
Now enter function Number 142: a percussion section in the hands of sound designer Roger Lima and WhiteNoise Lab. Lima uses only sounds created with Wenger's Giant Knife to produce the video below.