Longing for gear coverage from next week's Outdoor Retailer trade show? We'll be covering the event direct from Salt Lake City, January 18-22.
In the meantime, here are some new product previews, including winter ski and alpine packs, hydrophobic down sleeping bags, trekking poles, and unique dishware made from biomaterial. (Don't know what that means? Read on.)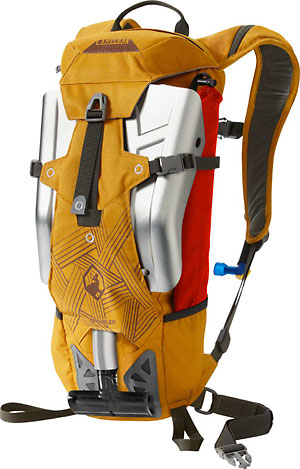 CamelBak has a new ski pack, the Gambler (above), for sidecountry excursions. It's a low-profile, hydration pack designed for chairlift access sidecountry excursions that require minimal cargo and emergency essentials. It's equipped with a 3-liter (100 oz) Antidote Reservoir and is designed to carry a shovel, avalanche probe, and skins, because regardless of how you access avalanche terrain, you still need to be prepared.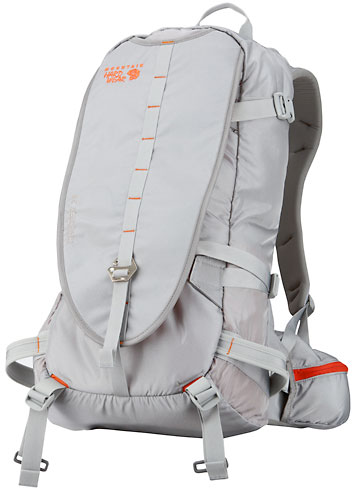 Mountain Hardwear's Chuter 28 is a day pack for backcountry skiers. Adjustable ski loops allow skis to be carried diagonally in either direction and stow away when not in use. Or use the A-frame ski carry option on longer hikes. The Chuter has a wet locker under its padded front flap for quick access and organization for shovel, probe, skins and other gear ($150). A Chuter 15 also will be available ($100).

Terra Nova is releasing a line of lightweight alpine/expedition Quasar packs made with Terra Nova Ultra fabric reinforced with Dyneema/Cordura fabric in high wear areas. Packs come with an internal hydration pocket, multiple gear attachment points, and an extendable main compartment, and are available in 30 liter (14 oz min/18 oz max), 45 liter (17 oz min/21 oz max), and 55 liter (19 oz min/30 oz max) sizes, with removable lids and removable back foam.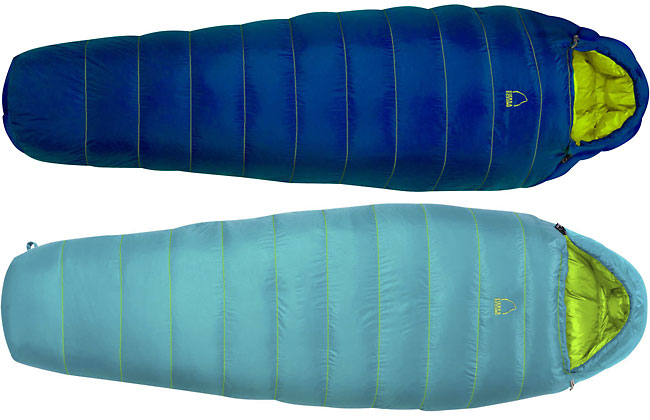 DriDown insulation will be "game-changing" according to Sierra Designs. The hydrophobic DriDown is regular down with a molecular level polymer applied to individual down plumes during the down finishing process. It will appear in five 0- to 30- degree, 600 fill sleeping bags. Sierra Designs claims DriDown stays dry seven times longer in the presence of rain, melting snow, or spills; maintains 98 percent loft after a night in a high humidity environment; and dries 33 percent faster when it does get wet, compared to regular down ($199-299). Sierra Designs also will debut apparel with DriDown.

Budget hikers take note. Easton Mountain Products is adding two affordable Trail models to its line of trekking poles for "the price conscious consumer." The Trail series includes the AL2 (two section), and AL3 (three section) poles, both made with Easton 7075 Aircraft Aluminum and featuring twist-lock adjustment. They weigh 1 and 1.03 lbs respectively and will be available for summer 2012 ($50-60).

Mountainsmith's Glissade is designed for trekking on icy hardpack or in deep powder. The three-section winter pole is made of 6061 aircraft grade aluminum with anti-shock absorption systems. It has snow baskets that can be used down to -22°F, neoprene wrist straps, and twist locks. The Glissade packs down to 31 inches and extends to 53 inches; weighs 1 lb 13 oz; will be available fall 2012 ($45). Mountainsmith also has a two-person Loveland 30° Doublewide synthetic sleeping bag coming out this fall. At 10 pounds the Loveland is strictly for car camping.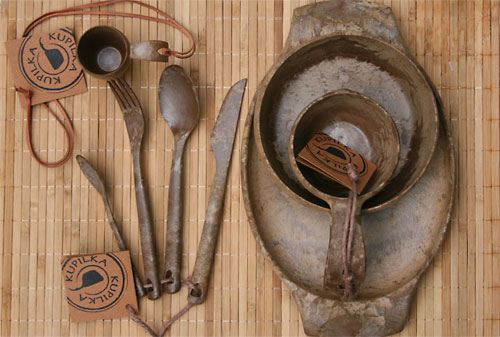 Tired of your plastic spork or titanium spoon? Want to add some unique style and character to your outdoor dining? Consider Kupilka ("little cup") camping dishware from Finland. Made of a 50-percent pine fiber (wood) and 50-percent plastic biomaterial, products include a bowl, a "schnapps" cup, a 7-oz capacity cup, a platter, and a cutlery set. Kupilka says the Thermoplastic Natural Fiber composite provides better resistance to heat than plastic, yet is stiff and durable like wood. It's also hygienic, doesn't require maintenance, and doesn't absorb smells.
Stay tuned for more Outdoor Retailer coverage.