Some highlights from Day One of Outdoor Retailer, including alpine climbing and ski touring gear from Mammut, new water purification from MSR, a PiggyBackPack carrier for kids and adults (!), and seriously tasty Krave Jerky.
Mammut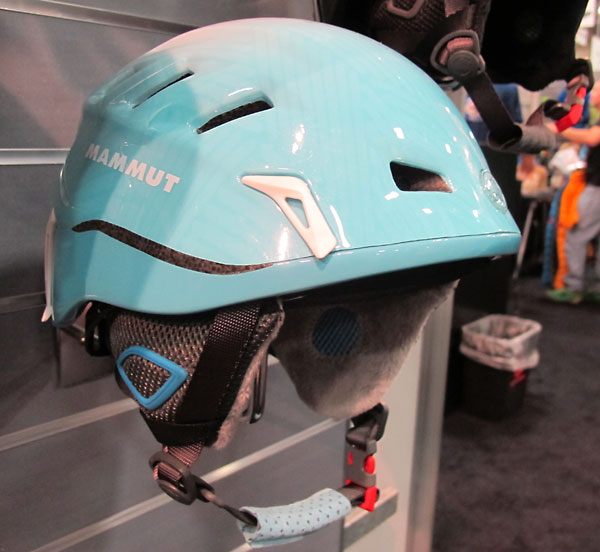 Mammut is aiming its Alpine Rider snowsport helmet (above), and much of its winter hardgoods, at the modern ski alpinist. Certified for climbing and mountaineering use too, the helmet is a lightweight choice for ice climbing or mountain tours.
It's adjustable with one hand using the thumb wheel, designed to fit with goggles, and has a small packing volume and large ventilation openings. Regular and winter padding inserts can be exchanged for more or less warmth.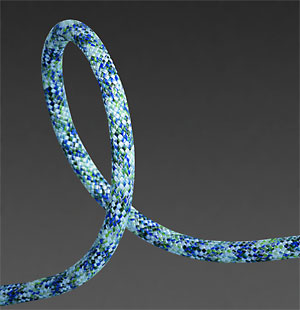 Mammut Alpine Rider
Sizes: 48-55 cm, 53-61 cm
MSRP: $160
Available: fall/winter 2012
Every 9.8 Transformer rope (right) that Mammut manufactures in Switzerland has a unique design unlike any other. That's because the Transformer, an all around or sport climbing rope, is made entirely from transfer yarns.
Transfer yarns are high-quality polyamide 6 (nylon) filament yarns that usually are disposed of due to color variations during the yarn dying process in the transition from one color to another.
Transfer yarns have the same properties and strength as undyed polyamide yarns, but in the past weren't reused due to their mixture of colors. No longer will they go to waste at Mammut. Anyone will be able to buy a totally unique climbing rope.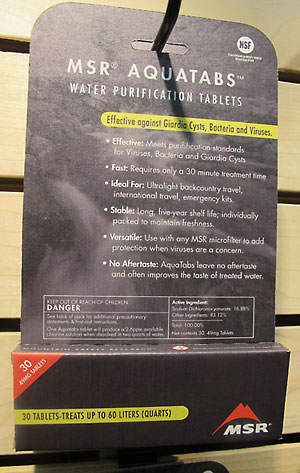 The 9.8 Transformer has a SuperDry coating and is available in 60 and 70 meter lengths.


MSR
MSR will start distributing Aquatabs water purification tablets of Ireland under the MSR brand.
Aquatabs are effective against viruses, bacteria, protozoa, and Giardia cysts, though not against cryptosporidium. Aid agencies and defense forces have used them globally for two decades.
Aquatab's active ingredient is sodium dichloroisocyanurate, which acts as a disinfectant by releasing low levels of chlorine.
To use: dissolve one tablet in two quarts of water and wait 30 minutes for treatment. You'll have a 2.66 ppm chlorine solution.
Aquatabs can be used for ultralight backcountry travel, international travel, and emergency kits, as well as adding "purifier effectiveness" to any microfilter. They're considered safe for adults (including pregnant women) and children.
PiggyBackPack
Hiking babies and toddlers can ride in child carriers, but what about young kids who've outgrown the carrier, but could still use a boost on the trail now and then?
Jeff Bryce, a mechanical engineer and hiker, invented his PiggyBackPack back in 2007 to carry daughter Portia on hikes after she outgrew her kid carrier. He's now on his seventh, patent-pending version.
Despite its beginnings, the PiggyBackPack isn't just for kids anymore. Bryce says about half of users are parents and half are adults with a disabled friend or relative they want to take on a hike that they'd never been able to do before.
The PiggyBackPack can carry up to 500 pounds. At Outdoor Retailer Portia showed me a picture of her dad carrying her mom, carrying her, carrying her little brother — like a family totem pole.
The PiggyBackPack works as a kid carrier, adult carrier, and rescue and emergency preparedness carrier. Bryce also has a background as a volunteer firefighter and in emergency rescue.
PiggyBackPack
Weight: 5 lb
Carrying capacity: 500+ lb
MSRP: $249
Krave Jerky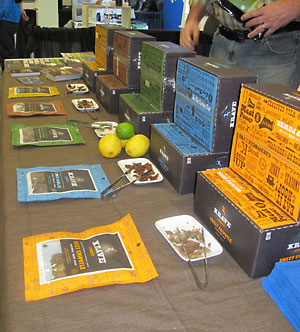 I'm generally ambivalent about jerky. It can be tough, artificial tasting. But today I tasted Krave Jerky's artisanal turkey jerky and changed my mind.
This was moist and tender, with interesting flavors. It elevated the jerky form.
I tried the Basil Citrus Turkey and Lemon Garlic Turkey and went back for second samples. Krave also has beef and pork jerkies with Smoky Grilled Teriyaki Pork, Chili Lime Beef, and Sweet Chipotle Beef as three of its most popular flavors.
Instead of drying or dehydrating its products, Krave double marinates, brines, and bakes. Its products also have no nitrates, hormones, or artificial flavors. Plus, Krave says it's lower in salt (50-70%), cholesterol (50-70%), and calories (15-70%) than its major competitors.
Jonathan Sebastian, who grew up in a Sonoma County wine family, founded Krave after seeking a healthy, high-protein snack during marathon training. You even can find suggested beer and wine pairings for the jerkies on the Krave site (a dunkel or dark lager would have worked with my choice).